When talking with innovation managers, a question which provides some interesting responses is: 'if you could start all over again tomorrow, what would you do differently?'. One of the most frequent responses I hear is that they would simplify things, make everything more straightforward. In the beginning they focused too much on aspects which didn't really count towards the success of their program, and in fact they often got in the way of progress.
Let's be honest - too many companies start out with collaborative innovation programs thinking about the complexities of what they might need: gamification features; rewards and incentive schemes; community analysis visualizations; little tweaks to the software; complex reviewing methods; and so on.
In the end, the simple principles of ideation, collaboration, and good old fashioned leadership are what matter most. We need a way to keep our minds focused on these basic points, a shared vision to which everybody on the team, including the vendor, can work towards. This led me to work on a Collaborative Innovation Canvas – shamelessly borrowing the concept from Osterwalder and Pigneur's Business Model Canvas – as a shared way to focus on the core elements of a program.
What I like about the Osterwalder and Pigneur canvas, is that they take a relatively muddled and exhaustive subject – business model generation – and condense it into a single visually understandable page. A page which everybody can work on together, and the results can be shared and reinforced with greater ease. This is the goal of the Collaborative Innovation Canvas too.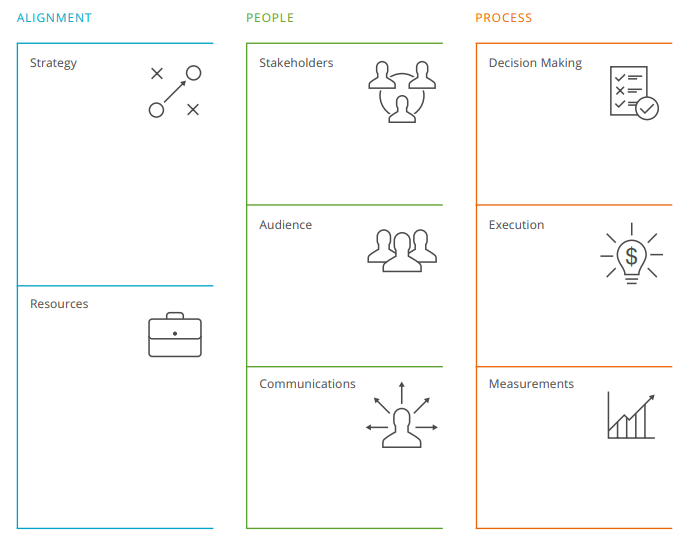 The Canvas is made up of 8 components, each representing a core aspect of the collaborative innovation world. These components are grouped under 3 fundamental driving forces: Alignment, People, and Process. Everything that matters to your program will find a home on this Canvas. Let's go through the components to understand what they represent.
Strategy
This is where you start. What do you wish to achieve with an innovation platform? What does success look like for you in the short, medium, and long term? Use this box to provide focus, narrow in on the strategic areas of interest for your business.
DHL knows exactly what their strategy is: use the tool to enable every employee to submit cost reducing and process improvement ideas which can immediately impact the bottom line. Then give those ideators a share of the rewards when ideas are implemented. It's a giant system which plugs into every area of the business, no employee left behind.
Resources
These are the resources you have access to, or can provide, to drive your program forward. It includes the core innovation team members, the tools and methods you will provide your audience, and any particular innovation budgets available to you.
Airbus has a centralized innovation team, which acts like a utility to the rest of the business. They provide four key resources to facilitate company-wide collaborative innovation: 1) the online community space (the innovation platform); 2) a specifically designed process which everybody follows; 3) M&T - additional methods, and additional tools, to help develop ideas; 4) physical spaces to run workshops and foster innovation techniques such as design thinking.
Stakeholders
An ideation platform will not gain on-going traction with end-user adoption alone, it must have support from top management. These stakeholders will need to be managed - bringing them on board means delivering results which help them succeed. Here you need to define your stakeholders, what influences them, and understand how to manage them. You also need to consider the innovation advocates - these champions will be critical to your success (read more about how to do that here).
Free Resource: A Guide to Stakeholder Management
A French Manufacturing company knew the importance senior stakeholders could have on the audience's participation. By bringing them online to the launch challenge, providing comments to ideas, participation shot up dramatically, ending up with 1,300 ideas posted, and over 3,000 comments.
Audience
Here you define who the target audience is for your platform: all employees; specific business units; customers; partners; academia; the general public. If you understand your audience well, then you will also want to think about cultural groups that lay within it, such as the skeptics, and decide how best to handle them – for many this may mean whole departments such as IT, HR or Legal (see here for more on audience segmentation).
Mattel runs an exclusive innovation community for external inventors. Previously these individuals would submit their ideas on paper, and a slow process would begin to filter, review, and provide feedback. The online program enables inventors to privately submit their designs, and have an instant conversation with Mattel about their concepts.
Communications
To get the attention of your audience, you have to think like a marketer. Setting out a communications plan well in advance of your program launch is highly advisable. Think about how to make it interesting, how to communicate the value of having everybody involved in innovation. Can you launch it virally? Who are the key hubs in the organization to help spread the word? What materials do you need to produce: posters, flyers, fun gifts? A consumer products company we work with sent out little boxes to 500 lead users - in the box was a mini-Einstein desk figure, with instructions on how to log-in and use the platform.
A comprehensive marketing campaign can signal to the audience that the initiative is serious. A German-based engineering company enlisted the help of an external design agency, who helped to build a communication strategy. The four pillars of their strategy were: Recognition (how people will instantly recognize the initiative); Awareness (activities to raise the profile); Understanding (education materials and activities to build support); Management (marketing specifically to senior leaders to gain their attention and support). The result was widespread adoption across the entire company on the very first idea challenge.
Decision Making
How will you evaluate ideas? Do you have one method, or many? Who are the reviewers, and do they need to be educated and aligned? Do you expect high volume on some campaigns, and if so, how do you plan to handle it? There are many features available in the tool to support decision making, you'll want to select the ones which work best for you – and possibly provide offline reviewing options for some particular scenarios.
Consistency on how ideas are reviewed can be important for your audience, and it can also make it easier to measure value across different business units and challenges. Swisslog, for example, uses the IDEO method for all ideas: Viability (business); Feasibility (technical); and Desirability (human). The review team is educated in the IDEO design thinking methodology, so they can apply the thinking to the process.
Execution
The other side of innovation is all about execution - turning those fragments of ideas into revenue generation. Do you have funding in place for those promising ideas? Do you have a process to handle different types of ideas: a fast track to implementation for small cost saving ideas, and more in-depth elaboration cycles for more complex breakthrough innovations? Do you have a methodology ready to assess and build out these ideas – such as the lean startup's build, measure, learn? It's unlikely that submitted ideas are already fully formed and ready to be implemented – rather Ideas need a path through the organization to allow them to grow and thrive.
A global telecommunications company has a mature process in place for taking ideas through to implementation, which includes the adoption of 22 different methodologies to support innovation execution. In a two year timeframe 50,000 users worldwide have participated, producing over 12,000 ideas. 300 sub-funnel experts have been identified to support idea development, resulting in an average of 20% implementation rates on campaigns. This focus on successful campaign follow-up has helped to achieve their highest ever internal innovation culture index score - an annual survey to measure how innovative employees see the company, and how supportive it is to their ideas. It has also produced over €2 billion in new product development revenue.
Measurements
Many collaborative innovation programs fail within two years of their launch. The reason is often linked to one or more of the areas on this canvas not being fully developed. One crucial piece that is lacking is the ability to define, and fulfill, the key performance indicators which matter. How do you know what success looks like? The answer will change as your program grows in maturity, and your KPI's need to reflect that, as do your communication to stakeholders and the audience (more on KPIs here).
WorleyParsons, a large engineering services company in the oil and gas industry, has a sophisticated measuring system for program output. They seek to find cost savings and process improvements for their customers, taking ideas from both the WorleyParsons 35,000+ employee base, and their customer base. The result is a detailed analysis of which divisions, and which regions, are generating the most value for their customers. Results are aggregated to top management, showing the monthly value the innovation program is bringing.
Alignment. People. Process.
The three core sections of the Collaborative Innovation Canvas are the fundamentals to any innovation initiative:
Alignment of the activities to the core business goals and needs. Without which an initiative will likely starve and die. Creating tight alignment means you are in step with the company direction, and can find ways to support that through innovation. It's the fastest way to build acceptance and momentum, while retaining an innovative edge.
People are central to any innovation activity - you need the diversity and creativity to generate novel ideas; and you need the discipline and know-how to see them implemented. Building a culture which can flex between both worlds is the Holy Grail.
Immediate Benefits of the Canvas
In their book, Business Model Generation, Osterwalder and Pigneur describe the benefits the Business Model Canvas can immediately bring to the company. Those benefits apply to the Collaborative Innovation Canvas too:
Display a visual grammar which everybody can understand and share.
Capture the big picture, reducing the inherent complexity of innovation.
See the crucial relationships at play which make innovation successful.
Provide a collective reference point to return to.
Create a joint understanding.
Filling out the Collaborative Innovation Canvas is only the first step in making full use of it. There are additional ways to use it in workshops, which provide benefit in an on-going way, helping you to actively manage your program.
Besides the framework offered by this canvas is also a guide when considering choosing a software platform for your innovation program. A full report of the 5 key aspects to consider when evaluating an innovation management is available on the page How to Choose an Innovation Management Solution.