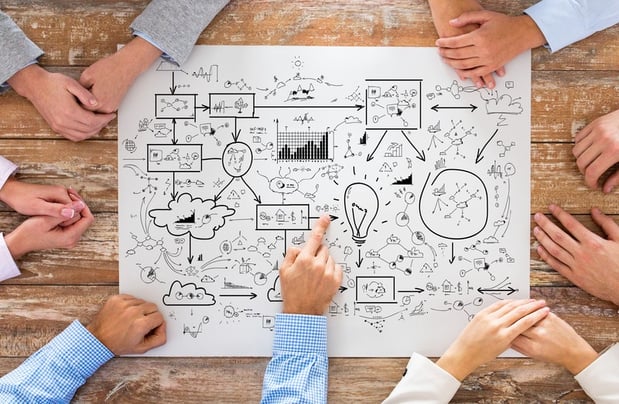 Organizations are struggling to understand the behaviours of the 'connected' customer. Partly it seems executives don't engage with their brand or business in the way that their customers do. The lack of having a well mapped out customer journey means missing out on opportunities caused by not knowing this, restricts the developing of innovation solutions that map back to all the decision-making that is going on in the customers' minds. This failure to optimize and innovate might be holding your business back.
With the increasing need to adapt to a digital world, the essential need in understanding customer behaviours of those wanting to engage with your business or brand becomes even more of a challenge if you have not mapped this out. Also, how comfortable are you as new customers start connecting - can you have any certainty of the reasons why they did, what decided this and what might hold them for the future of a repeating business?
The vital map of the customer journey
A recent Altimeter report "the 2016 State of Digital Transformation" discusses these problems, along with many others. The mapping of the customer experience (CX) has become a top driver of digital transformation, yet only half of the companies studied have mapped or are mapping their customer's journey. So that you are aware, the data and insights in this report are based on the input of more than 500 digital transformation strategists and executives who are leading change within their organizations.
In a good visual, they illustrate the severity of the digital transformation challenges: finding that 71% struggle to understand behaviours or impact of a new customer; 69% cited the lack of data or ROI to justify the value of data transformations; and 67% on the risk management, compliance and /or legal implications. Lacking the essential insights many companies are failing to grasp the potential, with many (alternative) innovation opportunities wasted and perhaps suffering a growing customers churn rate. Knowing the why of your customers is something that keeps many marketing and C-level executives up at night.
The good news is that although half of those surveyed are now mapping the customer experience journey most of these are only just doing this. Back in 2014 at the time of the last survey by Altimeter only 25% of companies undergoing some form of digital transformation had mapped the customer journey, as now 88% cited CX as the driver of change and why technology was the necessary solution. There is some real catching up taking place to justify any transformation.
I still sense that it still seems IT & Marketing are not working on this together, there are separate initiatives and operating in their own silo's, often in pursuit of different investment decisions that might be better served by combining forces.
As each organization changes in its modernization with new systems, models, processes and architectures it is this lack of customer-centricity that is a growing problem. The lack of a vital set of insights means the continued investment taking place in front-and-back-office solutions has this lack of the customers' expectations, preferences and values clearly understood.
There is even more of a warning within the report
Traditional touchpoints, such as websites, contact centers, representatives, affiliates, etc., seem to not meet heightened expectations. In fact, they deter from what's becoming an on-demand customer experience. Equally Mobile has given way to what Google refers to as "micro-moments," and they are completely upending traditional customer journeys.
These mobile-first moments play out in common scenarios when someone is intent to do, buy, or learn something. As consumers increasingly use their phones to complete everyday activities, they're fracturing the consumer journey into hundreds of new "micro" touchpoints where they seek real-time, mobile-optimized content, reviews, shared experiences, and direction online.
Despite all of this, just 20% of digital transformation leaders are studying the mobile customer journey and/or designing for real-time micro-moments in addition to customer journey work. There is a need to understand these 'micro-moments' as they increasingly impact on the customer decision-making, behaviours and values.
The report warns even further: Mobile is just the beginning of disruption in the customer journey. With the runway for disruptive technologies still ahead (e.g., wearables, Internet of Things (IoT), artificial intelligence, virtual and augmented reality), companies will need a resilient infrastructure that adapts to not only mobile's "micro-moments," but also the impact of all these trends and new devices over time.
There is also a change taking place on the primary catalyst
While CX was initially the primary catalyst for digital transformation, innovation, agility, and the pursuit of digital relevance are the new factors driving companies along the maturity model. For executives and senior leadership, the need to accelerate innovation (81%) was at the top of the digital transformation agenda.
Right behind it was the need to modernize the IT infrastructure with increased agility, flexibility, management, and security (80%), and the third priority for enterprise transformation is improving operational agility to more rapidly adapt to change (79%).
Altimeter argues it is through these priorities, businesses are developing a roadmap that helps them compete for the present while building a next-generation business model to compete for the future.
For this report, Altimeter, a Prophet Company worked with Phronesis Partners to conduct a survey of 528 qualified digital transformation strategists and executives leading change within their companies. Respondents were from companies in varied industries, with more than 250 employees, in the United States, Canada, United Kingdom, France, and Germany.
In summary
As Altimeter state in their opener in this report and I repeat here in my closing:
"Digital Darwinism continues to impact businesses as technology and societies evolve. As a result, organizations are moving away from "business as usual" as they pursue digital transformation to compete"
We are all aware (or should be) that customers are increasingly choosing products and services based increasingly on the quality of the experiences they have with them. The pressing need is to address a competitive risk if you are not mapping and understanding the channels, touchpoints and shifts taking place in technology solutions that capture, evaluate and determine customer experience.
Are you meeting your customer needs, do you fully understand their motivations, associated behaviours to design a better range of innovation solutions?
Link to the Altimeter Report "The 2016 State of Digital Transformation"