For those involved in the collaborative innovation space, the 2013 annual analysis of R&D spending by Booz & Company makes for interesting reading. Spending on R&D is up by 5.8 percent to $638 billion, bringing us back to some normality. All sectors have increased their spending in R&D except one, Chemicals and Energy. The Software and Internet sector has increased by a veritable 22.1 percent, Telecoms at 21.1 percent, and Auto and Health Care following behind.
Spend doesn't equal results
Volkswagen is top of the spenders list, but Apple keeps its top spot on the most innovative companies list. The top 10 deemed most innovative significantly outperformed the top 10 spenders on R&D. A helpful reminder that it's not about how much you spend, but about how you spend it - and perhaps how much you've managed to create a successful culture of innovation and collaboration.
Samsung is perhaps the exception, moving up to second on the spenders list from sixth the previous year, while sitting third on the most innovative table. The top four most innovative companies share a common theme - Apple, Google, Samsung and Amazon all have a stake in the mobile computing sector. Amazon to a lesser degree, only battling on the tablet side for now. Microsoft and Facebook, both companies looking to edge in on the mobile arena, are lurking behind on seventh and tenth respectively.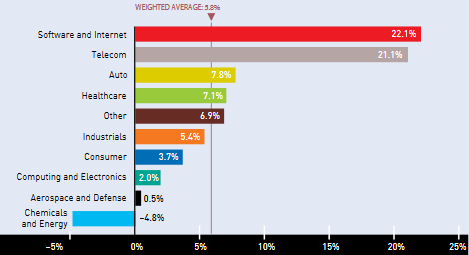 The increasing importance of digital tools
What is most interesting for us at HYPE is the increasing importance of digital tools to support the innovation process. Not just the fuzzy front-end, but the full life cycle - from customer insight to ideation, and development to launch. The study notes that the high degree of uncertainty at the early phases of the process can be confronted and surmounted by the use of these digital tools. By collecting customer insights and ideating on them, companies can generate better quality ideas and increase the throughput of successful innovations to the development and launch phases.
41 percent of the companies surveyed report using some form of idea capture tool to boost their innovation pipeline. The results are mixed though, with some uncertain about the real benefits. Importantly the report notes that, "Digital tools are only as good as the underlying innovation process they support. Those companies that understand that are poised for success." There is a tendency for companies to think of ideation tools as just that - tools. What is vital is that the process and people elements are taken with considerable care and attention, and if so, success is dramatically increased.
Game changer
Of the total $638 billion spent on R&D, $52 billion was allocated for digital enablers. A slice of this is going directly on ideation and customer insight tools, and we can well imagine the 41 percent adoption figure to rise in 2014 as companies learn the full benefits that these platforms can bring when implemented properly. Indeed, "companies [who] made significant use of these digital enablers were 77 percent more likely to report that they outperformed competitors" the report notes.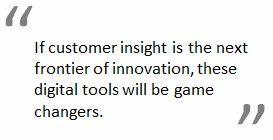 The ownership of these tools is often an indicator as to whether success beckons or not. We are seeing a rise in central ownership, offering up the tools as a utility that the rest of the company can tap into at any time. Simultaneously increasing the output of ideas and insights in all areas of the business, and developing a culture of sharing and collaboration across silos. On this implementation challenge the report notes, "half the respondents who let the CTO lead [the initiative] said their companies outperform the competitors, suggesting that one's innovation efforts under a single executive can be very effective."
The report offers some positive reflection on the past year, and an exciting prospect for the coming one, with digital tools like innovation management platforms at the heart of the action. The report concludes, "The transformative benefits that insight tools can bring to your innovation process can far outweigh their costs … If customer insight is the next frontier of innovation, these digital tools will be game changers."