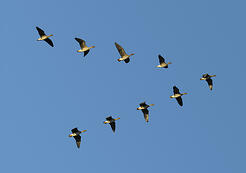 Upwash exploitation and downwash avoidance by flap phasing in ibis formation flight is not your typical innovation read. In fact, it is about as far from innovation management research as (scholastically) possible. What makes it captivating, however, is the unique close-up at the refined ways in which birds coordinate in flight - a wonderful metaphor for the dynamics of innovation networks, or ecosystems as they are sometimes known. Let's take a moment to delve deeper.
Birds have long stood as compelling symbols of leadership, authority, opportunity, longevity and even inspiration and renewal. Additionally, their complex flight formations and accurate coordination have revealed interesting facts applicable to scientific (e.g. birds are excellent weather predictors as they react to the drop in air pressure before a storm by flying low) and non-scientific areas (e.g. hierarchical structures are preferred to egalitarian ones in flight; find a synthesis of the experiment here) alike. It was not until the advent of lightweight GPS units and other sensors, however, that the results became dependable in the true sense. GPS tracking enabled huge leaps forward and helped conform theories that scientists had held for ages, one of them mentioned at the onset of this blog entry. If you happened to miss it, what the upwash exploitation and downwash avoidance study alluded towards was none other than the V-formation and its underlying secrets. Hence, why some birds maintain perfect Vs in flight and how that relates to innovation networks (that work) is something we will get to in a moment.
As it turns out, what birds are actually up to in flight (northern bald ibises to be precise) is nothing more than positioning themselves and timing their wing beats so perfectly that, according to aerodynamic theory, they minimize their energy use. Even more remarkably, ibises adjust extremely quickly to any changes in the flight pattern of the bird in front, thus avoiding collision or slowing down. Drawing a parallel to business, innovation ecosystems are largely governed by similar principles as actors carefully "align" their actions around a common goal – usually dictated by the focal firm. So much like the ibises, members of a well functioning innovation ecosystem are perfect collaborators flying towards a common destination: success.
But why are ecosystems created and how do likeminded partners assemble? With regard to innovation ecosystem creation, a recent empirical analysis by Llewellyn D. W. Thomas and Erkko Autio of Imperial College London makes a few interesting points. To begin with, the researchers view the establishment of ecosystems as responses to value creation processes becoming intertwined (see a related post on establishing meaningful connections): with less and less innovation happening within an entity's closed walls, organizations explicitly seek to open up and create spaces – virtual or otherwise - that boost competitive advantage. Furthermore, by analyzing a set of six very different yet altogether successful innovation ecosystem creation cases (Amazon, eBay, Facebook, Google, Salesforce, and Wikipedia) the same study has also uncovered a three-stage model of ecosystem emergence – Initiation, Momentum and Optimization demonstrating that success in building a large "flock" is actually deeply rooted in strategy.
How did the scientists prove it? While no GPS bearing harnesses were ever mounted onto ecosystem member's backs, the regular "adjustments" they made to remain in sync were assessed by looking into archives: critical histories authored by independent journalists and digital resources such as websites and news articles. As it turns out, each of the six ecosystem creation sequences was unique and hence, no precise formulas could be extracted. What there was little arguing over, though, was that Amazon, eBay, Facebook, Google, Salesforce, and Wikipedia all employed flexible structures, powerful hindsight and an ability to exploit the knowledge created within the ecosystem to gain competitive advantage. Moreover, the digital services (i.e. their offers) proved not nearly as important as the network of people that generated, refined and ultimately consumed them. Their big "V".
Let's zoom in on Salesforce.com, the global cloud computing company ranked #1 on Forbes Most Innovative List for three years in a row (2011, 2012 and 2013).
Below is a visual representation of the main connections in its partner network/ innovation ecosystem as it looks today.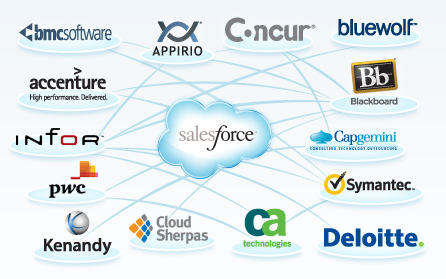 (Source: http://www.salesforce.com/eu/partners/overview/)
Essentially, what the ecosystem perspective teaches us is the fact that what matters most in creating and sustaining innovation is building and strengthening interdependent links amongst ecosystem players. Salesforce.com's Marc Benioff has been an evangelist of partner growth and still commits resources to this practice with great success. The evidence rests in the $831+ million worth of acquisitions and strategic alliances secured over the years – notably: large professional service firms like Deloitte (Deloitte's Salesforce.cm practice), PWC (cloud-based CRM solutions) and Accenture (Accenture Salesforce solutions), HP (Salesforce Superpod) on the technology side, Appirio (special deployment teams) and Blackboard (training and educating sales teams). After all, in ecosystems the effects can multiply: initial purchases and alliances enables others in a virtuous cycle that helps strengthen the health of the network as a whole.
In a nutshell, Salesforce.com succeeded because it adapted at every step. It took trends like cloud computing, mobility and big data, recognized them as the new style of IT, and developed offers that catered to what enterprise customers needed from technology. Furthermore, it never stopped asking. "Why isn't all enterprise software (including Salesforce.com) like Facebook?" famously enabled the introduction of Chatter, a social application that took the best of Facebook (and Twitter) and applied it to the CRM space. Today in companies using Salesforce Chatter, e-mail inboxes have shrunk dramatically because the majority of communications are now status updates and feeds. Direct acquisitions have helped Salesforce strengthen its core capabilities, while partners provided services for where Salesforce was not able to provide or seemed reluctant to provide at a certain point in time.
Summing up, what birds are up to in flight is in many respects an adequate metaphor for innovation ecosystems and their intricate workings. By learning to time their wing beats (i.e. strategic moves) perfectly, adapt their flight pattern to changing conditions (i.e. new trends) and seeking other powerful birds to join the flock (i.e. partnership management), more organizations will be inspired to assemble their own Vs and embark on repeatable journeys towards long-term competitive advantage and innovation success.