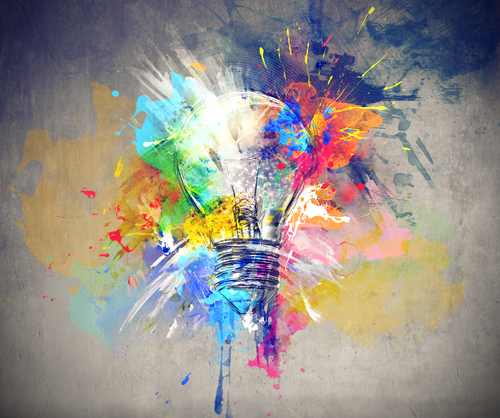 Creativity and innovation are prevailing buzzwords in business literature today. Run a standard search on Amazon and it will render some 64,200 titles on "Innovation" and approximately 18,300 on "Creativity". This excludes the myriad of articles, conference proceedings, TED talks or good old-fashioned board meetings written or organized around the topics.
Interestingly, what is similarly prevailing is the frequent confusion between the two terms – or three if we add "invention" or "entrepreneurship" to the equation. What there is little arguing over though, is the strategic importance of these concepts, and their seamless integration into the survival mechanisms of companies battling for supremacy in today's interconnected, hyper-competitive, fast paced world. In its latest issue of Prism, consulting firm Arthur D. Little (ADL) recommends a deep dive into the subject matter and introduces a new paradigm for business called "The Creativity Era". Let's take a closer look at the implications for innovators both old and new.
With a few memorable exceptions, such as General Electric, the only company that has remained on the S&P 500 Index since its establishment in 1926 (just three years after the stock index was first introduced), most organizations today face ever decreasing lifespans due to technological disruptions – or, as ADL authors Eric Kirstetter, Rick Eagar, Michaël Kolk and Daniel Roos note, today companies need to change constantly just to stand still. In other words, new dynamics are placing larger and larger premiums on a company's ability to transform itself (while maintaining stability) as well as on its ability to be creative with respect to its products, services and business models. ADL predicts these dynamics will support the emergence of a new Era – an era in which the propensity to generate and implement original ideas will define sustainable business success.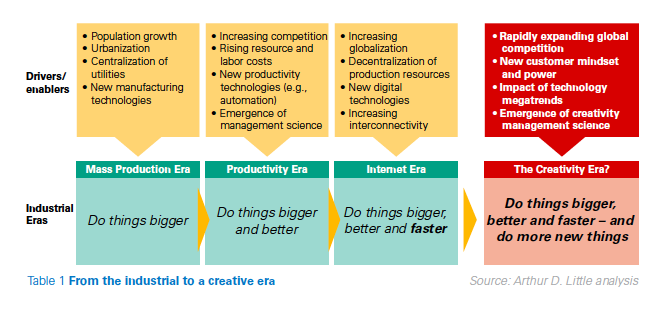 Expending on the reasons as to why companies need to make a step-change in the way they use creativity for their innovation efforts, the authors detail four:
Rapidly expanding competitive landscape

– the emergence of the

BRICs and MINTs

as well as that of other developing economies continues and with it the influence of multinationals from these countries on the global competitive stage; in addition, lower technological barriers enable more start-ups to dethrone established firms far quicker than ever before.

New customer mindset and power

– in the B2C sector, networking and social media continue to empower customers, enabling them to have a say both in the design process as well as in the pace at which upgrades / improvements are introduced; expectations are similarly on the rise in the B2B sector where business customers are now much more prone to change suppliers to find the best solutions - hence the growth of advanced partnership concepts.

Impact of technology megatrends

– if the current number of patents filed in US courts is anything to go by, the pace of innovation that companies have been accustomed to in the last decade will not be sufficient for the future; additionally, speed to market and megatrends such as 3D printing, new materials or advanced robotics (among others) are expected to lead to more disruptions.

Emerging "Creativity Management" science

– how to "manage collective creativity" will likely remain one of the most debated topics in the coming years; though various creativity tools and techniques have been around for some time, particle and replicable ways to systematize the creative process are just emerging - scholars and consultants are just beginning to understand "Creativity Management" and its broad implications for the business world and beyond.
In response to these critical conditions, the authors make their recommendations for long-term business success.
First and foremost, companies need to adopt greater strategic flexibility and transition from single long-term strategy in terms of products/services and markets to strategies based on scenario thinking that allow flexibility as circumstances evolve. It follows that the organizations of tomorrow need to be prepared to disengage quickly from activities that do not bring them competitive advantage. At the same time, these organizations need to remain open and well attuned to the innovation resources and capabilities available in their immediate and extended networks. Think about Procter and Gamble and their ambition to have 50% of their new products coming from open innovation efforts.
Secondly, companies need to invest in building responsive innovation management processes to observe changing demands and emerging opportunities, and to manage creativity in advance of competitors. Strong business intelligence and active product/service portfolio review, regular technology reprioritization, high speed/low risk development cycles (Stefan Thomke's "enlightened experimentation" makes a great further reading in this respect) are a few of the important actions worth considering.
The third recommendation points to governance and having the right structures in place to manage creativity. On the one hand, creativity should be driven top-down and governed by a diverse, cross-functional team of executives, while on the other, special teams that can draw on resources for creativity from other parts of the organization need also be in place. Royal Philips, for example, relies on groups of dedicated specialists to push creative innovation projects forward. Moreover, the company remains at the forefront of efficient incentive systems – like the Phillips' Acceleration Station, a program that rewards employees for their contribution to innovation and change.
The forth and final key to success, engendering a dynamic creativity capability, refers to instilling creativity into the corporate culture. More precisely, it refers to the ability to maintain momentum and keep innovation fresh through a culture that promotes "intraprenership". Recall how many organizations are starting to embrace the "x% of employee's time dedicated to their project of choice" strategy. 3M's Time to Think is a great example as such.
The ADL authors conclude their investigation into the new business paradigm by justly noting: Companies that are able to understand and tackle the necessary changes fastest will be the ones that will become the future leaders.
All in all, the study paints a detailed picture of new business dynamics and makes the case for the dawn of the Creativity Era - an era in which organizations' longevity is threatened by rapidly shifting rules of the innovation game. Whether it is the expanding competitive landscape, customer empowerment, technology megatrends or the disciplined management of creativity that creates the most tension in boardrooms, innovators both old and new must adopt greater flexibility, build responsive processes, ensure the right governance and overall, instill creativity into the corporate culture to survive.
Read more...
What the Booz & Company Global Innovation 1000 study tells us