In the above webinar, HYPE's Colin Nelson looks at how companies launch their innovation programs, and the key considerations to have in mind. Here's a brief walkthrough of some of the main talking points.
Firstly, why do organizations implement innovation programs? The three reasons our clients mention most frequently are:
driving more innovation,
reducing costs,
and increasing employee engagement.
What would have been your answer to the question? Would you know the goals for your company? An effective innovation program starts with the end goal in mind: what should it set out to achieve?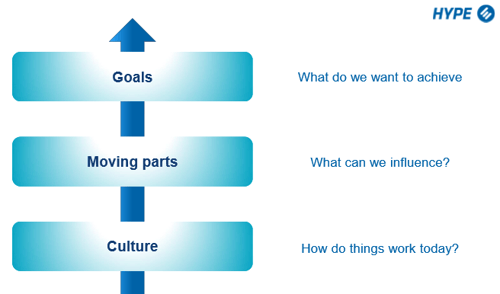 Aligning the program to your business goals
A lot of organizations start with the idea of "let's just see how it goes and try to involve the organization anyway we can". More often than not, this leads to difficulties.
Employees usually do not have a large amount of discretionary time beyond the regular day job. So, we advise to start from a strategic goal-oriented perspective, and work backwards from there:
What goals do you want to achieve?
How can we achieve them?
What do we need to do to get the relevant people on board?
Getting engagement just by pure marketing push alone is not sustainable. Employees and stakeholders need a return on their efforts. Stakeholders in particular, need results which help to address their core objectives. If you can deliver on those, they are more likely to engage, and bring people along with them. You'll need to make an assessment of:
The kind of participation you want to have;
The skillsets you have for innovation management;
How the approach works today, and what the cultural baseline is within your company in regards to collaboration and innovation.
Assessing your culture
We would all love to have a dynamic culture, enthusiastic about innovation and passionate about being involved, however this is often not the case. Some employees do not like to share their knowledge, and some are not as collaborative as you might wish. Ask yourself - do your colleagues collaborate well in their day-to-day work? Do they trust and engage with management decisions?
Think about what is possible within your position today and what your culture allows you to do. If you cannot achieve alignment between your innovation topics and your culture, people are unlikely to join in. You need to choose something that fits.
In total, consider 4 different elements in terms of culture:
Skillsets: What type of work are people doing? Is everyone a knowledge worker, working at desk with full internet connection? What is the standard of academic achievement within the company?
Demographics: How old is the average employee? If you have different generations, keep in mind that they work differently. Are there many "baby-boomers" working for you? Are many graduates employed? What appeals most to the different to audiences?
Company Structure: Where are the largest groups of employees? Is the company hierarchical? Does middle-management play a large role in organizing resources?
Geography: What countries do you operate within? Do you see differences in sharing and collaborating behaviours between countries?
Be respectful of all of these aspects. Build a picture of how to address these different parts of the company, and what you can reasonably expect from them.
Always keep your longer-term ambition in mind but moderate that down to reasonable and pragmatic goals for the initial face of your campaign. Use the information you found out about your organizational culture as a guide to moderate your early objectives. You can always accelerate and get more adventurous later.
After you've taken your cultural baseline into consideration, you are ready to deal with the "moving parts" you can and need to influence prior establishing a program. You should keep four areas in mind:
Positioning;
Raising awareness;
Sponsors and topics that engage;
Building belief.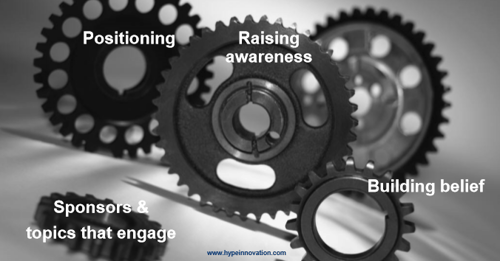 Some considerations:

Where do you want to position your innovation management program?
How can you brand it, to give it a sense of identity, among all of the other corporate initiatives and systems?
How do you want to present it to the company?
Is it something completely new to the company?
What specific areas do you want to innovate on?
What do you want people to do, and what behaviors are most important?
How and when do you want people to join in?
What channels do you want to use to communicate the program?
Where to focus the initial challenges?
Even though you know how to position it effectively and you know how to raise attention, if you don't have a good topic for people to engage with, and a sponsor that can foster belief and confidence around the process, you will struggle to get employees to join in.
The following is a list of 4 neccesary items for an early stage program:
An area of strategic focus, e.g. a process you are struggling with, an area of cost reduction or a trend in your business.
A set of idea campaigns that are ready to go, but you could focus on one first and kick-off the others later.
Communications around it. Decide if you want to promote on the program level or directly at the campaign level, but keep in mind each activity needs its own attention.
High-level support gives confidence – "we as an organization are looking for more innovation and it is important to invest in it and we want you to be a part of it."
As soon as the program is running, communicate clearly the goals you want to reach, and at every possible step, show how you are doing according to those goals. Employees will become more enthusiastic and willing to engage when they see outcomes are being achieved, and their ideas and participation have a direct link to meaningful business objectives. It is an impactful way to move your culture forward. Everyone wants to be part of something successful!
Within this blog post, we've focused more on the cultural baseline. If you are more interested in the second step – the moving parts – you will find more details for the considerations I listed above while listening to the full webinar here. You'll see examples of how companies positioned their innovation management program and the channels they used to communicate.
HYPE innovation regularly hosts webinars on innovation management strategy, governance and tactics. We offer a large range of topics for beginners and experts working in the field of innovation. If you would like to receive notifications, sign-up here! If you missed one that you wanted to attend, you can watch the recorded session in our Library.