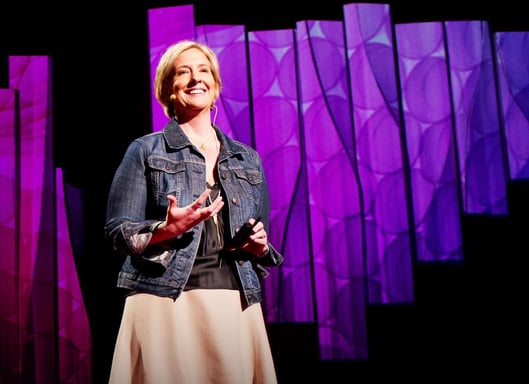 During my life both professionally and personally when I have completed a project, people would often make comments like 'wow I don't know how you did that 'or' how you made that happen'. The trouble was, I didn't see anything special in what I was doing. Yes, I had a set of skills that made the logistics and execution much easier, but many people have far more formidable skills sets than me.
So, I used to awkwardly accept these compliments, yet wonder why was I able to do these things with such clarity and enjoyment, why was I able to apply myself to a challenge or idea, and then just go and try it out with relative levels of confidence?
Finally one day I had my 'ah ha moment'. I stumbled on a TED Talk by Brené Brown that really resonated with me where she talks about vulnerability being the birthplace of innovation.
What I recognized in myself immediately is that when faced with these challenges and opportunities I was accepting my own vulnerability and empowering myself with the confidence to be happy with the outcome regardless. This in turn gave me the strength of resolve to make things happen, be decisive and strategically reactive to deliver an outcome.
When we are looking to develop a culture of innovation we coach people to be curious, agile and creative thinkers, we tell them it's OK to fail fast, we teach them to ask questions and challenge the norm, and we give them versatile tools to do this. After these coaching sessions everyone is always hyped up and the energy is electric, so, we sit back to watch the magic unfold……but, in my experience this is not often the case, and the magic is more like a little puff of smoke.
We need to recognise that we have been teaching a set of skills, and before a person can use these skills they need to have an understanding of the type of 'mind-set' that makes these skills come to life. If we can empower an acceptance of vulnerability in the workplace, through a supportive environment we will find that people will have the confidence and courage that enables innovative and agile thinking and behaviours. To quote Brené Brown, 'Courage is borne out of vulnerability, not strength'.
Think about this in a context closer to home. When we fall in love, we are at our most vulnerable and we succeed in creating one of the most powerful bonds in life, so imagine the possibilities that can be achieved when we empower vulnerability in our innovative approach! Check out Brené Brown TED Talk below.
For more information on developing a Culture of Innovation, please do not hesitate to contact me at lauren@fernandrose.com or visit my website at www.fernandrose.com
Related posts...