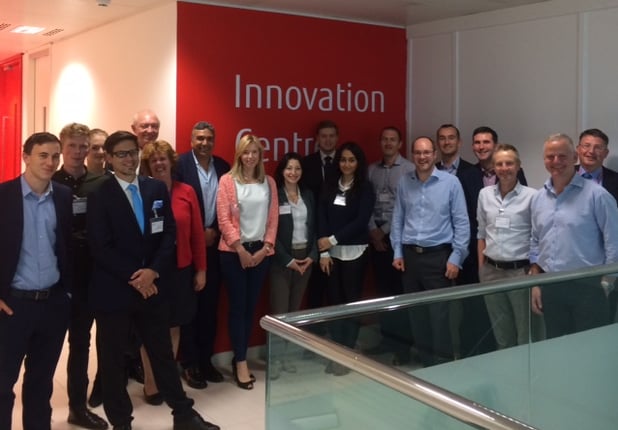 I have just returned from the most recent HYPE Regional Innovation Managers Forum hosted by Fujitsu Services in the beautiful City of London and my head is still abuzz with what I've seen & heard.
In addition to learning that Queen Elizabeth II is now the UK's longest reigning monarch, the true highlight of my day was watching the corporate innovation professionals in the room let their guards down, open up the discussion and share their most dreaded obstacles in the pursuit of effective idea campaigns.
If you ask me, this spectacle has considerable potential to make history too, if it becomes a widespread trend. How and especially why full openness occurred, I later realized, was due to a "perfect storm": digital natives (the new generation) taking over innovation functions and hence more readiness to share, a diverse attendance, including a blend of HYPE team members, clients, and other stakeholders from various industries, as well as the "good fortune" of sitting at the headquarters of a powerful company that was/is undergoing radical transformation itself – i.e. Fujitsu Services is steadily shifting from a "we deliver boxes" (i.e. finished solutions) mentality to actively co-creating solutions with clients by bringing their prized researchers to the forefront. (1)
In the same spirit of unobstructed sharing, I'd now like to share with you the essence of the vibrant Forum on Baker Street. Read on to learn more.
Hopes and fears first, and better things will follow
Openly surveying people's hopes and fears vis-à-vis innovation campaigns (or the management of innovation in general) is not a typical way to begin a Forum, but Colin, Director of Enterprise Innovation at HYPE and the moderator of the half-day event, knew exactly what he was aiming for. The session was to address real issues, and those issues needed to be clear from the start. Attendees sensed the opportunity and after some encouragement input followed. In fact, within approximately 15 minutes' time, the following two lists had emerged:
HOPES
Cultural shift will eventually happen;
Maintain belief in the long game;
Produce better polished ideas;
Have sufficient resources to allow execution;
More "shouting about innovation" (until it becomes a cultural phenomenon);
Better management of the definition of innovation;
Draw and implement processes to tackle radical innovation;
Gather more data about small innovation projects.
FEARS
People disillusioned when no results surface;
Campaign managers going rogue;
Inability to balance between incremental and radical progress;
Middle management reluctant to spare time (for evaluations);
Inability to engage less skilled, front-line employees;
KPIs of innovation working against you.
The simple exercise of laying down hopes and fears brings a lot of clarity to the conversation around innovation. For example, by realizing that the biggest fear is disillusionment when no results show, innovation managers can run the idea campaign by emphasizing that not all innovation should be desperately exciting. It follows that key contributors can focus on simpler solutions instead of slaving over technologically advanced alternatives over extended periods of time. Innovation success is after all equally (if not predominantly) at the discretion of the client. Likewise, a hope to maintain belief in the long-term game can easily become a guiding principle for the innovation team through a commitment to adopt whatever comes out of the campaign. Long-term orientation also means being prepared not only to welcome ideas, but also to welcome the allocation of staff to implement those ideas and follow through. Hence, working backwards – e.g. booking evaluators in advance for an upcoming idea jam, is key.
All in all, the message was clear: drawing up a list of hopes and fears will let solutions (the "better things") follow through.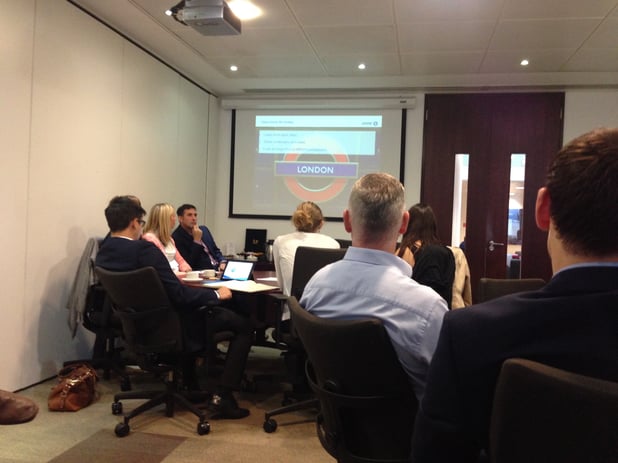 Sherpas, curators, seed fund securers and other IM roles
We are what we repeatedly do, wrote Aristotle, suggesting that excellence is not an act, but a habit. Companies too, powered by their natural understanding of innovation as well as changing priorities, are what they repeatedly work towards, making innovation success a routine that can be improved for great results. At Fujitsu Services, we learned, working more with SMEs to enhance agility and remain relevant has called for a team of sherpas – i.e. the innovation management (IM) team, to help escalate the innovation mountains, using HYPE and other idea management software as their compass & map. The IM team's roles are varied and include: navigating challenges, building tools, and extracting input for value creation. Fujitsu sherpas are true innovation route finders with an uncanny ability to teach others how to play the innovation game. Alongside sherpas, another special role at Fujitsu is that of the curator or the expert that sieves through the idea archive on a regular basis. A curator tags ideas, explores relationships, builds analytics, and finds trends in the "secret idea bucket". Moreover, he/she is charged with providing credible info on the state of the art in technology (created internally), can be asked to apply judgement and may also be required to run quality checks of the ideas themselves on a monthly basis.
Other possible skills and roles of the innovation management (IM) team mentioned at the Forum included: ability to extract solutions from one sector and applying them to another, being connected, capable and understanding the many frames of reference and to the various interpretations people can give to a certain situation – e.g. Can an IM team anticipate how people will see innovation? Finally, an IM team can also help secure funding/ seed capital for innovation, making sure there is budget to drive ideas forward.
As an extra reading tip, here is a great article on the seven key roles of the Chief Innovation Officer, another important role an organization can choose to create in pursuit of innovation management success.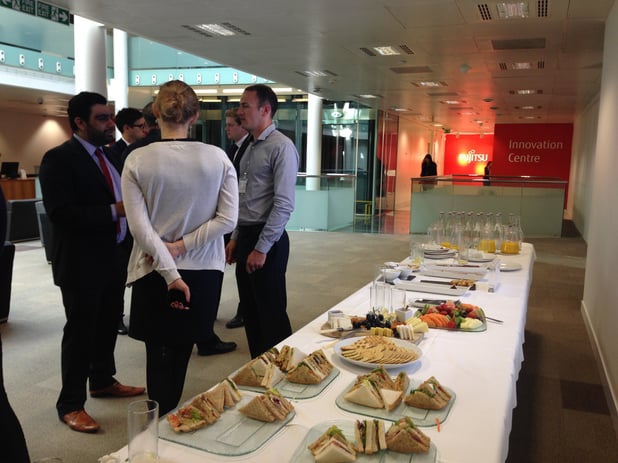 Innovation taps and the elephants in the room
Is innovation a tap you can turn on? Hardly. The language of command is not the language of innovation and if your top management insists it is, there are likely cultural barriers to overcome. This scenario rang true for both Equiniti and GfK as their presentations at the London Forum emphasised the struggle to re-educate complex organizations in the light of new challenges (i.e. elephants in the room) and new opportunities with innovation.
Equiniti, a technology, finance and administrative services company that had grown through acquisition, having support from the business development teams, described its experience with innovation as panning for gold. A change was necessary and it could only happen though education. Armed with idea management software and new mind-set, Equiniti started small, and tackled the fundamentals first – i.e. Why are ideas only a small part of the innovation process? or The distinction between managing incremental and radical. After securing the basics and having top management's support, fresh best practices began to flow once again. For example, the company found that face-to-face conversations with clients were extremely useful and that 20 minute briefs on how Equiniti works with innovation as well as what is in the pipeline could easily fit into key account meetings (client presentations). Other important effects of innovation management education were reinforced values: to inform (provide spotless communication), educate (involve clients in idea campaigns) and entertain (gamify, find creative ways to engage employees, like, for instance, assigning "ninja badges" to main contributors to innovation projects; soon enough everyone will want one!).
A similar lesson came from GfK where the scenario was as follows. Take a traditional, data-driven market research company and ask it, in the midst of an ambitious merger and acquisition spree (where issues with consolidating assets and people are inevitable) to internally achieve what it has for years done flawlessly and reliably for its clients: untangling data and supporting change. The challenge was far greater than expected due to not one but "two elephants" in the room: one that had been standing there fore a long time, and one that had just come in. The outside elephant had entered the scene some 8 years back when GfK clients' demands were not only changing, but also becoming more complex. The internal elephant, however, the one that had always been there, stood for organizational challenges, including inertia (GfK is 80+ years old), diverse cultures in teams and language barriers affecting daily routines. Herding the elephants required a spark and so the GfK Idea Lab was born. At the Idea Lab, essentially an internal crowdsourcing capability, questions like What gaps do you see in the current data landscape? are now reshaping the organization.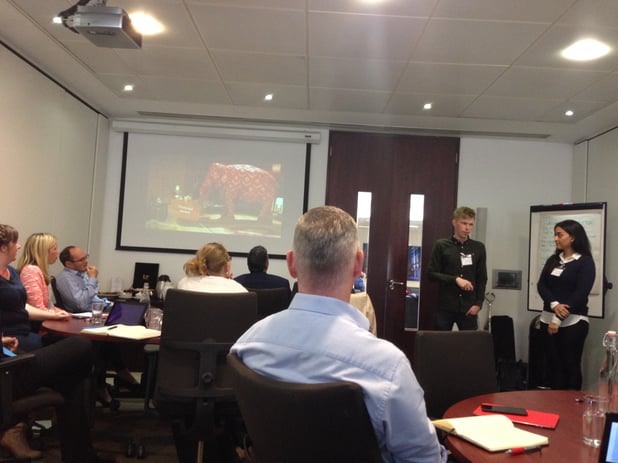 And that brings us to the end of the Forum.
For more unobstructed sharing, new connections and surprising ways to tackle persistent issues make sure to join a forthcoming HYPE Regional Innovation Manager's event.
Endnotes
(1) Not having something to show customers is counter-cultural to Fujitsu. Therefore at present two parallel practices co-exist: Showcasing and opening conversations. The maturity of the customers is also a factor in the equation of success. Mature customers can help boost internal maturity but they are, however, more pretentious. As Joachim Box put it bluntly: "If you come back to us trying to sell us a box we will never talk to you again". In response to these trends, Fujitsu is now bringing teams of highly skilled R&D experts to brainstorm solutions, blending objectivity and experience better.
Related posts...