If this is the first time you're hearing about Tinder, I promise it won't be the last.
When you ask famous entrepreneurs or innovators in which sectors to look for the new trends, likely they will say where the fun, young, and edginess is. Science, yep. Tech, yes sir. The market for love is certainly also one of these places and has always proven to be a good hotbed for new innovations. Remember VHS and Video 2000, the rise of the HD video, Viagra, etc. Currently, a new wave of change has sparkled the business of matchmaking. Think about Lulu, Grindr, Bang with Friends (no explanation needed), Coffee Meets Bagel, The Inner Circle, Kisstagram and…. Tinder.
If you haven't heard of Tinder yet, you're either in a relationship, very busy with work, haven't been going out for a while or…well…living under a rock. Tinder is the hottest startup in the world right now and will influence your innovation ecosystem.
For the uninitiated, this is how Tinder works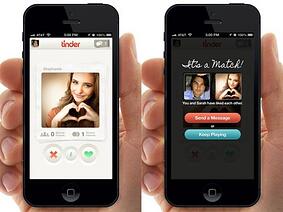 No. Hmmm no. Indecisive. Yes. YES! … That might be your thought process while using the app. Unlike sites that provide a comprehensive dating profile, the average OkCupid user voluntarily answers 233 questions about themselves, Tinder is strictly photo-based. If you have 'liked' each other, only then you are matched, and can start a conversation within the app. What happens next is up to you. At face value, this is the same as many other apps in the market. So, some stats to cover:
One year after launching, Tinder's hordes have swipe-rated each other 13 billion time. To understand the growth trajectory: 3 billion in August alone.

2 million matches happen each day.

The average Tinderer checks the app 11 times per day, seven minutes per session.

77% of Tinder users are between the ages of 18 and 25.

And apparently, according to a survey done by Tinder themselves, out of of 1000 users 96% had never used another dating app.
Cracking the code
As the stats reveal, Tinder is an attention magnet for many and apparently creates behavioral change. The question is of course…why? Connecting this to theory, the Behavior design-theory by BJ. Fogg is useful. You find human behavior the sum of three variables: motivation, ability and triggers. They all should work together.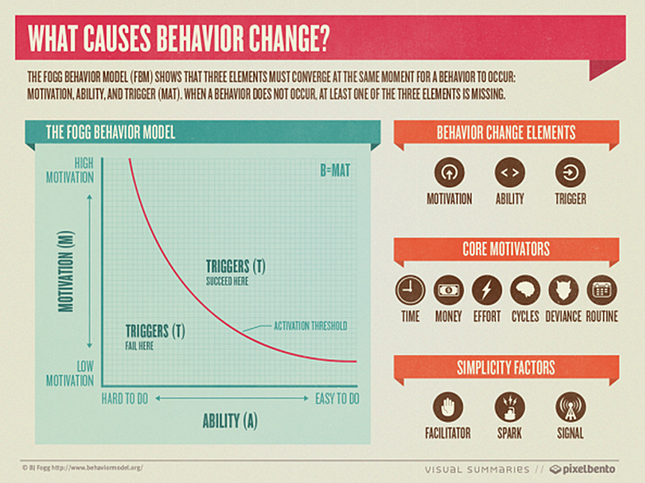 In general, people are risk averse in changing their attitude or learn something new. So you need to motivate them. Motivations come in three forms: pleasure & pain, hope & fear and social acceptance or reject. Tinder and many other apps seem to succeed by focusing on pleasure, hope and avoiding rejection.
The secret sauce consists of different parts:
First, the faces you see on apps like Tinder seem real because they're tied to Facebook accounts, nowadays the gold standard of authenticity.

Second, this new world of apps is designed exclusively for smart phones and the gen Y and Z generation who seem to be natural users.

Last but not least, these new dating apps take away the fear of rejections and focus on game elements. There are no rejections, only matches.
The visual element resembles how much of the world works. Simplified, certainly. But very real. It you walk into a coffee shop or office, the first thing you notice is someone's physical appearance. Once you talk, you begin comparing similar interests and discussing mutual friends. This is no different for social life or business life.
Innovation and business application
Innovation involves tinkering time, persistence and good ideas. But that is not all. Creating an environment where people can meet up is a really important part of any successful innovation ecosystem. Tinder has struck gold in the way people want to meet up with other people. Not by adding more questions or heavy design, but by focusing on fun, photo only and simplicity.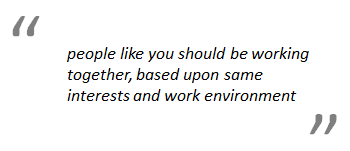 Would this affect online collaboration as well? I believe so. Currently, there is focus on social tools like Sharepoint and Yammer. Being able to add a personal touch would be the next thing. But how more personal can it get? How to create a bridge between your business you and your personal you? One option would be having meaningful additions like including a photo gallery of your work experience and work environment like co-workers, office space, things you are working on, even prototypes of the ideas you are suggesting. This would make the whole innovation part more real for distributed users, being able to sneak peek into your life. And this will enhance social behavior, like sharing and working together. Imagine you pump up the gamification element in online collaboration tools: 'people like you should be working together, based upon same interests and work environment'. Just as Amazon does with 'people who bought this, also bought…'. I would be eager to at least connect to these people and see what we have in common. I guess there are more around who would like that as well…;-)
Final thoughts
If you're eager to understand how the next generation interacts, this is a must do experiment for yourself. Try it, if only for one hour to understand the addictiveness. Tinder is indeed fun and, my prediction, business will be more and more about fun as well. We have seen social trends taking businesses by storm. My prediction is that this will happen with your business as well.
If you think these worlds are all totally disconnected…know you have been warned, while the rest of us are getting Tinderized.