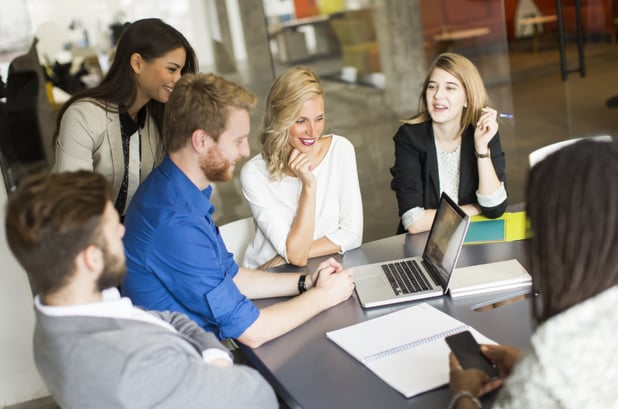 Previously, we looked at how to get the most from academic research on innovation. Now that you know a great deal about how all this works, let me walk you through an example.
Let's imagine you are as diligent a company as GfK and are running a permanent idea campaign on leveraging new idea sources using the HYPE Enterprise software. Your employees spot a number of gaps in your current knowledge landscape and agree that the best way to close those gaps is by bringing in scholarly know-how. For example, your company is keen on learning about learning, Organizational Learning that is, in the context of strategic renewal. What steps should you take?
The very first step is to assemble a project team (call them the curators) that will identify, translate, adopt and ultimately institutionalize what they've found. This team will need adequate resources and time to do its job properly so don't go any further before the administrative issues are solved.
Once the admin part is out of the way, it's time to concentrate on the first two obstacles: access and jargon. Can your curators tackle academic jargon? Perfect. Not sure they will manage? Look into bringing someone with the right skills and incentives in. Master students, PhD students and post-doctoral researchers (ideally with prior experience/ interest in your field) are well equipped to provide project insights and guidance from the academic angle, making the resulting solution both academically relevant as well as practically applicable. Furthermore, they can help you publish the results in a prestigious journal later on. What about access to the academic articles? Will your team be able to search the databases they need? Is a subscription / partnership for a subscription necessary or will Google Scholar / ResearchGate and some ingenuity do the trick? When all this is clarified it's onto the content and organizing the findings.
As your curators immerse themselves into the depths of Organizational Learning, they will no doubt come across the works of George Huber, Anika Laperrière, Mark Dodgson, James Love, Henrik Bresman and, of course, Mary Crossan, whose article, An Organizational Learning Framework: From Intuition to Institution written in collaboration with Henry Lane, Roderick White back in 1999 has been cited no less than 3,583 times. In terms of interesting findings, your team could come up with any of the following:
Organizational routines play an important role in the innovation process; they cannot be copied unless the transfer is done to an identical setting (See? No need to worry anymore!);
Organizational learning is all about strategic renewal – and by the way, it's only "strategic" if it includes the entire organization, not just the communications department;
Learning is multi-level (individual, group, organization) and is governed by two opposing forces: exploration (assimilating new learning) and exploitation (using what has been learned);
Not all "I"s of organizational learning (Intuiting, Interpreting, Integrating and Institutionalizing) are relevant for all levels; Intuiting and Interpreting happen at the individual level; Interpreting and Integrating can only be done in groups, while Integrating and Institutionalizing are tasks of the organization;
Learning can be tactical (immediate problem solving) or strategic (extends beyond immediate issues) and usually, the greater the uncertainty, the greater the need to learn;
Unlearning is a field that's just as important as learning;
Learning does not always increase effectiveness (present / future; existing / potential); neither does it lead to veridical knowledge; companies can incorrectly learn and then they can collectively learn that which is correct. Sounds like a proverb;
What an organization knows at its birth will determine what it searches for, what it experiences, and how it interprets what it encounters (this might help explain some of that inertia, or aversion to radical innovation projects!);
The probability that learning will occur is influenced by: culture, strategy and a structure that can accommodate it (strategy influences learning capacity)
These ideas come from a handful of articles. Eight to be precise. Now think about what happens when you scale this exercise. As you and your curators become familiar with the many nuances of a field, you can be very specific in your innovation projects and discussions. Moreover, you can perform disambiguation and get people on the same page. That's part of what academics do all the time, by the way: fighting over their own definitions. Ideally, you will be fighting over implementation or the institutionalization that we mentioned early on.
I hope you have found the thought exercise useful and invite you to try it out in practice at least once. With a bit of willpower and practice, academic know-how can become an excellent complement to other trusted internal and external knowledge sources you might use. The trick is to understand how.
In academia, just like in business, it is all about your customer. Some journals/articles cater to one type of customer, such as hard-core academics (Strategic Management Journal, Journal of Product Innovation Management, Academy of Management Journal, organization science/studies etc.), while others cater more to practitioners (California Management Review, Sloan Management Review, HBR) or even policy makers (Higher Education Policy, International Journal of Climate Change, Journal of Contingencies and Crisis Management). So for practical lessons, innovation managers should typically turn to the sources that cater to their needs best. The step-by-step approach discussed here should help industry experts like yourself get started immediately.
So now I'm wondering: Do you tap onto academic know-how for your innovation projects?
If so, where do you go and what's your approach to searching? How do you navigate the variety of content sources and styles? All ideas, experiences and shouts are welcomed at: oanamaria.pop [at] uhassent [dot] be.
Last but not least, a special thanks to Prof. Nadine Roijakkers and all the other members of my scholarly network for their input & feedback on this article.
Related posts...