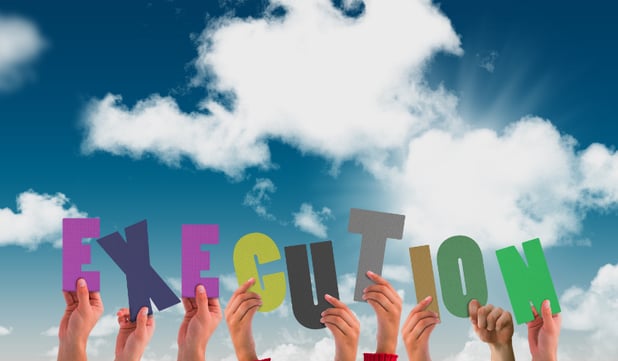 As I have been working with HYPE Innovation on a series of sessions in which we looked into the difficult part of executing innovation, I have observed five major insights on this increasingly important topic of how to produce better outcomes from innovation ideas and projects.
1. The front end of innovation is the easy part. If you work with innovation management and execution in a large company and you feel you have difficulties getting enough ideas – even the right ideas – it is because you are not doing your job well enough. Ideas are in abundance inside your organization if you set up the right structures and processes for harnessing the input of employees. If you also go outside of your organization, one of the key challenges will be to manage the overload of input that you will get.
The good thing about this abundance of ideas is that so many companies have focused on and practiced their front end of innovation set up for many years, and in general they have become quite good at this.
This combination of available experience, insights and knowledge within and/or outside your own company and the abundance of ideas, which to a high degree is driven by social media, and the ways and tools for interaction and communication brings us to an important observation.
If your company does not have a strong front end of innovation set up today, then it is behind, and it has to correct this fast so as not to lose out in the battle of innovation.
2. The process for moving ideas and projects forward must be iterative and allow for loops – forth and back.

Given the fast pace of change that we see in business and innovation today, it does not bode well when companies use a static stage-gate process for moving their projects forward. You need flexibility and the ability to go back and forth and even reverse your decisions. You need to think more about loops than straight lines.
Why? See next point.
3. Timing is key for innovation success - and failure.

One of the key reasons for innovation failure today is that the timing is off. You are too early or too late with your new offerings. This timing should be measured not only against the market, which is where people have a strong tendency to focus on, but also towards the organizational readiness. The latter is especially true if the project has a radical or disruptive element to it. Then, the biggest opponents can often come from the inside.
One challenge here is that promising projects – with the wrong timing – can get killed in a very linear stage gate project. It falls through the funnel and/or the stage-gate processes and then it is just gone.
A solution could be the innovation basket, which is an idea I first heard about from a guy working at PepsiCo. If the projects are interesting, but the timing is off, then you can catch the falling projects in the innovation basket. Not so long ago, I shared this idea at a session for corporate innovators in Madrid, Spain. A person from Mutua Madrileña lit up and said: We got something like that. We just call it the innovation refrigerator.
That's a nice term :-)
There is one caution when setting up such baskets or refrigerators. Some projects are to be killed as they are just not right for your company. If this does not happen, then they can end up as zombie projects that are often the pet project of someone with influence. They can suck up lots of resources and attention that could be better used elsewhere.
4. Ideas and project pools meet people pools.
Corporate innovation teams know how to put ideas and projects into different pools and phases. Early stage, mid-stage and late-stage project pools or discovery, incubation and acceleration phases. You need this kind of overview to manage the ideas and projects portfolio, but corporate innovation teams often miss out on an important thing when it comes to innovation execution.
People are the key for execution. Yes, you need the right projects and you need to have the processes in place, but nothing happens if you do not have the right people at the right time for the right ideas.
Having this in mind, I encourage corporate innovation teams to spend more time on identifying and developing individuals and even organize what I call people pools. Here you can look at the skills and mindset that is needed for the different phases of innovation and then you can assign the proper people into these phases. Hence, you get the people pools in place, which allows you to assign the right people at the right time for the right ideas.
This will dramatically increase your innovation execution capabilities.
5. The lack of clarity (innovation strategy) becomes a much bigger problem with execution than at the front end.

Everyone can get lots of good ideas; choosing which to pursue and what level of resources to attach is much more difficult. This is where an innovation strategy can be helpful because the basic idea of any strategy is that it gives you the reasons to say no and thus keep a focus on what needs to be done.

Choices can be a good as well as a bad thing, but generally, we have too many choices to make and thus it can be very useful to have someone who can bring clarity to what you are trying to achieve and set the direction.
This reminds me of a panel, I recently moderated on innovation execution where Julian Wilson of Barclays said that this was a situation were a benign dictator like Steve Jobs was a very good thing.
Usually, I don't think dictators make good leaders for innovation, but I fully acknowledge this point. There are times for getting lots of input and there are times where you just need to get things done.
Corporate innovation teams have begun to realize that the front end of innovation is the easy part of corporate innovation. The real challenge is the execution. It will be interesting to see how this will play out in the future and how some companies will do this better than others and thus develop important competitive advantages.

This is the first in a series of blog post on the execution of innovation. This leads to a white paper and a webinar in June hosted by Hype Innovation. Stay tuned!
Related posts...