Founded in 2003 by TED fellow Jessica Mayberry, Video Volunteers is an international not for profit media organization that empowers the voices of the world's unheard (and often poorest) communities. It does so by equipping women and men in underdeveloped areas with the journalistic and creative skills they need to create impactful media productions on the issues that matter to them the most. From struggling educators, local government corruption and slum clearances to tribal rights (i.e. village independence threatened by corporations), deforestation and illegally privatized water supply issues, video activists of all ages learn to expose underreported yet crucial tales. Training, access to a flip camera, a sharing platform and eagerness to investigate, are the basic tools volunteers employ to retrieve valuable news content. But content is only a fraction of the story – above all, volunteers learn to take action and right the wrongs of poverty, injustice and inequality by sharing the footage they create.
I was reminded of Video Volunteers while leafing through the January / February 2014 edition of IntelligentLife and found its current progress particularly inspiring. Not only does Ms Mayberry's approach continue to be a powerful example of a highly innovative, award-winning business model that accelerates social change, but its use of inexpensive technology to remedy some of the most distressing social issues in India also makes the case for "jugaad innovation".
But what exactly is jugaad innovation and what sets it apart from other models? What makes it such a groundbreaking strategy and why is it receiving more attention worldwide?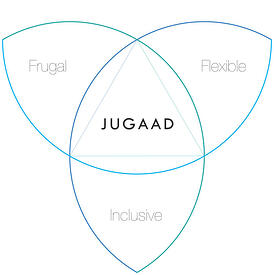 Source: http://jugaadinnovation.com/infographics/
According to Navi Radjou, Jaideep Prabhu and Simone Ahuja, authors of the 2011 bestseller Jugaad Innovation: Think Frugal, Be Flexible, Generate Breakthrough Growth, the term refers to the ability to produce considerably more business and social value while significantly reducing the use of scarce resources. In essence, a "do more with less" approach to new product, service, business or process creation but one with considerably broader implications. In fact, doing more with less is only one of the six principles mentioned by the authors. The remaining five include:
Seek opportunity in adversity
Think and act flexibly
Keep it simple
Include the margin
Follow your heart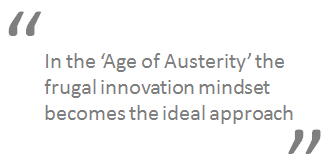 Undeniably, the formal recognition of jugaad innovation – jugaad is originally a Hindi word meaning "innovative fix" - could not have arrived at a better time. As a recent article on INSEAD Knowledge explains, the "Age of Austerity" is pressuring organizations to produce offerings at once affordable, sustainable, and of high quality, the frugal innovation mindset becomes the ideal approach. Such was the case at Renault-Nissan as the car manufacturer battled preference for domestic car brands in emerging markets. Its effort to carry out cost-effective innovation under severe resource constraints culminated in 2004 with the introduction of Logan, an affordable, robust, and well-designed car priced at merely 5,000 Euros. The success was imminent. First restyling (2012) now in place, the Logan remains Renault's cash cow across European markets as well as in many emerging economies.
Even more determined to deliver great impact with less is Unilever. In a recent account in the British press, the company's CEO shared the Anglo-Dutch multinational's ambition to halve the environmental impact of its products by 2020, and to continue its commitment to bettering the lives of farmers who grow the tea, tomatoes, palm oil and the rest of the company's agricultural raw materials. With operations indirectly causing 50% of tropical deforestation today, protecting the long-term sustainability of its supplies has indeed become critical. Unilever is therefore attempting to ensure 100% traceability of raw materials – chiefly palm oil for margarines - in the future and is rolling out plans to improve living conditions for people along the supply chain by teaming up with social entrepreneurs (read here the story of the Wonderbag, a polystyrene-stuffed pouch which uses a heat-retention principle to slow-cook food after it has been brought to boiling point, a small innovation part of Unilever's grand Sustainable Living Plan).
But frugal innovation is not only about protecting and sustaining resources. It is equally about democratizing them. Take littleBits, an award-winning library of Electronics dubbed "LEGOs for the iPad generation." With no soldering, no wiring, and especially no programming skills needed to use them, the founder and CEO of littleBits, Ayah Bdeir, believes her product will move electronics from late stages of the design process to its earliest ones, and from the hands of experts, to those of artists, makers, students and designers. The tiny circuit-boards with specific functions engineered to snap together with magnets allow for endless creative expression while making innovation and education more accessible around the world. A perfect entwinement of jugaad business strategy and design thinking.
… and the examples continue. Whether it is through adjustable glasses, light in a plastic bottle, 35$ tablets or the Vodafone 150, the flexible, frugal and inclusive jugaad innovation movement is inviting entrepreneurs, businesses leaders, representatives of government and non-governmental organizations to remove the equal sign (≠) between scarcity and setback. After all, in the jugaad world, resource constraints are merely an excuse to indulge into deeper associative thinking and achieve a whole heap more by seeking opportunity in adversity (Video Volunteers), thinking and acting flexibly (Renault), keeping it simple (littleBits), including the margin (Unilever) and, of course, following one's heart.