Cramping two full days of inspiring talks and good old-fashioned networking into a few pages is a daunting task. Especially when these span from the collective intelligence of 130 leading innovation management professionals from all over the world, gathered in an intense, 2-day conference in the heart of Germany. In a setup as such, good things are bound to happen. Magical things even. Like best practice sharing, worst practice sharing and brand new partnerships.
Take the word of someone who sat close to the stage and felt all the clapping. The vibe at this year's HYPE Innovation Managers Forum in Bonn was excellent and the content ultra-inspiring. Topics like HYPE Enterprise product news, building an innovation machine, innovation at Airbus, Veolia, Nokia, Kongsberg or Fujitsu, mini-seminars, or the keynote by the legendary John Bessant (just to name a few) fuelled discussions that lasted late into the evening. In a sense, the "comfort zones" and "where the magic happens" came closer together, even coincided – which was exciting to watch.
To give you a flavour of the event, I've prepared a collage of the big ideas circulated in the conference room as well as outside it. I'll bet you two successful idea campaigns that you will want to be there next year too.
"The longer you have lived in the white wastelands of innovation, the more terms you need for snow"
I wish I had said that. I really do, because one of the opening keynotes at the Forum by Enno Scholz, Co-founder & CEO of HYPE Innovation, made an important point. Innovation management products and services, as well as their users have reached an impressive level of sophistication. Nowadays, idea management software is becoming more intuitive, brings more features – e.g., language tools to bridge geographies, all-mobile campaigns, reward stores, the six thinking hats methodology, and by extension, brings more value added. Using social graphs to identify the idea champion in the group based on online contributions and connections to others will become mainstream. So will the diversification: Whether strategic, peer-to-peer, in the form of idea channels, or idea filters, all idea campaigns will have the luxury of occupying dedicated online spaces tailored to produce maximum results. We are talking about 20-60% implementation rates, which is very high.
Moreover, ideation software is integrating the latest developments in key fields, and draws on inspiration and direct input from users (contributors) to become more intuitive. Today, people involved in ideation and implementation are acquiring the innovation mind-set by having inspiring content at their fingertips. Mega-trends like the attention economy, ecolution, outernet, human 2.0, shy tech or game on are streamed from trend scouts at companies like TrendONE daily and often co-exist with a company's own.
In essence, one-size-fits-all solutions are officially obsolete. Today, innovation managers are mass customizing the very ways in which they address innovation in an organization.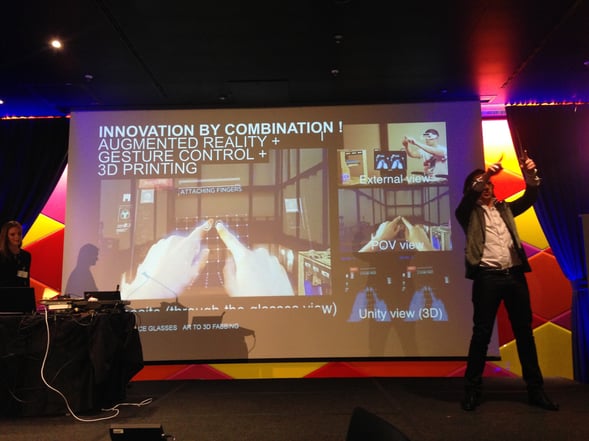 TrendONE's Nils Müller transporting the audience into 2025 with a demonstration of augmented reality.
The means of innovation are less industry-dependent
After listening to speakers in defence, healthcare, professional services, transportation, and telecommunications etc. share their approach to ideation and implementation it became apparent that the means to manage innovation are becoming less industry-dependent. Players large and small are finding similar ways to meet customer needs, collaborate with suppliers, set up ideation platforms, and channel the organization's creative energy. The innovation stream, campaign cockpit (follows top KPIs), evaluation wizard (helps the innovation manager by visualizing the entire innovation funnel), or community graduation are just the tip of the iceberg in terms of idea campaign monitoring options used consistently across geographies and strategic views.
In addition to using similar ICT tools, companies in various industries are also exchanging best practices. Whether it's building innovation ecosystems, establishing incubators, encouraging intrapreneurship, co-creating with customers or harnessing the power of the crowd, adaptations are carried out in a consistent and coherent manner. In the words of Erik Glende, Group Innovation Manager at Kongsberg, "focusing one's own as well as others' innovative energy on something good is the way forward, while acceleration is nothing without a system". Erik, in fact, summarized the entire practice of acceleration accurately. At the Forum, he shared five lessons learned by his organization on the journey to sustained success with innovation.
anchoring at top level is a must;

"tools are just tools" – it is the combination with services that makes things happen;
start small – link to ongoing initiatives in the organization – get initial success;
create "room" for innovation (and this is similar to what Airbus achieves by nurturing the various idea spaces, by the way) – assist and use corporate funding to launch;
win the middle management – it is key to better activity and focus.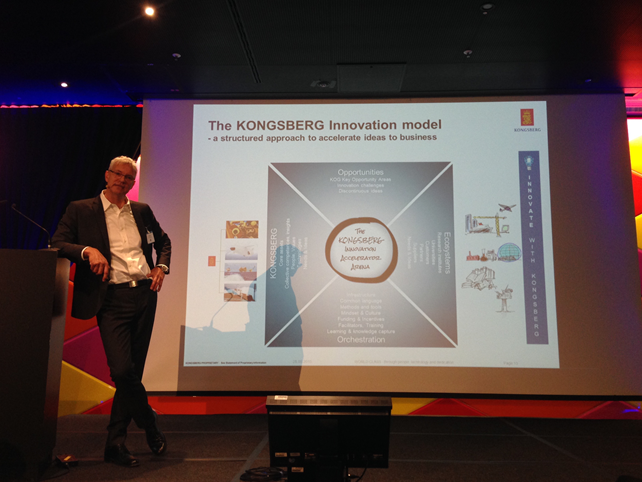 Kongsberg's Innovation Model. Presenter Erik Glende both earned and lost his lunch with an account of using "stupid" IT tools for innovation.
The journey to success is a steady, uphill climb for companies large and small
Nokia's colossal Global Innovation Mall welcomes 400 different users per day, and stores 12,000+ ideas created, an army of 40 Campaign Managers, 120 Idea Managers and 300 Sub-funnel Experts (might be worth asking presenter Fabian Schlage what those roles mean exactly). Workshops, training, the Innovation@Net program steering the innovation journey from "good" to "great". Impressive statistics, but what about the results? With an average 20% implementation rate, innovation is, by all accounts, thriving. But success is a matter of keeping employees engaged over time, the ICT infrastructure polished, the funds secured and the communication channels open. All in a steady, uphill innovation climb.
And speaking of keeping the ICT infrastructure polished, Veolia's Yann Moreau shared five good reasons to adopt an innovation management system for the day-to-day activity:
First, it increases capacity to innovate: more ideas, more perspectives, improve quality through collaboration.

Secondly, it helps establish a consistent, company-wide approach that ensured that all ideas are processed.

Thirdly, it supports local innovation programs, while allowing global aggregation.

Fourthly, an innovation management system measures efficiency, helps establish rules and visualizes necessary improvements.

Finally, it reduces the workload of innovation managers, boosting productivity.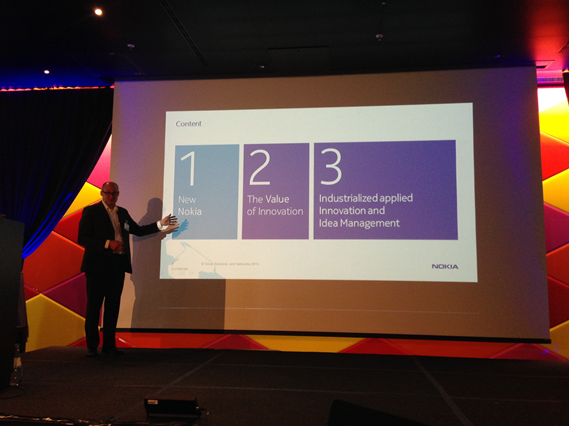 Fabian Schlage explaining where innovation happens at Nokia
As outside talent and resources are integrated more frequently and better, small organizations that support innovation powerhouses like Nokia or Veolia in developing the solutions of tomorrow (inevitably!) become disciplined too. To this end, Joachim Box of Fujitsu further stressed his company's shift to creating a partnership framework that incorporates ideas and offerings from large, strategic partners as well as from small and medium enterprises (SMEs). Not surprisingly the consequence of the effort was a service innovation ecosystem now elegantly growing.
The spaghetti model of innovation or the innovation realities of today
Seeing the legendary John Bessant at the Forum was not only a pleasure, but also a confirmation of my "suspicion" that academics continue to contribute greatly to innovation management practice. In his presentation John focused on the "spaghetti model of innovation", or on the key features & dynamics of the networks innovation managers create. In today's fast-paced world, open innovation has become a multi-player game and includes complex knowledge flows, not just knowledge creation. Hence, we observe a lot of connection and interactivity both inside and outside the innovation arenas that needs to be captured - or at the very least, acknowledged. The tendency is therefore is to mix and match. To use recombinant innovation to solve challenges and to give people new roles: knowledge brokers, bridges, gatekeepers, connectors, scouts, explorers, system architects are today more relevant functions than ever.
Another innovation reality of today is a healthier attitude towards risk & failure. At the Forum, an experimental "open mic nights" setup to share embarrassing and destiny-changing experiences with big (but not always bright) innovation ideas down at the bar did the trick. The Chief Humor Officer's team made sure no one of the guests felt embarrassed to hold the "F*** Up Idea" sign as they spoke wholeheartedly. In fact, the session was a crowning of honesty, and failing faster, forward and "better".
I left Bonn with a feeling that the race for people with no sense of direction – a video proudly found elsewhere – is roughly over. Already looking forward to next year for more inspiring practice, news, and platoon running in the right direction: open innovation success.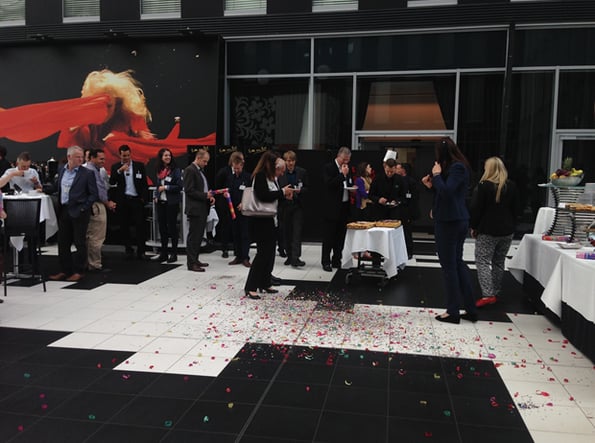 A little magic at the 6th HYPE Innovation Managers Forum in Bonn.
Related posts...