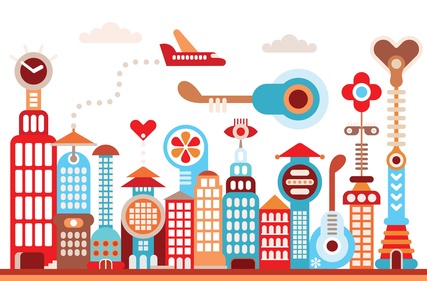 Cities and regions have an abundance of options for marking themselves out as innovative. The problem is, most of their tactics are easy to copy and most are part of a trend. The creative cluster, the industrial cluster, the science park, an open data initiative, or the smart city. Glance at an inward investment document and you are likely to see one of these mentioned. In a world that now seems to be hovering between innovation, disruption or demise, cities need to think differently.
In the commercial sector we are witnessing the transition to a new operating model – or process model – based around platforms. Platforms are organizing hubs that also happen to be stacks of software and services. They are extensible in that many different types of organizations can congregate around them and propose or program or provide new services. The big virtue of seeing a city as a platform is that it allows planners, businesses and ordinary people to generate ideas, projects and plans that draw on the assets of the city as a unique ecosystem. Can platform thinking really help cities and regions do what they need most – create new jobs?
So far the idea of "city as a platform" has primarily involved the use of city-centric data – the use of sensors, traffic data, mobile phone clusters – and using data to make the city more efficient. New York began its open data project back in 2013 with several states and cities following. The UK government has since pioneered the release of data from local authorities on a national scale. It has added a new policy instrument – catapults, or agencies that help to build conditions to accelerate business formation and growth. For example there is a catapult, the Connected Digital Economy, whose role is to promote digital SME development around the Internet of Things.
The UK catapults arose from a report, The Current and Future Role of Technology & Innovation Centres in the UK, written by entrepreneur Hermann Hauser. It argued that long-term UK investment in a network of technology and innovation centres would 'deliver a step change in the UK's ability to commercialize its research'.
Something similar is going on in Ireland through "Dublinked". Dublinked is a new regional data sharing initiative with the initial data coming from Dublin City Council and Dun Laoghaire Rathdown, South Dublin and Fingal County Councils. The information is curated by that National University of Ireland at Maynooth whose role is to ensure ideas can be commercialized as easily as possible and to minimise legal or technical barriers for small and medium businesses seeking to develop and prove business ideas.
These initiatives are unquestionably a step in the direction of greater popular engagement with the city or region through business opportunity rather than through the electoral franchise. Perhaps that is a sign of the times. They are also a step in the direction of City as a Platform. Every city and region wants its developer communities to have access to data for business ideation and development. The problem is the narrow focus on data and the supposition that cities will generate local developer communities on a scale that creates competitive ecosystems and plenty of jobs.
There is one example of a city as a platform that I think could teach data-centric cities a lesson. The lesson is you cannot rely on geography. It's difficult for a city to accept that its existing ecosystem is not adequate for renewal. If you happen to be London or Paris or New York then sure, your peaceful cosmopolitan culture is a magnet for imaginative people who want to experiment with life.
But what if you are in Abu Dhabi or Hull? Or Masdar, the emerging hub for renewable energy and clean technologies? Masdar has managed to build its reputation for alternative energy investment, right in the middle of the oil rich United Arab Emirates (UAE). The way it went about it was to seed new ideas about environmental technology outside of the UAE and to make investments well away from the city itself.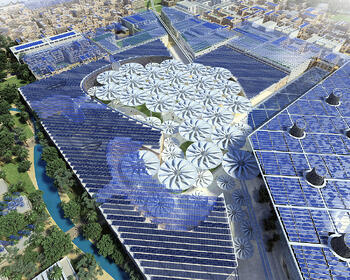 "Examples of Masdar's international investment include partnerships with the German energy corporation EON in the ongoing creation of the world's largest offshore wind park, known as 'London Array', in addition to co-founding Torresol Energy, a solar thermal energy company that is currently building three major solar power plants in Spain."
The authors of a report into Masdar's strategy make the point that much of its strategy has involved extending its activities outside the city itself. It has recognized the global nature of an ecosystem in a connected age.
"Such high-profile investments have been welcomed by most major players; partially due to the global credit crunch but also because they view the UAE as a potential future hub for their operations in a region that is blessed with huge, yet untapped, renewable energy potential."
They also invested in becoming a knowledge-centre: "More attention has been given to using Masdar as a platform to access international knowledge and expertise in the renewable energy domain. To achieve that, the Masdar Research Network was created - even before the official establishment of the Masdar Institute - for the purpose of funding research projects conducted at leading universities in collaboration with industrial players."
Put another way Masdar has created a platform for a technology category by extending the idea of the city. The platform is an extensible entity, ideal for this way of thinking. Pioneer cities will ask themselves where they should connect.
Related posts...