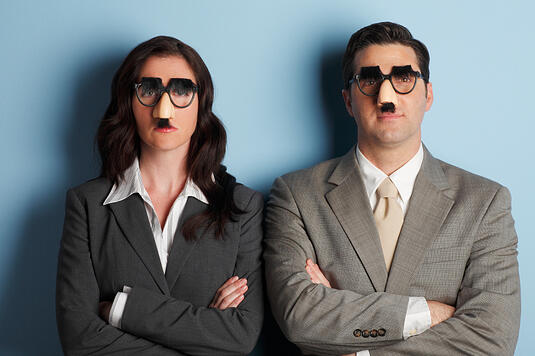 Let's face it; organizations undergo unavoidable rituals including reorganizations, layoffs, cost cutting and change of CEO. Behavioral economics theories help explain our disappointment as loss avoidance theory: a certain loss feels worse than that of an equal gain. As a result, we naturally tend to forget some of those positive business rituals including bonuses, company lunches and team-building events. However, as times are changing – and they are not getting any more luxurious – companies have to adapt, and it is probably better to go through it together and keep a positive attitude.
Again the proper use of humor can be employed to achieve significant results and increase the effectiveness of collaboration. As Oscar Wilde once put it: "We are all in the gutter, but some of us are looking at the stars." From the rising popularity of hilarious television celebrities such as Ellen DeGeneres to successful starry-eyed start-ups such as Tinder, humor and collaboration are changing the way we attain novelty in our professional as well as personal lives.
So how are the three laws of humor adapted to collaboration?
1) Humor is like a motion, it can continue, until it is stopped
Humor increases cohesiveness and acts as a lubricant as to facilitate interactivity and build social fabric.When doses of humor are emitted, communication will circle through an environment, acting to enhance understanding, prompt exchange of thoughts and increase openness to new ideas. When humor is retreated, resulting in the elimination of playfulness, tolerance and flexibility, then its effects are nullified.
2) What goes online must go offline
Take any work environment and you will find people are communicating on company email or an internal messenger system. As we become comfortable with one another, we loosen up: we start including emoticons in messages and we even share images to enhance our common language (or sometimes avoid language all together). But the more we operate online, the harder it becomes to build ourselves up offline. Employing informal dress codes, office parties, games and team-building events can help amplify day-to-day offline experiences and build team dynamics and trust. Have fun; go bowling, drinking or whatever else helps stir up a group mood. With this, collaboration will thrive even more!
3) If something is really not funny, people will not find it funny
If you were not convinced by our post on humor and social media, we would like to assure you that researchers Eric Romero and Anthony Pescosolido have confirmed something similar: that humor must first be considered funny to the people involved, not as demeaning, derogatory, or insulting. But more importantly, successful group humor, as argued by the two researchers, should affirm group identities in terms of: who we are, what we are doing, and how we do things. In order words, positive humor can help loosen up human insecurities: fears, biases, and anxieties, all of which we undeniably carry with us on a daily basis.
Does it work? Nothing in this world is guaranteed but chances are that successful doses of humor and collaboration will help foster a fun and more enjoyable environment. This is not to say that we should take our jobs less seriously or find reasons to avoid being in the office; it is merely a method to establish a context where fun experiences can lead to social cohesiveness, co-operation and openness to new-found experiences.