The capacity to deliver a consistent pipeline of breakthrough innovations might sound like the effect of one of Papa Smurf's potions (you know The Smurfs right?) but the (mis)perception did certainly not stop the down-to-earth experts at Arthur D. Little from exploring the possibility further via the recent "Breakthrough Innovation Survey" developed by Anders Johansson, Rick Eagar and Fredrik Härenstam.
In as follows are some highlights from the "Systematizing Breakthrough Innovation" report, a copy of which is available for download on the company's website.
(extra reading tip: I've previously covered ADL's "The Creativity Era – a new paradigm for business"; full-text PDF is right here).
Method & Meaning
For the purpose of the research, ADL asked 80 large organizations (88% of which turned out to be dissatisfied with their current efforts, by the way) to reflect on best practices for how to deliver a consistent pipeline of breakthrough innovations ranging from meaning radically new products and performance features to business models or market spaces. The ultimate goal was to isolate and list key success factors as well as models that can sustain the breakthrough innovation ambitions on the long run.
In other words: finding a recipe to systematize the unsystematizable.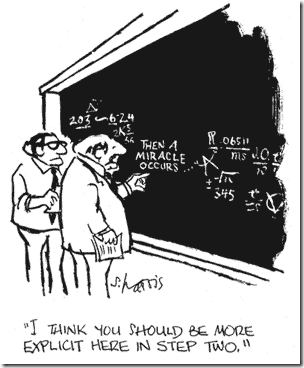 (source: http://17slon.com/blogs/gabr/files/UsingRTTItoappropriatemethod_8E6D/image.png)
Pausing for a second to add a little contrast: authors like Chris Zook and James Allen in their book "Repeatability: Build Enduring Businesses for a World of Constant Change" argue that what 21st century businesses need is not ground-shaking innovation practice but more stable, repeatable models for success. Their data shows that: simplicity, focus, and mastering the art of continuous change nearly always trump strategies of radical change or constant reinvention. Some of the examples given are the dabbawallas of Mumbai delivering roughly 200,000 boxed lunches to the right people on time, "retro" IKEA's business model with its flat packs for self-assembly by the customer, and Nike's swoosh (by contrast to Reebok whom was accused of jumping from one "idea of the day" to another until it wore out investors and damaged credibility in its pursuit of the abrupt and radical). Interestingly, much like the supporters of disruptive (or breakthrough) efforts, their motivations coincide: Sustained and profitable growth is rare and becoming increasingly so.
Key success factors
But back to our point: ADL's study notes that despite acknowledging the need to set specific strategic objectives for breakthrough, less than half of the survey participants actually did so. Working with game changing products, services, business models or even routes to market, requires grit (i.e. passion for long-term goals), special resource allocation (both talent and money) and patience - not at all surprising when you realize that the average time to revenue in these cases is anywhere between 3 and 10 years.
Next, for radical innovation efforts to bear fruit, the right leadership or governance structures need to be in place – namely, individuals that can commit to a cause and, if necessary, safeguard breakthrough innovation against the threat of short-term objectives and status-quo preservation. Half of the companies in the survey indicated that their governance structures were either ineffective or very ineffective. Even more interestingly: the choice of leader (CEO, CTO, an Innovation Committee etc.) does not bring any significant advantage, whereas ensuring long-term accountability does.
When it comes to the ideal organizational structure in which breakthrough innovation can flourish, there is sadly, no one-size-fits all solution (or one-size-fits-none as the cynics would say). Instead, having a dedicated team and organizing this team according to the complexity and nature of the endeavour are seen to be the most effective approaches. The four generic organizational models identified by ADL are*:
1. Business Unit/Division R&D Breakthrough Teams - a good "minimum investment" for ideas/ concepts that are not "new to the world" and whose technical complexity is manageable;
2. Corporate R&D Breakthrough Teams – recommended for more technology-intensive or higher investment domains;
3. Internal Dedicated Breakthrough Teams – separated from corporate R&D and;
4. Breakthrough Factories - that literally push the boundaries of science.
*Note that sometimes, more than one model is used simultaneously
To complement the stats here are two excellent interviews with two "veterans" of breakthrough innovation. First is Michael Ruggier at Shell Game Changer (a programme that identifies and nurtures unproven ideas that have the potential to drastically impact the future of energy; I've mentioned them in a previous post on corporate foresight) speaking about the ideal conditions for breakthrough innovation. The second is the seasoned Calvin Smith at EMC (recent breakthrough: hybrid cloud innovation) with advice for fresh innovation managers trying to achieve success with innovation.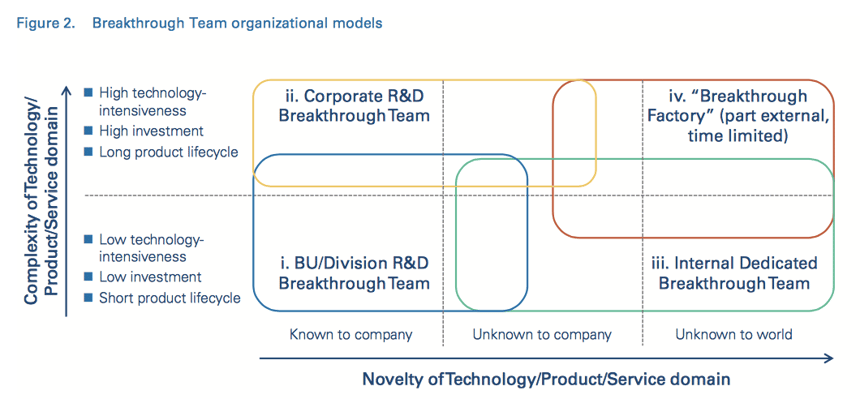 (source: Arthur D. Little)
Another set of factors that contribute to sustained breakthrough innovation is the cross-functionality, ring-fenced funding and intrapreneurs trio which entails having: a mix of the right functions and backgrounds, enabling a steady stream of investment for breakthrough projects and supporting intrapreneurs in pursuing commercial visions with dedication.
Last but not least, the survey revealed that effective trend monitoring and business intelligence as well as fast iteration cycles (using algorithms, natural language processing or various simulations) and actively managing one's innovation ecosystem (e.g. creating a shared vision for the partners) are the most widespread practices to achieve breakthrough success.
Conclusion
To sum up, the key success factors for achieving repeatable, effective breakthrough innovation highlighted by the ADL survey are:
explicit breakthrough strategies with clear and quantified goals;
single-point accountability and commitment at top management level;
cross-functional involvement (diverse teams), ring-fenced funding (dedicated budgets) and active intrapreneurs;
agile processes and fast iteration cycles;
effective trend monitoring and
managing one's ecosystem of partners.
Thomas Jefferson once said "I'm a greater believer in luck, and I find the harder I work the more I have of it". His reasoning no doubt applies to (radical) innovation management practice too.
Related posts...