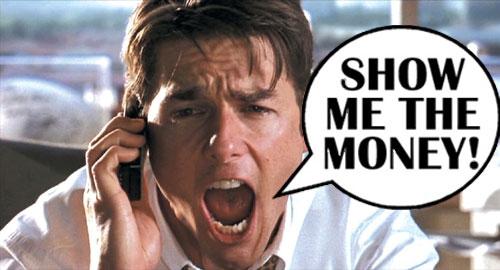 As summer is upon us, we start to doze off at work, contemplating sunny beaches, quality time with the family and re-thinking work. Should we quit, find a new job that we actually like or do something completely different? I would like to offer you some thinking material on one of the taboos very likely present in your organization. An Organizational Monetary Perplexity Syndrome…;-), or in layman's terms…this is what your co-worker is paid…
Money is the underlying blood of an organization. Whether for profit or not-for profit, funding can influence the degree to which we can make organizational decisions and plan for the future. The case of fighting for budget, avoiding the topic of salary with other colleagues and the "cost-conscious yes-man", are often found in many large corporate organizations. With so much information and connectivity, why is it that such taboos prevail?
Is there an illustration for turning these taboos around with doses of humor, provocation or just a plain reality check? The discussion of salary usually tops the top of the taboo list. Why? Because by not disclosing our wages, it becomes easier for organizations to perpetuate anomalies between what are essentially minute variations of the same profession. This eliminates the need to benchmark our efforts with others and increases opacity around the many grey-governing factors that run the show. But with the increasing amount of information that is circulating through accessible resources such as the Internet, this taboo is becoming the somewhat laughing stock of the house.
Hush-hush but everyone knows anyways
First and foremost, while salaries are disclosed among closer colleagues and or friends, more often than not, the "hush-hush" can snowball into an urban legend, or some standard deviations away from the mean. Although most people are deemed rational, the reality is that such misinformation leads to a tainted understanding of how things really work. And as the crisis has come to show, lack of transparency can lead to significant volatility. Moreover, after a tech bubble, the 9/11 gloom, the credit crunch and European sovereign debt crisis, all within two decades, people are starting to have had enough. While salary disclosure is a useful way to control others from bragging rights and putting people down, the underlying message here is that there is proper etiquette and "way" to sharing information, which can help employees in negotiations and build trust within the organization. It appears that whether a prospective organizational activity serves business or social ends, the fight for the buck remains a vivid taboo keeping employees on their toes. While the costs of entertainment and food only seem to increase with time, the amount of budget available seems to move in the opposite direction. And the more and more people work within an increasing narrow spread of resources; "less" is becoming part of the "norm".
The office Christmas party!
Take for instance the case of the office Christmas party. When the chosen party committee puts together the options with the available budget, it becomes silly what possibilities are really possible: venue - one half of a half of a half of back room in some Italian Pizza joint, drinks – beer or house wine, food – crackers and some processed cheese. Thus, the subsequent task becomes a back and forth battle to increase budget, pushing the committee into becoming the modern superhero of gaining approval from upper management. After all, what is considered "normal" in a social setting is nothing beyond the ordinary: half-tasty food (and enough of it), a decent place with ambiance, and a variety of alcohol. At the end of the day, the budget and plans get done, but the barmen are still instructed to hide the bottle of fancy red French wine for upper management and employees are expected not to notice.
How did we reach such a strange organizational monetary perplexity syndrome?
The reality is, that over the course of time that was ruled by corporate kingdoms, employees and managers have been slavishly conditioned to not disclose, and complain about every penny. Sometimes justified, sometimes not. As a result, the default behavior became to moan about the cost of everything. Needless to say, some organizations and industries have gone overboard with their spending. Reality is that those people often fall on their faces sooner than later. So, what should you do? Disclose all?
Some sample cases: all about culture
Several private-sector firms are letting employees in on the taboos of individual salaries and even other closely held company secrets: revealing details of company financials and staff performance reviews. As you can imagine this is like walking on a tightrope between information and TMI, or too much information. Anyway, they are there and the number is growing. Dutch high flyer Mendix is one of them as well as US Based company SumAll, a small firm with a policy of complete transparency, where employee salaries and even performance reviews are public to everyone in the organization. The program has been successful, say firm leaders, in fostering a collaborative culture and achieving better results. Of course it is easier with a new company than with an existing one, but still. Anyone hired into the company must be comfortable with the system. There is a fixed framework in which you can plot yourself in terms of salary. If you want to be paid as an executive, make sure you also deliver the value-add connected to the level.
And just to be sure, Companies like SumAll are not so much about transparency or openness alone, but more on the framework and culture they have created. They have created a culture of fairness and connected policies and programs that are both transparent and defensible so that management is held to a standard of fairness. Employees have been given context and there is a path for dialogue and remediation in case of any issues. Absent this, transparency wouldn't necessarily be a successful approach. This will certainly boost morale, not thinking too much about pay.
How opening up taboos can save a buck… or not be scared to spend two extra
Considering more and more people are in the general "know", it could be wise to consider a culture of salary transparency and connecting framework in a sense that it motivates others to perform at higher levels, understand their worth and heighten their ability to negotiate their compensation. This way people are assured that what they are getting is fair, sensible and as a result, increase happiness and overall trust in the organization. Moreover, organizations could start to loosen up on the money stigma by instilling humor around costs in a positive manner, not a derogatory one. Laugh about the cost of living, share secrets on how to save on bills, or buy a team lottery ticket in case there is a dose of luck in the air. This is not to say that people in organizations should act like best friends or share everything like a family; there is a clear difference between the two. In a meritocratic and increasingly scarce world of employment, employees and employers alike need to maintain a certain level of space and confidentiality from one another. But relieving organizations, even the most conservative ones, from silly monetary taboos can simplify life. After all, we all know resources are scarce and things cost money – no question here. Let's focus our efforts on collaboration, fairness and openness and not scorn down on a bit of a break.
Related posts...