When it comes to art of provocation, getting it right (or in this case up) is where it's at. Don't think so? There are many benefits employing provocation and playfulness in an organization and the returns can be limitless. By playing on cultural taboos, organizations can unlock radical innovation, enhance thinking processes and tap into valuable opportunities. What is more, the role of provocation is an important element in humor-driven innovation (see this link). This article will enhance the art of provoking the other and getting away with it; results guaranteed.
Capitalize on Taboos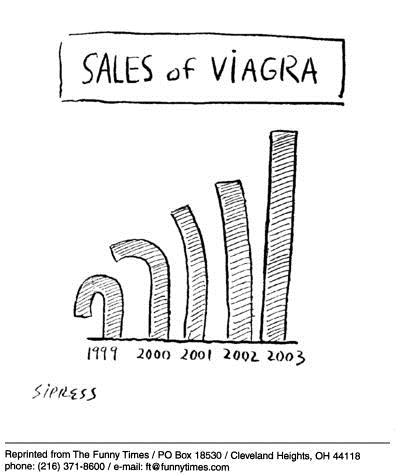 The story of Viagra is the essentially that of Viagra's purpose: when things do not work, find pleasure in thy failure. Designed to help cure chest pain, after 6 years of clinical trials, Viagra was not showing positive results. Instead, after examining numerous side effects, it became clear to Pfizer that the drug would be better off treating erectile dysfunctions. Despite the fact that most men do not enjoy talking about their setbacks, it became clear to the company that the benefits of the drug would outweigh the gentlemen's taboo. As a result, the company radically changed the drug's strategy - and after a couple of tedious FDA approvals, became the superhero to the American libido. Today, every second, someone is taking a Viagra pill.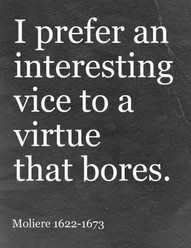 Every society has taboos; things are kept silent, mostly because of a reason. Taboos are apart of our everyday norm; they disgust and excite. Organizations that dare to unravel taboos, if managed properly, can unlock huge commercial value and find themselves ahead of the curve. And taboos lie within taboos, like the skins of an onion, meaning there is plenty to work with.
Consider the following example on a play on political taboos. Launched in November 2011, in an effort to create a culture for international tolerance, the United Colors of Benetton UNHATE campaign displayed different world leaders kissing one another in public places in cities such as Paris, Rome, and New York.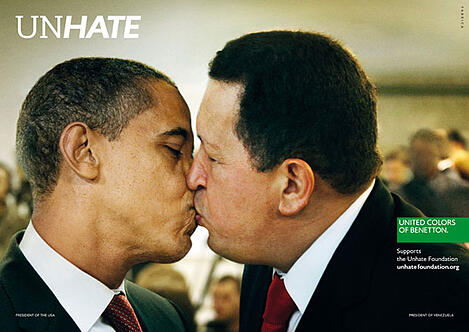 The results were significant: the impact on the international community reached a total of 500 million users worldwide and more than 3000 articles and 6000 TV reports in 60 nations covered the topic. The success of the project was also due to two innovative online applications: the Unhate Kiss Wall, which randomly chooses two pictures uploaded to the site by individuals and unites them in a passionate kiss and the Unhate List, a Twitter-based list of things and people that are not hated, updated by visitors.
Provocations: F*** the Box
As demonstrated above, successful corporate execution of taboos is not limited to one company or industry. All businesses need to successfully innovate in order to survive today's competitive marketplace. And when it comes to this task, often employees are instructed to "think outside the box", but the results end up mixed, mediocre, or mainstream at best. This is because there is a fine difference between acting on a prescribed technique versus acting on a technique in an idea-enhancing environment; one that propels free thought, idea formation and permits natural human traits such as being facetious and inquisitive.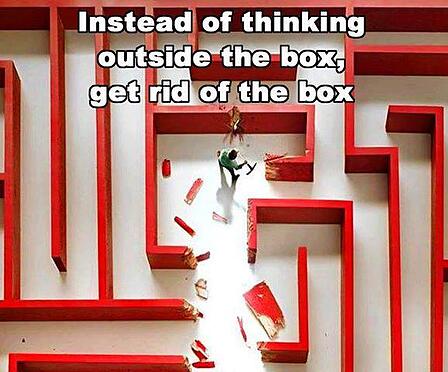 Employing provocation is a fine way to start the innovation process and attain more exciting results. In fact, the combination of provocation and movement enable people to "exit the box", loosen up and consider other options. Provocation is effective for a few reasons:
1) the effect of acting on unexpected subject matter will put the respondent out of the status quo,
2) the respondent will likely deliver an authentic reaction (as they have not been conditioned before-hand), and
3) the results can help uncover deeper, unspoken needs and wants - often the toughest part of a successful innovation process. With these extreme results, the idea spectrum can be considerably expanded; more options can be taken into account and….tadaa! A successful taboo has been unlocked.
From Google + to China +: Neue Kombinationen
Call the above statement a provocation, crazy if you like, or the association of two completely unrelated concepts, but the art of provocation often does just that. In fact, provocation and movement belong to an important subset of thinking known as lateral thinking. Coined in 1967 by Edward De Bono, lateral thinking techniques distance themselves from classic problem solving (step-by-step assessment of data) and instead focus on the value of proposed statements, helping break routine thought patterns. These techniques can include various methods including: escape, reversal, exaggeration, distortion, wishful thinking, disproving the majority and asking the question why? And although this appears somewhat similar to brainstorming, lateral thinking thus makes room for effective critical thinking.
In the case of China, is social control and seldom connectivity really going to work in the long term? Maybe, Google, with all its success and top level resources would be better of managing the country moving forward? Although this sounds outlandish, this is exactly the type of reaction that is encouraged. Whether it be solving the problems of the world's fastest growing economy or poking fun at two controversial people kissing, results can be eye opening and revolutionary. By provoking current thinking with unrelated concepts, Neue Kombinationen (read: new-e combi-natoren) can arise. This is by no means a real term but for goodness sakes, it's about time we laughed together.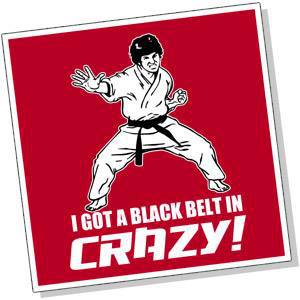 Corporations, Countries and Citizens Hate Failing: The Case of Humor
Whether we embrace it or not, failing or not meeting expectations is considered somewhat taboo. Corporations, countries and citizens pretty much hate failing. Why would anyone want to celebrate after losing out on something important? Inevitably failure is a part our socio-economic evolution and there is no nation or person who has never failed at some point in history. So this begs the question: how to cope? Well there are really only two options: be miserable (deepen existing taboos) or be happy (i.e. embrace failure). As it is highly improbable that one would choose the latter, wouldn't it be better to poke fun at misery and reach a new level of joy, an unknown land or a new idea?
The value of comedy and humor is in showing us our taboos by provoking us. Failing is a famous taboo in companies but as highlighted by the case of Viagra, opening up to new ideas can yield unexpected success. By employing "get rid of the box" tactics to failure, we can increase the probability that more valuable ideas will surface over those truly deemed inadequate. Any organization can transform organizational failure while respecting its culture; the key is to keep the end goal in mind, respect other colleagues and be open to cooperation.
Start with collaborative efforts on trivial things such as a group contest on the future name of the King of England. Why not throw out something like a Rafaello? Frankly, the chances of the name being George or Henry are so obvious and part of the norm that quipping out something Italian becomes costless. Although it appears silly, this audacious act can set the mood for a dialogue that will help participants abstract from the conventional. Other tactics can be more strategic and practical, for example: voting for the worst employee of the month or the worst project of the week. Although it seems like an embarrassment of sorts, perhaps the failure can be re-accessed by another set of eyes? Conceivably it may be the case that the failure was only half-justified in the first place. By taking things with a lighter-note, team players can stray away from cynical-thinking and towards constructive-thinking, helping salvage the good from the bad, optimize resources and maintain team morale.
In Conclusion
So why it is awesome that the original purpose of Viagra failed? Well, for one, there are many happier partners out there and two; the story helps depict the notion of embracing corporate failure and the power of unlocking taboos. Although, the former is indeed sexier, we can guarantee you that organizational Viagra will work wonders for your innovation department. As the late Steve Jobs of Apple once said, "It's more fun to be a pirate than to join the navy." By fostering an environment that breaks through tough situations quickly, enabling states of provocation, playfulness and humor, we leave the state of apprehension and enter a state of opportunity.