That old saying - "many hands make light work" - takes on a particular meaning in the world of innovation. Faced with open-ended challenges which require radical solutions, the more minds we have on the task the more likely it is that the innovation 'light bulb' will flash on! Whether we are seeking a radical new idea for a novel challenge or suggestions to help improve an existing situation there's no doubt that shared creativity is a powerful resource.
The value of 'using the crowd' is not just in the volume of ideas they can offer but also in the variety. Thankfully not everyone thinks in the same way and as a result of this diversity we can bring many different experiences and perspectives to bear on innovation problems. (Research on idea markets like Innocentive.com confirms this; the real value of tapping into a community of a quarter of a million 'solvers' isn't to outsource R&D but rather to get new angles on old tough problems).

But until recently there were significant physical limits to how far we could 'crowdsource' ideas – it's not easy to get people together in the same place, especially if we are trying to involve people with particular expertise which may be in short supply. Now technology is changing that and opening up powerful new approaches – shared innovation becomes increasingly possible across platforms which allow for collaboration and innovation.
Nowhere is the potential of shared creativity more relevant than in the world of humanitarian innovation where new responses are needed to deal with the effects of natural and man-made disasters. It's a situation exacerbated by the fact that many conventional solution avenues may be closed off; it's often a case of trying to find completely new trajectories. Here are a few examples which highlight the way collaborative innovation can make a difference.
Take the idea of using the powerful technology around 3D printing. In principle it offers a way of delivering key spare parts or urgently needed devices in the middle of a disaster zone, rather than shipping them in. That's the idea behind Field Ready a UK-based organization which is trying to use new design and manufacturing tools to change the way we respond to disasters. Long supply-chains mean that getting the right item to the right place can take weeks and these logistics are expensive; estimates suggest that they represent 60-80% of humanitarian aid costs. Vital medical equipment or water purification machinery can be left frustratingly idle for want of a small spare part.
Field Ready's approach is to reverse the conventional model and take the factory to the disaster. Urgent supplies can be quickly configured and printed – for example in Haiti following the 2010 earthquake the team printed over 150 pieces of equipment including a prototype prosthetic hand (using just five parts), needle holders, S-hooks for suspending medical equipment in crowded emergency rooms and various spare parts for machinery. Close dialogue with midwives revealed a problem with umbilical cord clamps for new-born babies; these were arriving in the backpacks of volunteer aid workers travelling from the USA. Using 3D printing the clamps could be made locally at a much lower price and ready for instant use, reducing the risk of neo-natal umbilical sepsis to babies, mothers and health workers in the hospital.
Replacing spare parts is one thing – but working with the underlying design opens up the opportunity to improve or re-invent things. In their work in Kathmandu after the Nepal earthquake in 2015 the team uncovered a simple problem linked to a design weakness in baby warmers. These had been part of a donation but 60% of them were unserviceable due to a broken corner clip which held the sides together. Attempts to repair them with duct tape were not successful so team designed a custom part to solve the problem which was then fitted to all of the cots.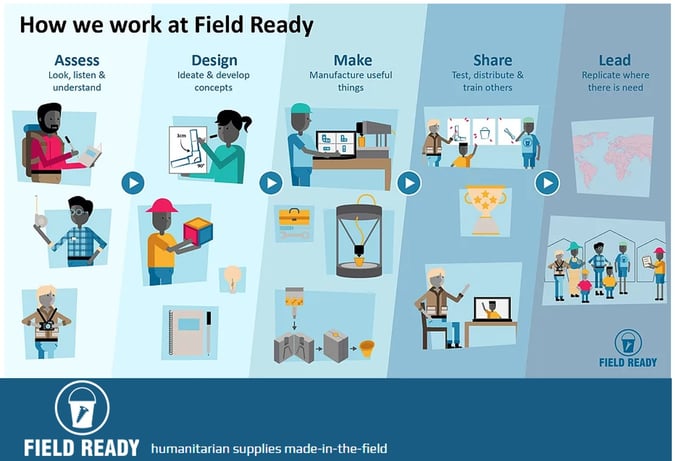 During the same visit another problem emerged; again a simple lack of correct pipe fittings for plastic water pipes meant that provision of clean water and safe sanitation were compromised. Improvised solutions using bicycle inner tubes, inappropriate metal fittings or simply jamming the pipes together meant that at best repairs were leaky. A simple design and printing activity using a mobile 3D printer running off a car battery meant that the residents of Banhabise refugee camp in Sindhupalchowk district once again had access to clean water and effective sanitation – for a cost of around $40c per fitting.
Of course the big challenge here is not in the 3D printing equipment but in the design information needed to drive it. That's where the crowd-sourcing kicks in – rather than try to build and maintain a huge library of design information Field Ready has built up a network of volunteer programmers ready and able to respond quickly with needed design files which can be quickly created and downloaded. More important this is a live community able to modify and improve on the designs in collaborative fashion.
Open street mapping is a technique becoming widely used in an era of geographical information explosion. Whilst satellite imagery can give a high level map the detail of features and elements on the ground requires a different bottom up approach. It's a problem facing the players in the driverless car revolution – how to build rich detailed maps on the ground? One solution is to use fleets of vehicles driving up and down and laboriously recording information; another is to turn the problem over to the crowd. Crowdsourcing detailed mapping information is a growing trend – for example citizens reporting problems in suburban infrastructure.
It's an idea which has huge potential in disaster areas where map information can be radically changed overnight as roads are washed away or familiar landmarks destroyed in an earthquake. But while there is considerable scope for using aerial images from drones, planes, kites and helicopters linked to satellite and other tools the problem is in integrating the various data inputs into a coherent and up-to-date map. During the Haiti earthquake in 2010 and in the Hainan typhoon aftermath in the Philippines in 2013 the availability of devices to capture and upload information meant that there was a surge of interest in 'crisis mapping'. For the first time it was possible to capture and upload information in volumes and at a speed which could make it useful; the trouble was that most of this imagery was in raw format.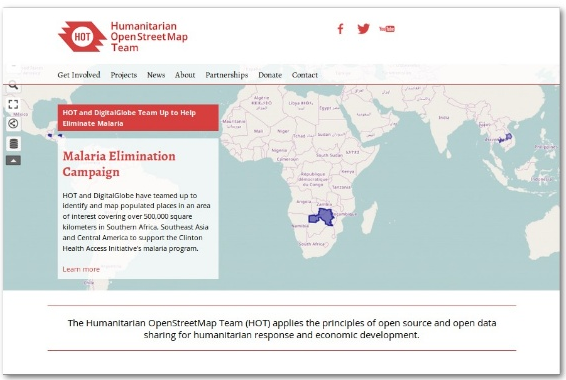 The process of translating this kind of data into useful and usable maps is often slow and painstaking, requiring considerable skilled input on the technical side. Enter the Humanitarian OpenStreetMap Team (HOT) which was established in 2010 as a non-profit organization to do this, through collecting data, coordinating the design and development of OpenStreetMap (OSM) tools and documentation, teaching data quality assurance and collaborating with data imagery providers. It was born in 2006 out of the experience of a group of graduates from the University of San Diego who recognized the need for a system to share imagery, a searchable central indexing approach and a process for standardizing and simplifying the translation of images into useful maps.
Essentially HOT is like the Linux community of software developers, a network of interested crisis mappers working on developing Open Aerial Mapping (OAM) and an open source set of tools to support it, including hosting, uploading, sharing, searching, altering, displaying, downloading and using imagery data. Above all it's a rich source of continuous innovation.
Translators Without Borders (TWB) deals with an underexplored challenge – very often in disaster situations there is a language barrier to add to the physical obstacles. And it's often the most vulnerable families who are adversely affected since they are less likely to be able to speak the official language of the country. Inaccurate information leads to stress and suffering and it also damages trust in aid agencies since affected people feel excommunicated.
It's also a co-ordination issue – in many disasters there is (thankfully) a small army of volunteers and aid workers trying to help, and victims also eager to contribute ideas and energy to resolving the crisis. The problem is that they may all speak different languages – and getting even the simplest thing done together depends on being able to communicate.
TWB's 'Words of relief' project provides a variety of support for this communication challenge, from instant dictionaries of essential words and phrases through to online access to translation services. In particular it offers:
an online multilingual library of location-specific disaster messages translated before a crisis into local languages, to be openly disseminated through digital platforms;
a spider network of professional diaspora and community-based translators able to provide voluntary rapid translation services through an online platform;
a digital exchange called Words of Relief which uses an online platform to facilitate translation of content generated from the community affected by the disaster, via social media networks.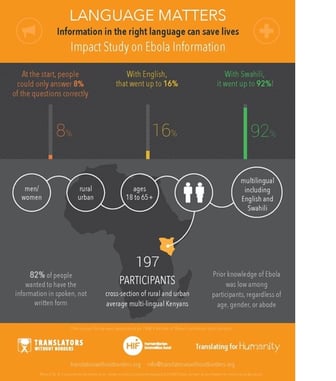 During the 2014 Ebola crisis in west Africa a report by UNICEF suggested that poor information was fuelling the problem. It indicated that only 13% of women in the affected population could speak English, and underlined the need for information to be made available in local dialects and languages. To help meet this challenge TWB set up a spider network of 12 translators and translated information on the Ebola virus into local languages in Guinea, Mali and Sierra Leone. Three other teams of translators were recruited through community and translation networks and trained in crisis translation. Over 100 items – approximately 81.000 words – were quickly translated into 30 languages. Whilst written material remained the primary target the team also produced a multi-language video film to try and deal with the challenge of low literacy rates in many of the affected areas.
Working with innovation communities
By its nature humanitarian innovation involves dealing with extreme challenges and urgency in the need for solutions. But the underlying challenge is much broader – and the experience of crowdsourcing has much wider application. This isn't simply about brainstorming ideas at the front end of innovation; a significant advantage comes form engaging others to comment on and refine ideas, knocking them into shape. It's particularly important here to see the role of users as contributors to this process – their ideas not only help develop the solution but they also carry important information about the context in which the eventual solution will be applied. Innovations developed this way have a much greater compatibility with their context and are likely to diffuse more widely.
Another feature of such collaborative innovation activities is the capacity to capture and re-use knowledge. Lessons learned in one application can be migrated to other similar problems and over time the platform can build a library of solutions.
Whether it's in the extreme context of a humanitarian disaster or the more measured environment of an organization trying to develop new products or services, the opportunities opened up by collaborative innovation across platforms are significant. But as with all innovation tools there's a need to learn how best to deploy them and to practice the skills to configure and operate such networks effectively.