(source: Instructables.com)
If mass-media headlines are anything to go by, open innovation (OI) is increasingly making news. Big news, that is.
Here is a sampling from various industries:
Embracing Open Innovation, Alcatel Onetouch Announces Their Innovation Accelerator For North America

(via

prnewswire.com

)

Beiersdorf Relaunches Its Open Innovation Website

(via

premiumbeautynews.com

)

Global Developers Come Together, Solve Local Woes

(on Ford's Innovate Mobility Challenge via thetimesofindia.com)

Orange Expands Digital Innovation Strategy

(via policychargincontrol.org)
The verdict is clear: a lot is being done with open innovation. What is less evident, however, is the thinking (or mechanism) behind companies' ambitious resource deployment patterns. In laymen's terms: how on Earth do they do it? How does the synchronized sleeve rolling unfold and what are, as far as industry & academia can see, the available options?
Before answering this existential question let's take a brief step back and think about OI in general where much of the discussion revolves around what it is, and what it's not.
Some authors even go so far as questioning its very existence – i.e. old wine in new bottles. But assuming for a moment that the hundreds of thousands of practitioners are onto something and that the giant market for OI services is not catering to an inexistent need, I would like to quote Henry Chesbrough, whom often mentions:
At the most fundamental level, open innovation is embedded in the notion that the sources of knowledge for innovation are widely distributed in the economy.
Chesbrough is referring, of course, to all flows of organic soap bar recipes, creative business models (sober escort service is an interesting one), consulting industry reports, photovoltaic fabrics, vaccines, ergonomic shoe soles, liquid detergent tablet packaging and whatever else your organization considers invaluable for its survival. OI is nothing more than a philosophy that helps make sense of this vast knowledge base - its architecture, utility and unique ways in which it can be leveraged (the options I mentioned at the onset) – so that what was unspecified and unmanageable [in the closed innovation model] can now be specified and managed [in the open innovation model].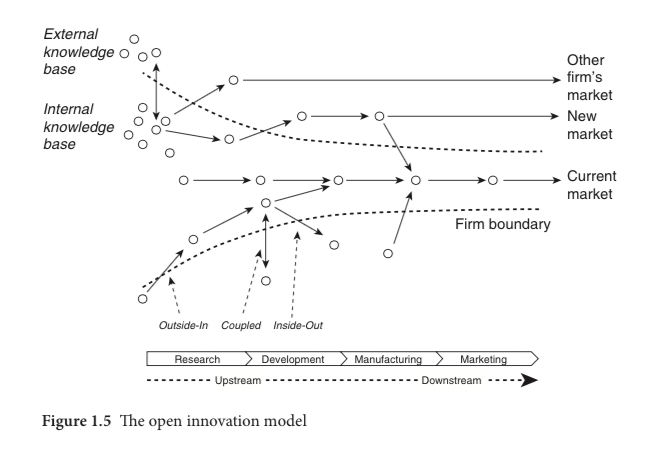 Having brushed up on our notion of OI, we can now focus on the interesting bit: how it's done. To this point the theory mentions three options, depending on the direction of the knowledge flow that you or your organization wish to tame (sorry, manage): 1. Outside-In (or inbound), 2. Inside-Out (or outbound) or 3. Coupled open innovation, the latter implying combined knowledge inflows and outflows between actors in the innovation process.
Let's look at some examples of each (3).
1. Outside-In open innovation – or "importing" knowledge through…
- scouting: Cisco foresees emerging technology transitions through its Technology Radar, while Shell's Game Changer program seeks to identify and nurture ideas that might drastically impact the future of energy
- webinars and events: HYPE's webinar series is a great place for innovators of different maturity levels to get inspired; universities also organize either industry specific or general knowledge webinars and events – e.g. Stanford Social Innovation Review webinars and the Academy of Management Meetings
- in-licensing IP: to acquire the right to make a derivative work (i.e. The Lord of the Rings trilogy), movie director Peter Jackson needed a license from the Saul Zaentz Company which holds movie rights to J. R. R. Tolkien's work
- university research programs: if your construction company is, by any chance, drawing the blueprints for the state-of-the-art airport in Nuuk, Greenland, it might want to insource knowledge from Hamburg University's Damocles project
- funding start-up companies in one's industry: Orange, the large French telecom company, is partnering with LG, Visa, Hilton, Fnac, and Moët to support its fourth startup accelerator batch – the initiative is called Orange Fab. Similarly, PwC Malta is pouring 1 million into start-ups – some of which will be very likely connected to the consulting industry
Additional options are crowdsourcing like Threadless, organizing competitions and tournaments like IBM's Collaboration Jam, Philips' Innovation Fellow Competition or ING's Hackatlon (the latter used as a means to remain digitally relevant to customers), building communities and performing spin-ins/ spin-backs.
2. Inside-Out open innovation – or "exporting" knowledge through…
- out-licensing IP and technology: the pharmaceutical industry offers many examples of out-licensed compounds - case-in-point Pfizer and the cancer antibody; interestingly, although the product pipelines of such companies are seen as their lifeblood, transparency is increasing and exchanges occur faster
- donating IP and technology: as Tesla proclaimed in a surprising public announcement in June 2014: All our patents belong to you. Toyota has now followed suit by opening up hydrogen patents in hope of stimulating advancements in the field
- spin-outs or spin-offs (whereby an idea searches for a business model outside the organization which created it): in October 2013, Kraft Foods spun off its $36 billion global snack foods division into Mondelez International. Spin-outs are not only OI mechanisms but also a way for organizations to (as two McKinsey authors have pointed out) find the courage to shrink
- corporate incubators: the Google Campus in London, a seven-story industrial building located in Tech City (or "Silicon Roundabout") in one facility that fulfils this function; its mission is to provide all the necessary conditions (including education) for promising high and low-tech start-ups to flourish
Finally, corporate venture capital (Adobe has a rich history in this area) and joint ventures and alliances for the purpose of "exporting" knowledge to the outside are two other means of Inside-Out open innovation

(Source: http://www.bloggingora.com/wp-content/uploads/2014/01/Innovation.gif)
3. Coupled open innovation – or being an "importer-exporter" of knowledge through…
- strategic alliances: Novozymes and Monsanto are a great example of how to collaborate in the light of bioagricultural solutions providing important remedies to growers around the world
- joint ventures: the famous Lipton and PepsiCo venture was (and still stands) as a successful attempt of creating a sustainable arrangement for the purpose of open innovation; similarly, RDK Management has recently announced the strategic addition of Liberty Global as a new member in the RDK joint venture (alongside Comcast and Time Warner Cable)
- consortia and networks: the Goodyear Innovation Center in Luxembourg is known for supporting public-private collaboration - in 2012 its European open innovation community gathered 45 partners from different fields of science; a very different arrangement is a by-invitation-only gathering of senior innovation managers at leading companies across industries in Europe called the European Industrial Forum.
A final flavour of coupled open innovation involving complementary partners are ecosystems and platforms, like the one Salesforce is carefully shaping.
So there you have it. A comprehensive lists of ways to go about OI - whether for the incremental "yard work" or the disruptive "zombie fighting".
P.S. Need further convincing on the relevance of OI? Do read Open (digital) innovation is the longer-term winner by Paul Hobcraft, also here on the HYPE Blog.
Related Material...