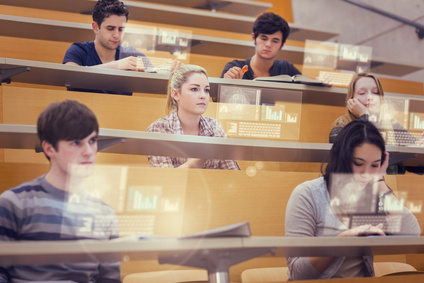 Virtual learning environments might sound like a thing of the recent past, but specific methodologies and tools (e.g. Thomas A. Dwyer's Soloworks) forerunning the present-day online education craze have been under continuous development since the late 1950s. Though our teachers are not (yet) robotic digital learning materials, interactive learning spaces and advent of video conferencing have contributed significantly to the mass proliferation of online courses in practically every field. Today, even innovation management skills are being taught in novel ways through a variety of programs and course-like trainings such as the Stanford Innovation and Entrepreneurship Certificate and HYPE GO! Ready - online training concepts to help business leaders tap into the collective insight of their chosen target community. And this is just the beginning.
Innovation in online education, will continue to alter learning landscapes globally and by doing so will become an empowering agent of change for millions of prospective students everywhere. Here are a few things to consider in relation to this trend.
To begin with, online education is receiving more and more attention worldwide, particularly in academia and the non-profit sectors where a growing body of research continues to monitor its effects on society at large. The Clayton Christensen Institute, for example, is a non-profit think tank devoted to applying Harvard Business School Professor Clayton M. Christensen's theories of disruptive innovation to solve pressing social problems, and perhaps the most prominent institution working to shape and elevate the conversation surrounding the future of online education.
Not surprisingly, one frequent topic both on the Institute's blog as well as in other specialized circles is indeed a very pressing one: the surge of demand in skillsets on the job market and the inability of brick-and-mortar institutions to help students attain these skills. Citing recent figures from McKinsey's Tackling Youth Unemployment report, Michelle R. Weise, Education Senior Research Fellow at the Clayton Christensen Institute, notes the widening gap between degree holders and the jobs available to them. But how can this be when colleges and universities everywhere are leaning so much towards digital?
Mass online courses + customized education = professional success
In a nutshell, conventional institutions are making the mistake of introducing advanced learning infrastructure (e.g. online portals, computer-assisted examination, remote mentoring etc.) that often proves neither time nor cost efficient to its users. Furthermore, the vast majority of traditional courses also fail to address trending topics in the modern workplace. Otherwise put, Big Data, Intro to the Design of Everyday things (both on Udacity), Growth Hacking: Lean Marketing for Startups (Udemy), or Gamification (Coursera) simply do not make the cut – and so the rift between formal education and the real world grows wider. In response to all this, students are encouraged to rethink their options and choose solutions that better address their personal and professional needs. Consequently, the free online knowledge provided by the world's elite institutions (HarvardX, MIT OpenCourseWare, and StanfordOnline), the Massive Open Online Courses (or MOOCs), science communities such as Zooniverse are increasingly favored routes to professional success.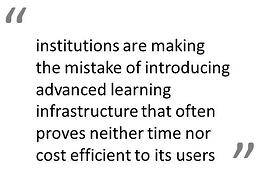 If we distance ourselves for a moment and attempt to grasp the bigger picture, we will notice an interesting pattern. The learning experience has become so personalized that we now sit on the brink on an era of mass customized education. Whereas in marketing and manufacturing the concept (i.e. mass customization) refers to a technique that combines the flexibility of "custom-made" with the low unit costs associated with mass production, in education students could soon be able to configure the architecture of their semesters and ultimately that of their skill sets by combining the flexibility of self-paced, custom-made learning packages with the low unit costs of acquiring these packages online, at the fraction of the normal cost. For instance, prospective student Brian with a fondness for computer animation and game design would by-pass traditional software-focused art schools and invest instead in an online course called Creature Animation: Fight or Flight on AnimationMentor. Not only would the move save Brian time and money, it would also bring him closer to the industry experts that he seeks to meet, learn from and ultimately work for. In this case: Jason Martinsen, Senior Animator at Sony Pictures Imageworks.
Summary
While the validity and credibility of some online education options still remains the target of occasional critique, further innovation in the field as well as uncovering new niches and target markets for mass customized learning products and services will likely boost the impact of online learning all over the globe. Once accrediting bodies step in too, the outcomes (IT skill levels attained, ECTS points, contact with likeminded professionals, access to further specialization etc.) of online courses will become even more tangible and aligned, enabling millions to become better equipped for the jobs to be done of the future/ future jobs they wish to do.