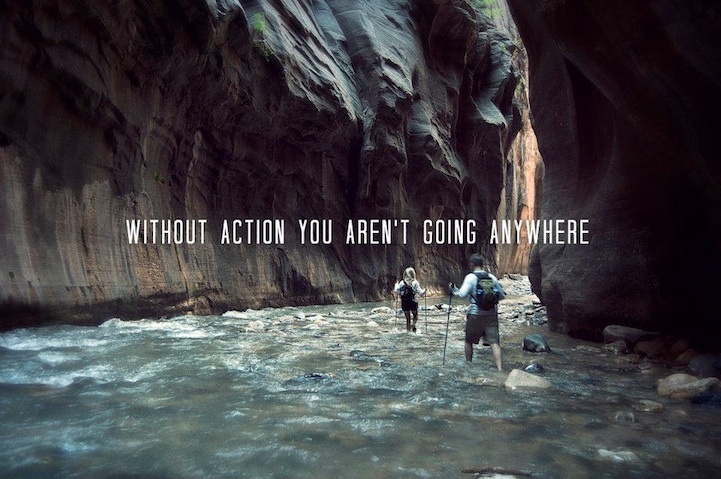 Last week, we published our first insights of the interviews with the speakers of our upcoming Innovation Managers Forum in April. However, we collected information not just about the most important lessons they learned in the past but rather about the secrets of their future and which milestones they determined to follow up. What is the next step that you would like to take in your innovation program?
At the beginning, I would like to outline the words of Pia Wagberg:
Less talk and strategy, more action!
Those simple words can't get wrong. As the picture said it before, without action you aren't going anywhere. One action is worth more than a thousand thoughts but taking action can be difficult. Think about how you can involve others to help all of you to take more action. Even Pia suggested focusing on less strategy; in my opinion the words of Jack Welch, the CEO of GE, are very applicable, too:
"Good business leaders create a vision, articulate the vision, passionately own the vision, and relentlessly drive it to completion."
A vision is necessary but it needs to be translated into action, too. As the world of work continues to evolve at a rapid pace innovation continues to become both a top priority and a top challenge. In order to succeed and thrive in this rapidly changing world, organizations must adapt by following a strong vision and driving it to completion. Companies need to realize that improving innovation isn't going to happen by simply investing more money in research and development. To make tangible improvements, companies need to develop an innovation strategy and recognize that improving innovation requires transformation of the organization, culture, and business processes of the company. This is exactly the indication Steve Dannan from Interserve would like to focus on:
Our intention this year is to ensure that all of the Innovation Program activity from the past two years has a natural home within each and every business unit in Interserve. Ultimately we want to make the transition from being a program of work into something that is naturally embedded within the culture of our organization. Some examples of this will include:
Ideation campaigns become an activity that are owned by our business unit teams, not the central program team, and aligned to the business unit teams own innovation strategies
Innovation 'leadership and development' programs become embedded within our talent development plans throughout Interserve
Cross business network of 'innovation ambassadors' meet and discuss live innovation projects on a regular basis without the need of a facilitator
Innovation awards mechanism is self-sustaining and recognizes both innovative ideas and innovation behaviors
The mentioned actions are part of Interserve's overall innovation strategy. There are desirable, challenging and believable. You cannot expect your team to be innovative if they do not know the direction in which they are headed. Innovation must have a purpose. It is up to the leader to set the course and give a bearing for the future, and all of you are the leaders in our field. There should be an overarching statement which defines the direction for the business and which people will readily understand and remember.
"We would like to ensure that the system is integrated into the day to day work in the innovation teams across the RWE Group. Once this has been achieved we would also like to use the platform to make idea generation second nature to our business across Europe."
That's the overarching statement Marcel Broumels defined for the innovation management program of RWE. Because every innovation management program is situated in different stages, the answers of our innovation professionals can diverge widely. And this is actually one of the main reasons why our Innovation Managers Forum in Bonn is highly beneficial for our customers. Many people might have struggled with the problems you got right now or some are following the same strategy as you do. Everyone has their own story to tell and these stories are built upon many lessons learned. Join the Forum and see how much irreplaceable insights you can soak up.
Cecilia Izquierdo-Sabido is leading the innovation program at BASF already since many years. With around 10.700 employees working in research and development for BASF worldwide it is an enormous task to lead it successfully. By following her overall strategy, she provided us some insights of the next steps she would like to take:
"Increase the number of ideas and level of discussion in our idea management tool by communicating to existing and potential new users the value that the HYPE platform brings to the company: I.e. shorter time to transplant ideas from one region to another, ability to enhance or discover new ideas that had not been explored before, improve the network and connectivity among the innovation community on a global basis."
All of you know how hard it is to lead innovation management on a global basis and to create a unique innovation culture that delivers great results for the entire company. Are you running a global innovation management program? Is the global launch at your company on top of your to-do list? Meet your peers at the Innovation Managers Forum, use the many networking times to make friends and leave the event with promising relationships.
In sum most of the respondents stress the importance of taking action. In innovation management it is important to think about strategy, but in the end action speaks louder than words. And after action is coming reflection, which John Bessant shows in his answer. He has been active in research, teaching and consultancy in technology and innovation management for over 25 years. John currently holds the Chair in Innovation and Entrepreneurship at Exeter University where he is also Research Director. Many more milestones brought him to his expertise and his future orientation:
"My next steps in my personal innovation journey involve working with humanitarian agencies like Save the Children and the Red Cross where the need for innovation is clear and where the potential of managing it more effectively is beginning to be realized."
Many see visioning exercises as too 'blue sky', abstract or irrelevant. However, a simple vision can be a real motivation for you and your team. Register now and get inspired by the visionary thinking of your peers.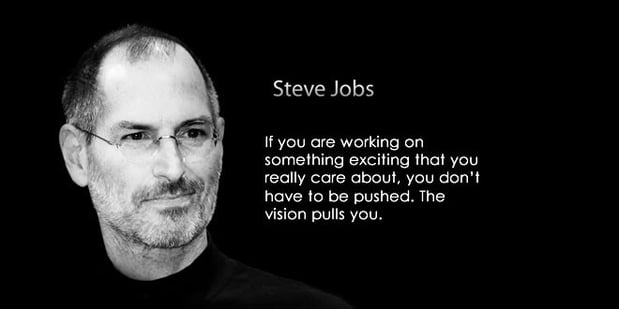 This blog is part of a series regarding the HYPE Innovation Managers Forum 2016.