Last week, we shared the news of Togo launching its #TousContreCorona (#AllAgainstCorona) hackathon in response to the COVID-19 pandemic. The online initiative, supported by HYPE's hackathon platform, took place from April 10th to 13th. The results are impressive: Over three days, 380 people logged onto the platform. Teams of two to six people submitted a total of 47 solutions. Judges selected 24 ideas for the pitching phase. And finally, 14 ideas were selected and are now displayed on the platform to receive the necessary support for their implementation.
Before we get into more details, let's take a step back and look at what a hackathon actually is. The term hackathon – a fusion of the words "hack" and "marathon" – started as a way to describe a collaboration method for developers to find solutions in teams within a short time (think 24 to 72 hours). Now the field of collaborative innovation is also using the term in a more general way, and bringing the method online.
With HYPE's hackathon platform, the #TousContreCorona initiative helped the country move quickly to find solutions to the diverse challenges facing the Togolese people due to the COVID-19 pandemic.
Challenges of running an online hackathon in Togo
The initiative has been a huge success for the country, but it was a bumpy road to get there. To fully comprehend the challenges of such an initiative in Togo, it's important to understand a few things about the country.
Togo has nearly 8.3 million residents, but only about 1.7 million use the internet -- about 20.5 percent of the population1. Half of internet users connect from their mobile phone, and mainly to communicate via WhatsApp. The low rate of computers in households, and the very low connection speed, are two factors that have a considerable impact on an initiative such as an online hackathon. And yet, many people mobilized to participate.
With the help of a support unit and a team of mentors, participants' were guided step by step and technical issues were no longer an obstacle. Even those without internet access could participate by joining teams already registered or by contacting the support unit over the phone. Collaboration was the key to giving a voice to those who had not been able to express themselves.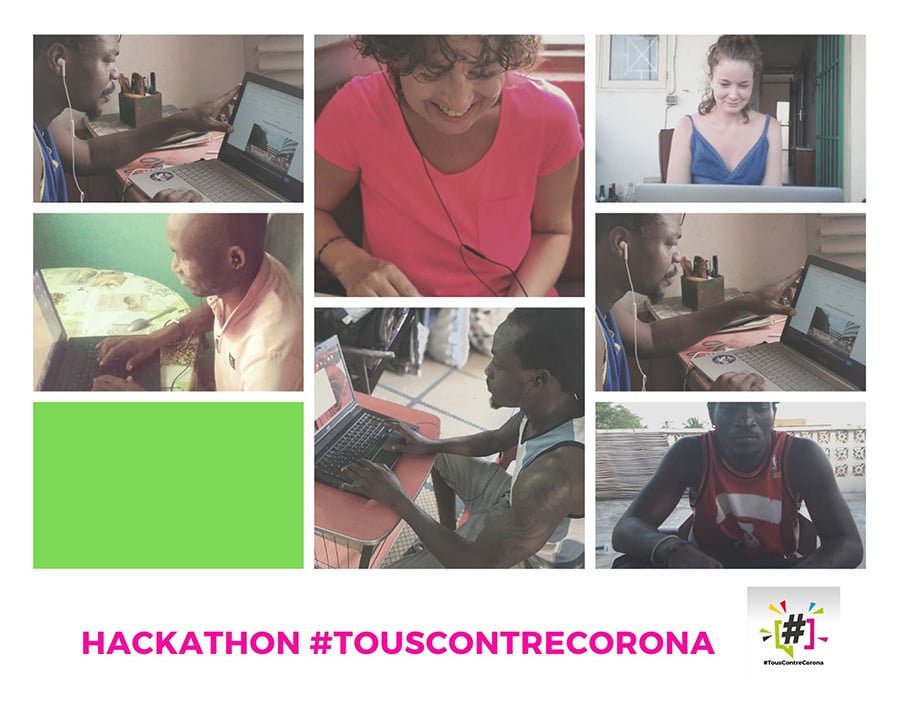 Recap and looking forward
The hackathon took place from 8 a.m. on Saturday, April 11th, to 6 p.m. on Monday, April 13th, with the following stages:
Participants were able to submit solutions to the problems exposed in the initial ideation campaigns (health, education, culture, nutrition, economy, and mental support) until Sunday evening.
Each idea/solution owner built a team and received support from a mentor.
Mentors selected ideas on Sunday evening, and the teams had until Monday at noon to prepare and post their pitches online.
A jury then selected the best solutions, which are now projects available to view on https://www.touscontrecorona.tg/.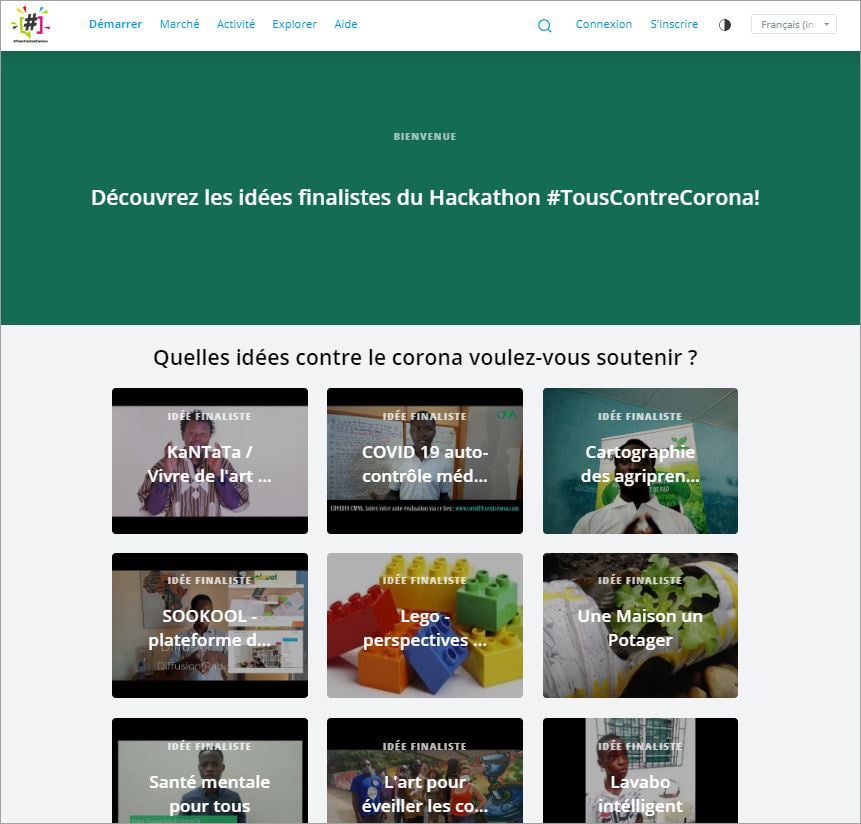 A screenshot of the hackathon platform with the main question: 'What ideas against Coronavirus do you want to support?
Here are three examples of projects from the 14 chosen in the final round:
"Art to Raise Awareness" is a project that addresses two major issues in Togo. The first issue is that sometimes the prevention and awareness messages about COVID-19 are contradictory. They generate confusion, fear, and even panic. The second issue is that illiteracy affects about 43.3 percent of young people and adults ages 15 to 44 (source: MICS 2011 survey). The goal of this project is to transcribe the messages onto murals and strengthen mutual aid.
"Mental Health for All" is a support service to combat stress and panic -- key factors that can weaken both the immune system and general well-being. The effects of anxiety and fear are often underestimated, and visits to a psychiatrist or mental health specialist are not normal in Togo. The aim of the project is to establish mental health services via an online platform and a toll-free telephone number. People can communicate online through the platform's community section – a much-needed outlet for those who are struggling with isolation. Users can also ask medical questions in the platform's forum.
The "Smart Sink" is a solution to allow hand disinfection in strategic locations, some of which lack a connection to running water, like an outdoor market. The washbasin works independently and without contact. It dispenses soap or hydro-alcoholic gel, and a fixed amount of water to avoid waste in a country where water is a precious resource. The solution kills two birds with one stone by multiplying the number of places where people can disinfect their hands while using as little water as possible.
The hackathon platform has become a marketplace where everyone – citizens, donors, foundations, the state, etc., – can "window-shop" and support a project. It also enables teams to work together to refine their solutions and convey their needs in terms of budget, skills, human resources, or material. The platform connects l the stakeholders needed for these 14 promising projects to come to life, thus helping the entire Togolese population in this health, economic, and social crisis.
Beyond the projects: the hackathon's impact on participants
While the final goal is to implement as many helpful projects as possible for Togo, the initiative has also had many positive effects on the participants. Keep in mind that many of them have never worked in a team, written a pitch, or developed a business plan before. The following comments clearly demonstrate how enthusiastic the participants were:
"The video pitch, that was something! Listening to the mentor's and team's comments, synthesizing, rehearsing the pitch, recording everything in such a short time and editing it...That was a very moving moment."
"The search for new people who join the team and at the same time enter the concept and propose ideas beyond the initial idea, share several thoughts and insights, we felt like we were connected to a collective brain."
"Seeing the selection of my project on the showcase page was truly a total jubilation, to see the path from dream to reality, from idea to action: an impression of not living in the time of the Corona. An impression of being in another world. This hackathon is a hymn of hope in the midst of the Corona pandemic."
Congratulations to all the participants, mentors, and supporters of this initiative! We wish all 14 projects all the resources they now need to make it happen.

For those who would like to help a project become a reality, contact the hackathon team either by email at nouscontrecorona@gmail.com, or by phone at +22893126360 in Togo or +49 163 9144338 in Europe. The first projects are now available for crowdfunding.
Stay tuned for more updates!
If you would like to learn more about running an online hackathon, don't miss our live webinar!

Source : 1. https://www.togofirst.com/fr/tic/1902-4974-de-2016-a-2019-le-taux-de-penetration-d-internet-a-triple-au-togo