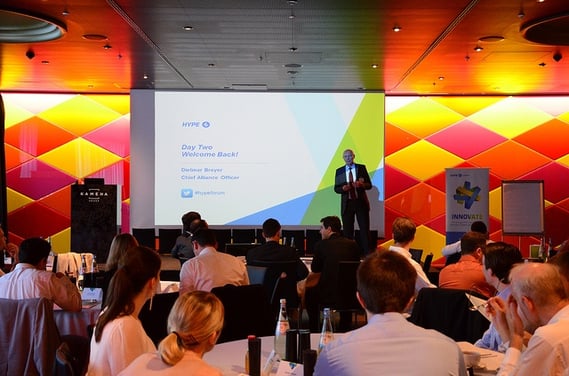 The 2015 annual Innovation Managers Forum, hosted by HYPE, has sold out in record time. The event which takes place in Bonn, Germany, on May 28th-29th, is geared towards innovation professionals, and those who work on innovation programs within multinational corporations.
Among those who join are HYPE clients from a wide array of industries, such as Airbus, DHL, Liberty Global, Fujitsu, Nokia Technologies, and Wiley. Also joining will be innovation speakers:
Haydn Shaughnessy, discussing how companies are shaping up to the forces of disruption (download the white paper by Haydn and HYPE here);
John Bessant, professor of innovation and entrepreneurship, will be discussing the challenges involved in managing innovation, and what options companies have;
Jaspar Roos, investor and founder of the XL Family group of companies, will be showing us how connecting startups to enterprises can allow us to build an innovation machine;
Nils Müller, CEO of TrendONE, will be demonstrating the importance of trend scouting for innovation, and how to connect trends to your innovation program.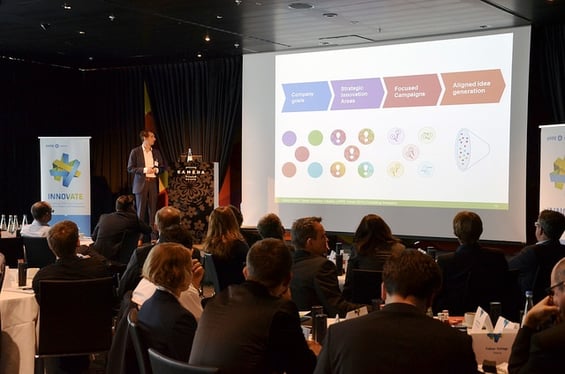 Also speaking will be HYPE Innovation partners, such as IBM, talking about how the social enterprise is one which is more able to innovate and move faster; as well as Atizo 360, showing us how you can leverage an external audience of experts to bring an outside perspective on your ideas and innovations. See more about the event speakers here.

(Selection of companies attending the event)
The event allows innovation professionals to share their story, and discuss the challenges they face in building an innovation process and culture, while also gaining insights from their peers, and discover what's new in the innovation management world. And with our partners, The Chief Humor Officer, we ensure that the event is also inspiring and a lot of fun.
This years event is completely sold out, but we hope you can join us in the future!
For a sample of what the event is like, check out a presentation from Jaspar Roos at the 2014 event:
Also see Wired talking about big trends in innovation: