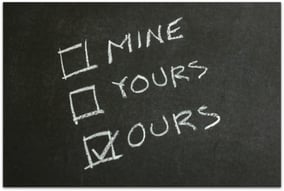 Dear Innovation Rockstars, this is another article full of innovation secrets you won't find on Google. Just like the articles "Visionary Thinking" and "Lessons Learned Session", the next lines are dealing with insights from the speakers of our upcoming Innovation Managers Forum in Bonn in April. What are their personally most important lesson learned and what are the next steps they focus on?
"Co-creation & Open Innovation"
That's the answer of Andreas Schindler, the Director of IT Ideation, Innovation & Technology Foresight at Merck, when we asked him, which step he would like to take next in the innovation program at his company. He added: "Innovation is a journey of constant change in which we will have the ability to unleash the creativity of many people if we openly collaborate, share expertise, allow diverse and conflicting thinking while respecting each other's ideas and thoughts." This is exactly the approach we should all focus on in the future. In a world defined by rapid change, the search for solutions to challenges has become more complex, so we need to look beyond traditional ways – even if those are proven methods that used to be and still are effective. Trust in the words of Fabian Schlage, the head of Innovation and Idea Management at Nokia:
"Change Management is a crucial Innovation Management enabler in large organizations"
With his many years of experience, Fabian Schlage learned that innovation requires change, and in the business environment, resistance to change is deleterious to organizations. The ability to continuously adapt to change enables firms to achieve sustainable value creation and competitive advantage.
One of the most important success factors of change management is communication. Without communicating the importance of a change to all of your employees, you will face the mentioned resistance. But not just within change management is communication a key success factor, as well within an innovation program. That experienced Thibault Loneux from Transdev. Read his lesson learned, try to avoid his mistakes and increase the quality of your innovation management program:
"The Department of Innovation launched several ideation campaigns to respond to local issues on the networks. To do so, we engaged the teams with a very collaborative process, by promoting the participation to all contributors, regardless of their jobs or their hierarchical levels. But to make the people believe in our process, to make them participate, we must really consider all the small ideas submitted by everyone. So, the lesson could be summarized in this way: "never play with the collaborators' ideas". Launching a campaign including everyone (especially those who are far from the decision-making place) needs to give the same importance to all the ideas, even if they are not revolutionary. You must spend time to explain why the ideas are valued or not, and to thank the people for their submission. "Never play with the collaborators' ideas" means if you do not take care of those who create the value in your group, they will never try to submit anything else afterwards. And you probably generate frustration and miss the next "big" idea that you have always been looking for."
Probably many of you agree and would like to put this advice into practice but your resources are limited, we know. For this reason, we created an evaluation tool to help solve this problem. HYPE's Community Graduation is a crowdsourcing tool, enabling configurable criteria for idea filtering based on participant behavior. For each campaign, the campaign manager can define a set of criteria, which, when met, move the idea automatically into the "HOT!" status. These criteria are for example number of views, commenters, or positive votes. This is especially helpful when you have to deal with a lot of ideas, more than your review team can handle individually. Additionally, it motivates your crowd. Since your participants know they need a certain amount of community activity on their ideas, they start to promote ideas among their peers, which increase collaboration throughout the campaign in general. This is just one of several evaluation tools. Join us at the Bonn Forum and learn more about the latest and upcoming functions.
Just as we always try to come up with mind-blowing functions, Thibault Loneux got a strong vision to get the best results out of these.
"First, we would like to make the HYPE platform the main digital tool for innovation within the Group. We want project managers to instinctively connect to gather information about our innovative projects, trends, and so forth. And we also would like to change the state of mind of our company. To make people - especially the top managers - understand that innovation belongs to all: from the drivers to the managers. The good ideas belong anywhere..."
Getting the top management on board is a problem many companies struggle with but it is one of the success factors of innovation management, too. It sounds simple, but getting and keeping that support isn't always as straightforward as it seems. Click into our Webinar "Sponsorship - The Role of Top-Down Management in Enterprise Innovation", in case you are especially interested in this topic.
On the opposite side of difficulties stands Fabian Schlage. Over the years, Fabian has been growing his innovation program constantly into a powerful machine for idea implementation, today comprising the areas of Intelligence Services, Corporate Foundation, People, and Applied Disciplines. These areas are tightly integrated and pervaded by innovation methodology: 22 core methods are employed to make sure innovation success is transparent and repeatable at all levels. At HYPE, we are already excited to learn about the next steps for his innovation program at the Bonn Forum.
A last advice I would like to share with you, dear readers, is the lesson that Andreas Schindler has learned during his work in the field of innovation management:
"Have a sponsor, have enough budget to work on the ideas being submitted, or to say it simple: listen to what Colin and his team are talking about in their webinars."
I know, it sounds like a commercial for my colleagues but I swear this has been his answer without applying any force from our side! Did you ever talk to Colin in person? No? Yes? Whatever, I kindly invite you to join us at our upcoming Innovation Managers Forum at the beautiful Kameha Grand Hotel in Bonn. Do not miss the chance to meet Colin and our other consultants. There is plenty of time for face-to-face conversations and to ask all questions you got on your mind. Register now for 2018 and share your knowledge, too.
This blog is part of a series regarding the HYPE Innovation Managers Forum 2016.