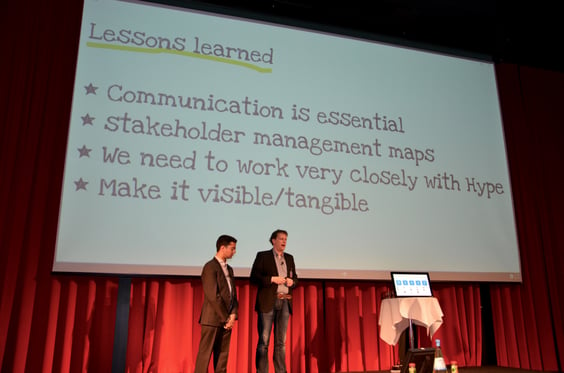 Join us at any of the many locations around Europe and the US and engage with peers, HYPE consultants and industry leaders to learn how to seize opportunities from theory to practice, and evolve your own innovation leadership to become indispensable in the new innovation management world.
The three-line poem did not convince you fully? See 8 reasons why you shouldn't miss our Forums:
1. Experience a rich assembly of forward-thinking guest speakers and attendees.
We bring together a selection of HYPE clients, industry experts and fellow innovation professionals for an intense day of sharing and learning.
"The HYPE Event is a Forum of brilliant minds and experts with innovation expertise", Fabian Schlage, Head of Idea and Innovation Management at Nokia.
2. We provide a strategic view on the trends that shape innovation management.
See the latest from them platform and where it is going in the next 12 months. Or even be part of the discussion to shape the direction.
3. Your success is our goal.
Business is about identifying customers' needs and offering solutions. Our customer events are one of our solutions to provide you insights about our software and our solutions, that you won't find anywhere else.
'What are the benefits for you to attend the HYPE Forum?' – "One of the biggest value is to exchange with other companies that work with the same software. The different use of the platform is very inspiring." Konstantin Gänge, Corporate Innovation Manager & Chief Architect Airbus IdeaSpace.
4. We know what we are doing.
Shaped by feedback from you and other innovation professionals, we focus on only what is most relevant and useful for you. We want you to truly benefit from our customer events.
"If there is one word for 'inspiring, fun and innovative' I would pick that one. Otherwise I would say exciting." Andreas Schindler's answer to the question 'In one word, how would you describe our Bonn Forum?'
5. 24 hours of spending quality time together.
It is a lasting impression for us and you. The events are designed to be highly engaging, and promote openness between participants, so that everybody comes away feeling energized and armed with fresh insights, and valuable connections.
6. Get inspired.
Expand your mindset and see the future. The Forum will open your eyes to a bigger picture and smarter decisions.
"At the Bonn Forum, ideas are flowing. Every minute you are kind of involved in an innovation discussion which generates more and more energy around it.", Bob Neuhard, Executive Director, Strategic Initiatives at University of California, San Diego.
7. Intimate setting for honest discussion.
We close the doors, and let innovation professionals talk about their failures, learnings, and successes. This group of high-quality people will help you to address certain issues that you might be dealing with. You will leave the event with actionable tactics.
8. It is for free.
The event is for you. So we do not want you to think about costs. See it as an investment of your time, with a significant return on investment, so block the day in your calendar and come over. We are waiting for you.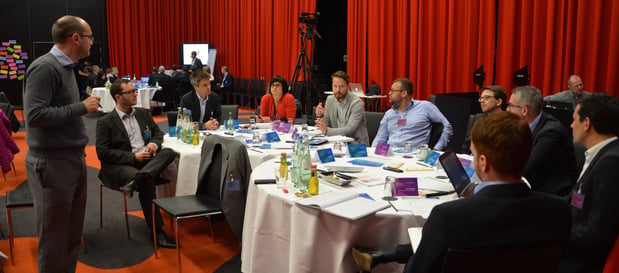 Register now:
Swiss Innovation Managers Forum (German speaking), co-organized with ATIZO360, in Zurich, Switzerland: http://i.hypeinnovation.com/simf16
HYPE Regional Innovation Managers Forum (in English), hosted by Liberty Global in Amsterdam, the Netherlands: http://i.hypeinnovation.com/libertyglobalforum2016
HYPE Regional Innovation Managers Forum (in English), hosted by Merck in Darmstadt, Germany: http://i.hypeinnovation.com/merckforum2016 (fully booked)
HYPE Regional Innovation Managers Forum, hosted by Fujitsu in London, UK: http://www.hypeinnovation.com/resources/events
HYPE Regional Innovation Managers Forum, hosted by University California San Diego, UCSD Campus, USA: http://i.hypeinnovation.com/ucsdforum2016