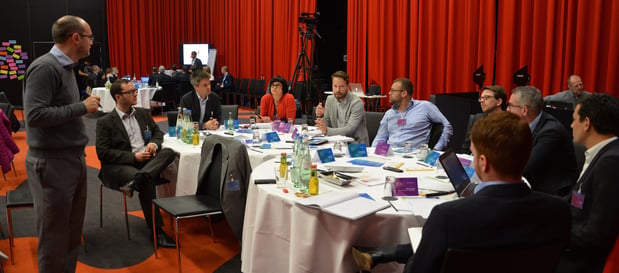 On September 23rd 2016, HYPE Innovation will host an innovation managers forum at Merck's newly built innovation labs, in Darmstadt, Germany.
Among the speakers will be Sven Edgren, Head of Innovation Management at DNV GL - Maritime; Elke Euler-Horn, Marketing Manager Innovation at Eckes-Granini Group; and Andreas Schindler, Director IT ideation, Innovation & Technology Foresight at Merck.
The HYPE innovation managers forums are designed for those working on innovation programs within large organizations. We help bring together a selection of HYPE clients, industry experts, and fellow innovation professionals, for an intense day of sharing and learning.
The events are designed to be highly engaging, and promote openness between participants, so that everybody comes away feeling energized and armed with fresh insights. You'll learn what others are doing to build an innovation program in their organization, and have the chance to share your thoughts.
See the agenda and more information here: http://i.hypeinnovation.com/merckforum2016
The Merck event is now fully booked out, but there is still time to get a place at the events hosted by Liberty Global in Amsterdam, Fujitsu in London, and UCSD in San Diego.