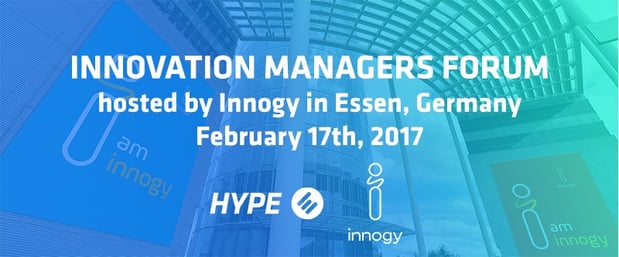 On the 17th of February, HYPE together with Innogy, will host a Regional Innovation Managers Forum in Essen, Germany. A great opportunity to join our community.
Regional Innovation Forums are designed for a smaller audience (25-30 people), with the goal of increasing collaboration and participation among fellow innovation professionals. HYPE clients present their programs, with the successes and failures they've experienced. Sharing and learning from each other is the primary goal, and we guarantee participants walk away armed with useful insights and tactics to impove their innovation programs, as well as new connections to fellow professionals.

We welcome both those starting out with innovation management, and those with many years of experience. The diversity of the audience helps to generate new thinking. We look at aspects such as: how to launch a program; how to build a sustainable one; the common challenges an innovation manager will face; and tactics for success.
If you'd like to see more details about the agenda, the speakers and the venue
Registration is on a first come, first served, basis. Once we reach full capacity, registration will close.
You can also learn more about Innogy (formerly RWE) here: