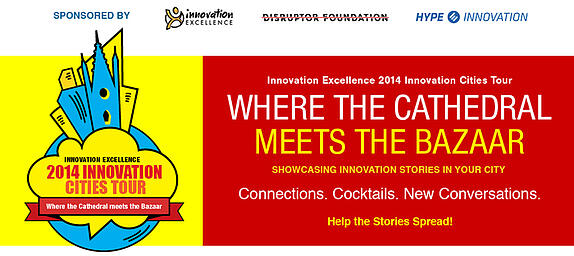 HYPE Innovation, Innovation Cities and Disruptor Foundation launch story exchange & Tour – Live & virtual – first session in New York City on April 21st.
On the Road: 100+ Innovation (Teaching) Stories. HYPE Innovation, Innovation Excellence (IX) and the Disruptor Foundation will curate and crowd-source 'real stories of real innovators' caught in the act of changing the world, industry-by-industry, city-by-city. HYPE will be co-hosting this event with panel discussions packed with stories from the industry.
The goal is to spread innovation through live exchange and teachable, digital profiles. "The stories, including stories of the Tribeca Disruptive Innovation Award Winners, will be made available to anyone who wants them and can use them to inform and inspire their own work," said Julie Anixter, Co-Founder and Executive Editor of Innovation Excellence. Goal is to help demonstrate innovation through stories that will become "Spreadable Media". "Our aim is to use stories to create positive disruptions of consequence, to show and model what's possible, and to inspire people to act" said Craig Hatkoff, Co-founder of the Tribeca Film Festival and Chief Curator of the Tribeca Disruptive Innovation.
The 100+ stories will also be the basis for collaborations with academics like Sam Ford (an affiliate with MIT Comparative Media Studies/Writing and Western Kentucky University's Popular Culture Studies Program) and Kim Garretson (RJ Reynolds School of Journalism, University of Missouri). The term "spreadable" comes from the book, Spreadable Media, by Ford and co-authors Henry Jenkins and Joshua Green.
The Innovation Cities tour will demonstrate that 'Innovation is Real, Innovation is a Discipline (and anyone can practice it)' and will celebrate those who are practicing it in cities. The tour is designed to:
Showcase and aggregate (via HYPE software) the Innovation resources/stories in cities and create a living database following the tour for the purpose of sharing them more broadly.
Bring disruptive, best in class thinkers, doers, and technologies from the IX community and beyond together live for the purpose of discovery, co- creation, networking, sharing resources and accelerating innovation in your city, and beyond.
"We're excited to be hosting these events with Innovation Excellence and the Disruptor Foundation. It creates an opportunity for likeminded practitioners to come together and share their experiences. Innovation resonates when people tells their stories of how ideas have changed their business, their community, and the lives of people around the world. The Cities Tour is an excellent chance to develop these stories together." Tim Woods, VP of Marketing at HYPE Innovation.
Innovation Excellence is the World's Largest Crowd-Sourced Innovation Web Site. For more information on Innovation Cities Tour partners see: HYPE Innovation
Tour Dates
NEW YORK – April 21, Material ConneXion
BOSTON – May 12, IBM Innovation Center
SAN FRANCISCO – June 17, Autodesk
CHICAGO – October 27, AKTA