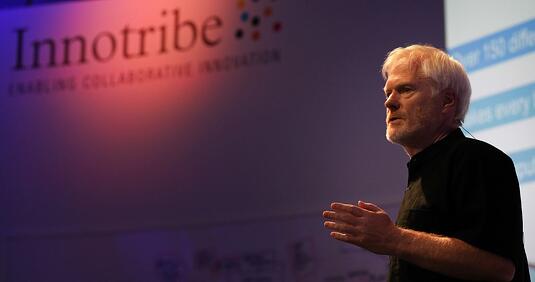 HYPE is pleased to announce Haydn Shaughnessy as a keynote speaker at the Innovation Managers Forum in Bonn, May 28th-29th 2015: He joins other keynote speakers John Bessant, Jaspar Roos, and Nils Müller, as well as innovation managers from HYPE clients KPMG, Nokia, Airbus, Liberty Global, KONGSBERG, Veolia and Fujitsu.
Haydn will be speaking about a new white paper he's been working on with HYPE, and a selection of HYPE clients, titled: "Creating a New Innovation Dialogue To Meet the Needs of Disruption".
Over the past 12 months the idea of disruption has spread rapidly in the innovation community and the wider business literature. Does the term imply a need for significant change in how innovation managers approach their work or how enterprises deal with disruption? In this White Paper we explore why a new innovation dialogue is needed and how it can be framed for maximum benefit. We will do this against the background of the previous white paper "Growing Adaptive Innovation Through an Innovation Maturity Model".
You can download the original paper on an Innovation Maturity Model here. The new research paper will be made available to all event attendees.
About Haydn Shaughnessy
Haydn is an author at Forbes, speaker and advisor on innovation and transformation. Also he is a research fellow at The Paul Merage School of Business's new Center For Digital Transformation, a fellow at the Society for New Communications Research, a Senior Adviser at Bearing Consulting. He was formerly Chief Editor of Innovation management, has written for the Wall St. Journal, Harvard Business Review, Irish Times, Times, GigaOM, and many other newspapers and magazines
You can find Haydn online at his website: http://haydnshaughnessy.com/
About HYPE's Innovation Managers Forum
Each year HYPE runs a two-day annual event in Bonn, Germany, where clients and industry experts come together to share their experiences in innovation management. Speakers include HYPE clients from across the globe; partners such as IBM and TrendOne; and industry experts and authors. The agenda also includes intimate workshop sessions run by HYPE Strategic Consultants. Participants will learn strategies and tactics for managing innovation, as well as forming new connections from the HYPE network.