A few months ago, The Economist published an excellent piece on how the fashion for making employees collaborate had gone too far. We wrote about the trend too here on the blog, explaining how excessive collaboration harms organizational performance and stifles innovation (hint: overworking employees for only marginal gains).
Surreal as it may sound, collaboration overload is a direct consequence of "making innovation everyone's job" or better said: making knowledge workers, irrespective of their preference or skill set, spend over two thirds of their time in meetings, on online platforms, or exchanging emails with/about innovation collaborators for no clear reason and at the expense of reflection and deep thinking (which are far more likely to produce breakthroughs by the way).
Quite clearly, as the efforts to reduce research costs, spread risks and bring innovations to market more quickly diversify, so do the challenges attached to them. Especially in large technology firms where the tension between formal innovation policies (how much should people innovate) and actual implementation (how much people actually innovate) persists.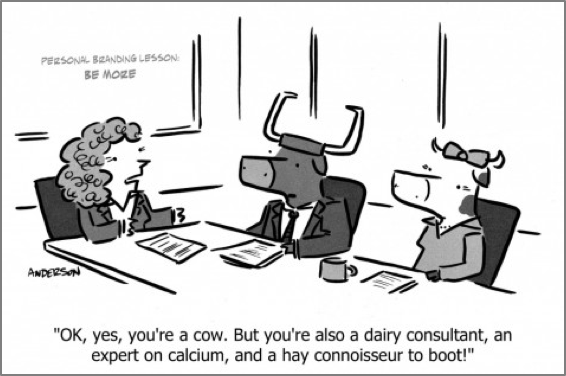 Luckily, where there is a will, there is a way; aka a coping strategy for most collaboration-related challenges (frustrations). In as follows, some highlights from a great read on the topic – Coping with open innovation: responding to the challenges of external engagement in R&D – published by professors Ammon Salter, Paola Criscuolo, and Anne ter Wal in the California Management Review (2014).
Let's dig in.
Getting R&D collaborations right: the tension between policy and implementation
For many R&D professionals, Open Innovation spells as "departure from the familiar": work routines and job functions, mindset, and the environment must all change to accommodate the new rules of collaborative innovation. More importantly though, getting R&D collaborations right and living up to top managements' (unrealistic) expectations about the volume and frequency of external engagements also spells "balancing act". On the one hand, individuals must stay informed about developments outside the organization, but at the same time focus all their resources on internal developments without interference from the outside. As a result, R&D employees to develop coping strategies or "workarounds" that allow them to work towards the wider organizational goal while still being effective in their positions.
But which are the main R&D collaboration challenges and what corresponding strategies work best for R&D staff? Salter, Criscuolo, and ter Wal's article suggests four.
The "external engagement as the last resort" challenge
The first challenge focuses on the demanding nature of external engagement; frequently, the efforts put into translating and integrating solutions from external parties overweigh the prospective benefits of collaboration – e.g., a fresh infusion of knowledge. Hence, R&D specialists tend to work with outside collaborators only as a "last resort", making external search secondary to the internal one. Added complications are the reward systems (often designed around closed models of innovation) – i.e., feedback from external parties is typically dismissed from performance reviews on the grounds of "irrelevance" leaving external recognition unaccounted for.
How to cope:
reduce negative perceptions of external engagement via regular site visits to potential external partners - visits typically help R&D staff better appreciate external ideas;
encourage R&D staff to allocate time to external relations and create a positive mind set towards open innovation;
coach partner organization(s) on how to deliver ideas that are easier to integrate;
redesign reward systems; create prizes for those that excel in external engagement.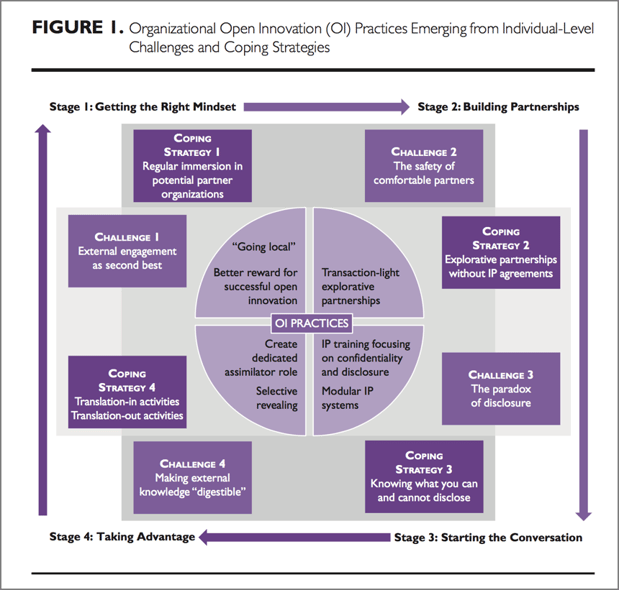 Source: Coping with Open Innovation: Responding to the Challenges of External Engagement in R&D
The "I'd rather engage with known partners" challenge
The second challenge concerns R&D employees' tendency to focus on interactions with the firm's key partners (the "usual suspects"), as opposed to unfamiliar ones, for fear of the cumbersome IP arrangement task. IP arrangements, according to the article, usually take 3-6 month to accomplish and involve complex legal processes and negotiations. (Fun fact: ever wondered what arrangements are needed at the closure of an Open Innovation project? It's called the "IP disassembly problem"). While having long-term agreements in place helps create "safe spaces" for collaboration and speeds up the open innovation process, relying exclusively on existing, long-term partnerships can have downsides too – e.g., missed opportunities to collaborate with young, dynamic firms during discovery and/or development.
How to cope:
do a small scale project (

experiment

!) with partners that does not involve IP;
break the cycle of overreliance on exiting partners by allowing "transaction light" partners to enter the scene - in this scenario, companies get to know each others' capabilities and understand how they can complement one another;
try "speed dating partnerships" focused on interesting but non-essential development areas.
The "paradox of disclosure" challenge
The third challenge arises when one party involved in a technology exchange discloses more information than the other party is unwilling to pay for. In the absence of a clearly established protocol or adequate training, R&D staff face the dilemma of what to reveal and what to conceal; in other words, they may avoid external engagement because of perceived personal and professional risk of unplanned disclosures – i.e., inventors may have unrealistic expectations about the financial value of their ideas (they underestimate the effort that needs to go into development, for example).
How to cope:
coach R&D staff to overcome paradox of disclosure and redesign the IP training programs to differentiate between the challenges and opportunities of open innovation (most programs take a defensive, stress, legalistic approach);
use modular IP systems and clarify critical components of the IP – distinguish between the crown jewels and other types of IP that do not require such strict rules;
introduce a "buddy model" of engaging with external parties to personalise and deepen engagement;
use "phone a friend" support services in real time to help engage with externals and avoid leaking sensitive information;
The "making external ideas digestible" challenge
The final challenge addressed in the article is tied to large firms' inability to use external ideas straight away. More often than not, additional effort ("translating") is required before external knowledge can adequately meet the company's objectives. In large R&D-intensive firms, training individuals to recognise good ideas and apply them is undervalued, while this type of support is generally unavailable for R&D staff (the "assimilator role").
How to cope:
help external partners deliver a message that is clear and understandable;
help imported knowledge stand the scrutiny of the internal processes – e.g., stage-gates;
cultivate "translation-in" skills for individuals with a certain profile – i.e., equip them with knowledge of the company's routines, habits, capabilities, and the technology and expertise held by external partners to help them repackage ideas;
practice selective revealing.
To sum up, creating externally oriented R&D staff as well as supportive environments and routines for open innovation in large organizations is far from straightforward. As more best practice is revealed though, collaboration efforts will gradually become more targeted and hence better.
ACKNOWLEDGEMENTS: The academic article summarised in this post was published in 2014 in the California Management Review and can be found at this link. A special thank you to Prof. Wim Vanhaverbeke for bringing Salter, Criscuolo and Ter Wal's article to my attention!
Related posts...