When I work and interact with large companies on innovation, one of the most discussed topics is how to develop a stronger innovation culture.
It is hard to define exactly what an innovation culture looks like, just as it is difficult to provide a single definition of innovation. I believe that it is very much up to each individual company to create a common language and understanding of these terms that fit the unique situation of the company.
In the context of this post, I assume that you have an overview of the key elements (such as an agile, adaptive workforce) and benefits (i.e., bring better products and services to market faster than your competitors) related to an innovation culture.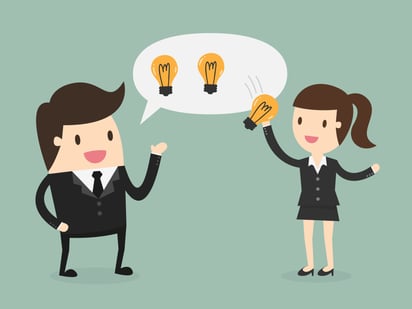 If you work with corporate innovation, you can't really avoid having some insight and perspective on the concept of an innovation culture. Viewpoints are plentiful and varied, which causes plenty of confusion among companies that are trying to build an innovation culture. This brings me to a big question:
Do companies really need an innovation culture?
Recently, I have been wondering if it really makes sense to keep talking about an innovation culture and to spend so much time and energy to develop it at large companies.
A few discussion starters:
Most people at a large company should not really work with innovation: They need to focus on getting their daily jobs done, which includes incremental improvements and innovation. But you don't need everyone to be innovative and come up with new ideas and work on new projects all the time. However, this does not mean that they should not have the opportunity to contribute to the kind of innovation that goes beyond incremental. They should, and this can happen through the likes of campaigns and business plan competitions.
The front end of innovation is now the easy part of corporate innovation: Getting ideas is not so difficult anymore as the internal idea management systems and platforms are getting more and more sophisticated. Thus they make it possible for every employee to contribute on this part. Furthermore, the concepts of crowdsourcing and open innovation also open up the flow of ideas and input from the outside world.
If corporate innovation teams have difficulties getting enough ideas – and even the right ideas – I would challenge them by saying that they are not doing their job well enough. There is too much knowledge, insights and shared practices on this to accept failure here.
Radical innovation or disruption hits much faster and harder today compared with just five years ago: I don't think you can plan for disruptive or radical innovation in your company. You can develop the right frameworks and conditions for this to have a chance to develop, but you can't plan for it. The resistance and uncertainties that you will find both internally and from the markets are too difficult to manage for any company to rely on bringing out radical and disruptive products on a frequent basis. There is simply too much of an element of luck in this. (But again, you can prepare for this luck to hit you by creating the right frameworks and conditions).
Although you might get a different impression by reading the above, I still think that radical or disruptive innovation is highly important because even though you can't plan for your company to bring out radical or disruptive innovation, you can be pretty sure that your company will be hit by such innovation brought along by known – or more likely currently unknown and thus unexpected - competition.
The future might look bright and clear right now, and thus there is seemingly no reason to make the smaller, but important, changes to your organization that will make it more adaptive and able to respond to a different kind of competition.
Unfortunately, this lack of adaption is exactly what will kill your company as disruption hits your industry faster and harder than ever before.
The windows of opportunities and the life span of cash cows are diminishing: Building further on the above notions on radical or disruptive innovation, you must take into account that the windows of opportunities and thus also the life span of cash cows are diminishing. It used to be that big companies would occasionally hit the right window of opportunity just given to their sheer size and "control" of the industry, but this is changing and since no company is too big to fail today even a few misses in a row can become critical.
Companies need to adapt to the mega-trends that drive innovation – and therefore the future of business: The context of innovation today is that companies move faster and are more connected and knowledge is more transparent and more widely available. Companies need to figure out how to adapt to this in order to beat their competitors. This has a lot to do with the design of the organization and the skills and in particular the mindset of the employees. Will the organizational structures that we have known for decades survive this?
I don't think so, but I don't have a clear answer on what to replace them with besides a few hints and recommendations, which includes:
look further into the roles of free agents and how this impacts an organization.
learn from the companies carrying out large-scale experiments on the future of the organization (an example is Zappo's and their Holocracy experiment).
beware of the clashes between rookies (the millennials) and the corporate veterans and make sure to tap into the best of both groups rather than just catering to one of them.
The execution of innovation is what really matters today: One of the big shifts that we are about to witness on corporate innovation is that the execution of innovation becomes much more important than the front end of innovation. You can read more about my views in this blog post: The Key Insights Corporate Innovators Miss on the Execution of Innovation.
I believe these discussion starters bring us to an interesting question and dilemma: Since the future organization will have an abundance of ideas and projects to choose from, the execution of the chosen ideas and projects will become even more important.
This requires the ability to read and adapt to ever-changing markets and to execute fast while still being open to experimentations within an organization as well as on the markets themselves.
Given this, does it then make sense to talk about an innovation culture? Is it the wrong term to use?
I acknowledge that terms are merely what people put into them, but maybe we could create better and stronger corporate cultures if we stop using the terms "innovation" and "innovation culture" and "just" focus on making companies more agile, adaptive and great at execution.
Maybe it is time to talk less about innovation if we want more of it.
This is the second in a series of blog post on the execution of innovation. You can read the first one here. This leads to a white paper and a webinar on June 10 hosted by Hype Innovation (Register Here). Stay tuned!