Making organizations meaningful. Noble pursuit and this year's theme at the Academy of Management's 76th Annual Meeting (AOM) where close to 10,000 students, scholars, and professionals in the management and organization space gathered to discuss companies' raison d'être.
In my double role as presenter and participant at the AOM, I witnessed first hand the vibrant clash between research and practice on topics like:
The intentional and unintentional ways in which organizations become meaningful
The connections between technologies and creating the meaning of new entrepreneurial ventures
How hybrid organizations combine economics and ideology to create growth
And got inspired!
In as follows, some impressions from the event to inspire (and intrigue) you too.
How are organizations meaningful?
The meaningfulness of an organization lies in its purpose, values and worth. How does your organization get the customer's job done? What is the philosophy? How does it create a significant, positive impact in the world?
Medical device manufacturer Coloplast, for example, sets the standard for listening and responding to patients. Cosmetics giant Avon believes that beauty is a journey and women's empowerment a destination. TED, the non-profit dedicated to ideas worth spreading promotes the creation of communities of "curious souls" and problem solvers.
Believe it or not, even Coursera has added a course called "Time to reorganize! Understand Organizations, Act and Build a Meaningful World" to its catalogue this year, reinforcing the importance of the topic.
Why inquire about meaning? Good question.
Questioning the purpose/ value/ worth of an organization is an imperative for several reasons. At a micro level, this exercise helps employees understand the impact of their work and consequently maximize human potential in the workplace. At Otto Bock, for instance, the mission to restore and improve independence for people with mobility challenges creates a unique customer/ patient centricity that is deeply ingrained in employees' daily work.
At a macro level, addressing issues of worth help create an organizational identity, reputation and most importantly, character. Like at Virgin America, an airline notorious for its unconventional approach to safety videos and even airport signs.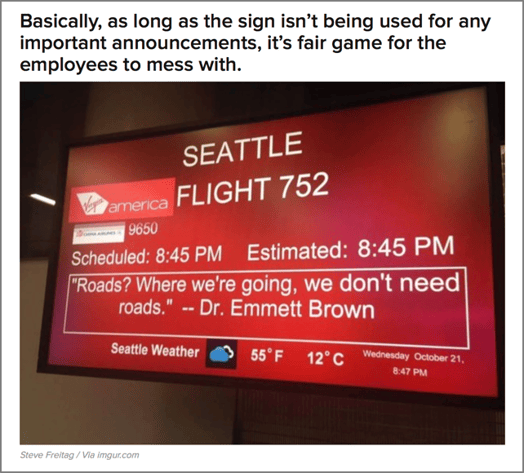 Source: Buzzfeed
Are less traditional organizations better equipped to create meaning?
Yes, absolutely. Hybrid organizations – i.e., enterprises that design their business models around the alleviation of a particular social or environmental issue, are much better at connecting with the end customer than traditional corporations.
A useful way of thinking about hybrids is to imagine a spectrum with pure nonprofit organizations surviving on philanthropy and grants on one end, and pure for-profit organizations with little or no social mission on the other end. Hybrids therefore occupy the intermediate points between the two, typically designed for niche, under-served markets.
So shall we do away with traditional corporations?
Well, yes and no. In a thought-provoking article for the Academy of Management Perspectives, Gerald David, Professor of Sociology at the University of Michigan, asks precisely this question: Can an economy survive without corporations? As it turns out, robust organizational alternatives like cooperatives or two-sided networks (platforms) are indeed on the rise but corporations will be here to stay for a while longer.
To illustrate this point, consider Kerstin Forsberg's Planeta Oceano. The genuineness of Forsberg's not-for-profit and the relatively low cost of organizing it (flexible structure) allow this social entrepreneur to perform more effective stakeholder management. Consequently, this hybrid's research, environmental education & awareness raising activities effectively sustain development of coastal communities in Peru and elsewhere.
In the retail industry for instance, large brick-and-mortar stores are liquidated in favour of lightweight, easy-to-manage sites or pop-up stores - massclusivity and planned spontaneity, anyone? As the researcher shows, information and communication technologies have made it much cheaper to organize commercial activity on a small and provisional basis rather than investing in long-term institutions like corporations. In other words, new forms of non-corporate reinforce fluidity not only in terms of production but also in terms of governance models – for example, having an ecosystem managed not by a single orchestrator but rather through consensus.
To sum up, finding and sustaining meaning is one of the key preoccupations of managers today. By leveraging the power of their ecosystems effectively, by designing more fluid structures & business models, and by mastering the art and science of digitization, the organizations of the future can create their much desired impact.
Ready for your next read? Why not try Cashless Business Models And The Potential Of Modern Barter, also here on the Blog.