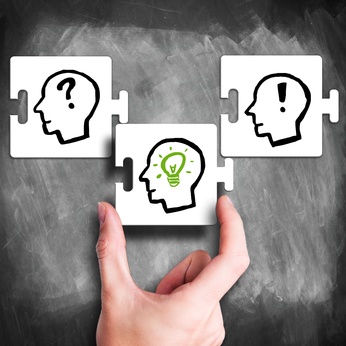 Earlier this month HYPE held its Regional Forum in Munich - covering the area of Southern Germany, Switzerland and Austria. The day-long event was hosted by HYPE customer Nokia Solutions and Networks. The purpose of HYPE Regional Forums is to bring together local innovation management experts from a particular region to exchange experiences and expertise around their innovation programs.
One of the customer presentations was from the leader of the R&D Infocenter at a Swiss speciality chemicals producer. The R&D Infocenter is responsible for the knowledge management of the company. As such, the department is responsible for managing and archiving any R&D relevant information from within the company, such as documentations, formulas and invention disclosures, but also information from outside the company, such as research papers, competitor insights, reports and legal documents. One of the central functions of the R&D Infocenter however, is the deployment of the company's corporate innovation platform. While the platform is also used to make most of the digital content accessible, the platform adds an essential part to the corporate knowledge management repository: the employees.
The rise and fall of Knowledge Management
In the 90s knowledge management was a big deal. Businesses woke up to the fact that in a knowledge-based economy their employee's skills and expertise are their most valuable resource - more important than technology which can in general be copied by anyone. Accordingly, knowledge management software and processes were introduced in order to extract employee's implicit knowledge and codify it. Employees were asked to fill databases with their undocumented business relevant knowledge such as experiences, best practices, processes, lessons-learned, so that it could be shared with others and wouldn't get entirely lost once a colleague departed the company. This approach, however, regularly failed. Let me elaborate a little on two of the main reasons for the failure:
Problem 1: Lack of Motivation
Employees were badly motivated to feed such knowledge management systems. An employee's skill set and expertise determines his value for the company and can be seen as an individual's asset. Therefore, people like to have a context for sharing or applying one's knowledge, such as to train someone, deliver a service, develop a product or write an article. Asking employees to write down their business relevant knowledge, describe processes and best practices, with no specific need at hand isn't particularly motivating, but - especially in times of globalization and outsourcing - rather suspicious.
Key Learning: Knowledge sharing and capturing should not happen for its own sake, create additional efforts and be enforced by the top, but instead be a side effect of daily work life.
Problem 2: Essence of Knowledge
Another main reason why the attempt to capture knowledge in large databases failed is the essence of knowledge itself, which makes it very hard to pin it down. Organizational knowledge is generally fluid. It's constantly developing, becoming enriched by new experiences, insights and information. Therefore, if not kept up-to-date, it gets outdated quickly and loses its value. Another aspect that makes it fluent is the fact that organizational knowledge depends highly on the context in which it is used. The person who picks it up inevitably combines it with his own knowledge, values and beliefs and may therefore interpret it differently than it was meant by the originator. Davenport and Prusak bring it to the point: "Knowledge is a fluid mix of framed experience, values, contextual information, and expert insight that provides a framework for evaluating and incorporating new experiences and information."
Key Learning: The focus must be put on the people that carry the knowledge, instead of the knowledge itself. The tools and processes should therefore focus on helping to identify people with a certain expertise, enable them to exchange knowledge and collaborate in order to create new knowledge.
Collaborative Innovation Platforms: Knowledge Management Included
As technology and production methods are disappearing as a sustainable resource of competitive advantage, innovativeness is taking over as the new key success factor in the global economy. Knowledge is the main ingredient to innovation. New knowledge is being created through the recombination of existing knowledge. Hence, it is essential to support and manage the knowledge creation process, as it directly relates to your innovativeness.
Collaborative innovation platforms facilitate this process by virtually bringing people together from every corner of the organization to let them share ideas, discuss and develop them further, not only new knowledge in the form of ideas is being created, but a knowledge map of the company is being drawn at the same time. Value may not always lay in an idea itself, as of course not every single one leads to an innovation. However, through their contribution, participants normally reveal certain expertise and inevitably identify themselves as a knowledge resource for their particular field. To use this kind of meta-knowledge in an organization effectively, all content - ideas, discussions, drawings, documents, evaluations - must stay in the system's repository and be accessible to everyone. Furthermore, advanced search functionalities that not only help to find related content to a search term, but also the relevant experts inside the organization, are a prerequisite.
Full-fledged innovation management platforms allow companies to run sponsored innovation campaigns, where ideas, insights or solutions are captured for a certain topic. This may be the search for a solution to specific problem that may exist somewhere in the company already; ideas for breakthrough innovations that may reside in employee's heads; or improvements to processes, services, and products. Such campaigns motivate people to participate and share their knowledge, as they know there is a need and purpose for participating. It's also far more rewarding than documenting something into a static database.
"If HP knew what HP knows, we would be three times as profitable" - these words by former Hewlett Packard CEO Lew Platt are symptomatic of large companies that are aware of its huge knowledge resources, but at the same time far away from tapping into its full potential. If you feel that that is exactly your problem, a collaborative innovation management platform might be your solution.