In case you were wondering: the 2016 Innovation Managers Forum in Bonn was a blast! It also broke last year's attendance record by attracting no fewer than 180 innovation management practitioners from around the globe for 2 days of experience sharing, workshops and networking. A definitive gathering indeed with plenty of take-home ideas – a handful of which I plan to share in upcoming posts.
Before I do, and just to give you a flavour of the content or refresher on what you've already seen & heard, this year's presentations offered a glimpse of BASF Chemical Intermediate's first experience with Idea Campaigns (Cecilia Izquierdo, BASF), enhancing the culture of innovation (Steve Dannan, Interserve), digital disruption in life sciences and pharma (Andreas Schindler, Merck), enabling innovation in a large organization (the infamous Fabian Schlage, Nokia), learning the new innovation game (John Bessant, Exeter University), how to survive in the Dragon's Den (Pia Wågberg, Innventia) and many more.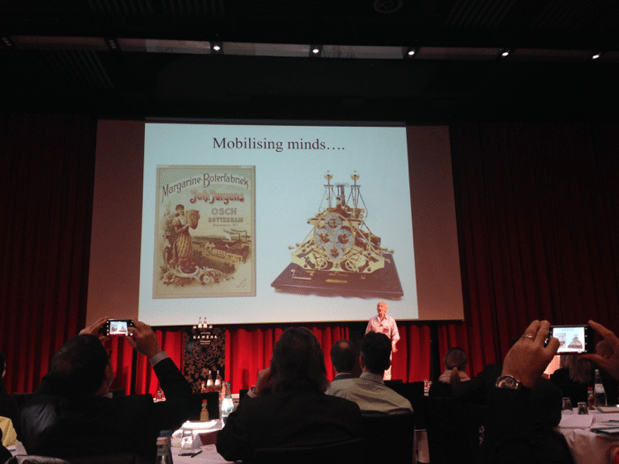 John Bessant explaining the advantages of mobilizing many minds at Hype's 2016 Innovation Managers Forum
In as follows, a summary of one of my favourites: Playing Chess with the Red Queen: Learning the New Innovation Game by John Bessant, Professor of Innovation and Entrepreneurship at Exeter University.
Alluding to Lewis Carroll's Alice's Adventures in Wonderland #2 (also known as Through the Looking-Glass, and What Alice Found There) Prof. Bessant used the "looking glass world" metaphor to describe the uncertain environment innovators must learn to navigate and offered six useful strategies to make the most of the constantly changing rules of the game.
If the past was mostly about knowledge ownership and creation, today managing innovation is all about knowledge flows, connections and interactions between ideas sometimes proudly found elsewhere. As Roy Rothwell wrote in Towards the Fifth-generation Innovation Process (1994), innovation has become a multiplayer game and the focus has shifted towards innovation model innovation – i.e., the innovation of models used to execute innovation projects. Hence the big question:
"How can people create (social) value in a context that is constantly changing and where there is an explosion of knowledge?"
To tackle multiple, simultaneous sources of change, managers must build dynamic capabilities or the abilities to reset and revise their company's approach to innovation on a continuous basis. Additionally, they must reengineer their strategies and work more with ecosystem partners.
So what strategies are appropriate for the "looking glass world"? Prof. Bessant suggested six.
Strategy #1: Variety Matching
Also known as the strategy of mobilizing "many minds", this approach refers to tapping onto the potential of innovation marketplaces for complex problem solving. The value of broadcast search via companies like InnoCentive, NineSigma and Atizo360 is the "long tail" or opening up to a quarter of a million problem solvers. In innovation marketplaces anyone can play and the rewards can be tremendous.
Strategy #2: Working with emergence
Working with emergence and free principles refers to recognizing new trends early and pursuing them actively. This strategy involves following trends, leveraging constraints and even adopting best practice from other industries. Ferrari's auto-crew teaching surgeons at Britain's largest children's hospital how to perform better "hand-offs" and potentially save lives is an excellent example. Here, the delicate task of transferring the fragile three-year-old from surgery to the intensive care unit – also knows as a "handoff" - was partly modelled after Ferrari's "lollipop man" who uses a large paddle to direct drivers to the pit.
Strategy #3: Co-creating in context
Co-creating in context refers to approaching innovation from the user's angle and also involving users at (nearly) every step of the way. Leveraging user experience and expertise at the front and back-end of the new product, service or business model development process often leads to frugal innovations, whose impact is by definition far reaching. One example is samasource – a so-called humanitarian innovation designed to lift, in the aftermath of natural disasters, people out of poverty by connecting them to dignified digital works.
Strategy #4: Probe and learn
Experimentation – which we have written extensively about here on the Blog – is another important strategy to consider in an uncertain world. Today, prototyping within safe spaces (maker spaces) – such as those of Haier, GE, BMW and Joseph's – is quickly becoming the norm, as are "serious play" sessions with the help of LEGO or debriefing sessions in the aftermath of successful and unsuccessful projects. Pixar calls the latter postmortems and has successfully made them part of the creative team's routine.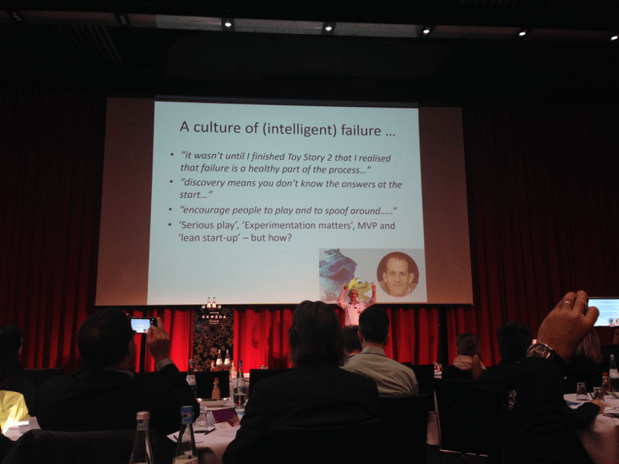 John Bessant persuading the audience to embrace intelligent failure at Hype's 2016 Innovation Managers Forum
Strategy #5: Deploy complexity toolkit
Navigating in a fast-changing ever-complex world cannot be done without the right "equipment". Therefore the fifth strategy refers to building, maintaining and using a complexity toolkit. This toolkit can include access to collaboration platforms, big data tools (here is a handy list), innovation markets, prototyping spaces, design thinking (here is a link to a 90-minute crash course on it via Stanford) etc.
Strategy #6: Ambidexterity
The sixth and final strategy for the "looking glass world" is the ability to simultaneously pursue incremental as well as discontinuous (radical) innovation via multiple contradictory structures, processes, and cultures within the same firm. Ambidexterity has been repeatedly linked to survival and growth and is therefore used to compete in new technologies and markets where flexibility, autonomy, and experimentation are key.
Prof. Bessant concluded his talk by stressing that innovation requires active management. As more and more challenges emerge across the innovation system, companies should rethink their approaches – e.g., more of/ less of/ different things than previously done. Most importantly companies must learn new tricks and develop their dynamic capabilities effectively. As the song goes:
You can't rely on the old routines
To deal with problems you've never seen
In innovation the key to creation
Is to keep on building up
Your Dynamic Capability…
Related Posts...