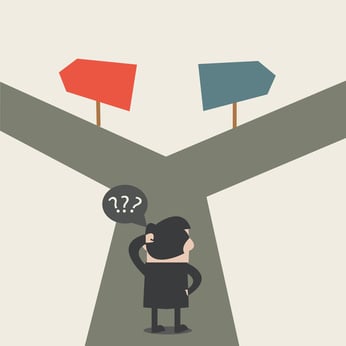 Senior executives live by the idea of disruption. It keeps them awake at night. Nobody wants to be the next Kodak or Nokia. So the very idea of disruption risk gets the attention of decision-makers. Why then is the speed of innovation not a C-level discussion, every day?
The answer is that we are living with an outdated idea of what disruption is. For many people, the idea of disruption starts with a distorted view of Clayton Christiansen's classic: The Innovator's Dilemma. The subtitle of the book gives a clue to the distorted version: When New Technologies Cause Great Firms to Fail.
That gets rendered as: we can be disrupted by new technologies. In reality that's a mundane observation – of course, new technology can disrupt anything. But Christiansen's view of the dilemma is very specific.
Great companies continue doing great things and yet they fail. Executives see new technology in their peripheral vision and believe it cannot impact them – often because the version of the technology is underdeveloped and not particularly great at fulfilling existing customer needs.
The killer technologies, however, are great at fulfilling a new set of needs and creating a new market. That is their killer feature.
The way around the dilemma is to cannibalize your own markets early enough. The challenge though is these dilemmas don't come along very often. They are only one of a number of ways great firms can fail.
Did Nokia's phone business get killed off by a start-up or a new technology? Not really.
It got killed off by hubris, its refusal to join Android, its inability to develop an ecosystem, an unwillingness to deal with end customers….
Dilemmas, in other words, are multiple. They are all related to innovation. But the innovation office has not been so great at making a case to the C suite that well-organized innovation is key to market responsiveness.
This is surprising. Why does Apple succeed? Because it has phenomenally well-organized innovation. On one day in April, it secured 56 new patents. At any one time it is managing innovation across the assembly of its products (it is an active partner of Foxconn and its Glass suppliers), interface (new ways to interact with devices), device hardware (fingerprint access, 64-bit processing….), application channels like autos and music, software services (enterprise and consumer), and the operating system.
Around our heads right now there are multiple disruption factors at work and the new truth is companies must manage them all at the same time:
The software-defined enterprise
Enterprises and their products are increasingly defined by the software component of a product and the acceleration of the process. Jez Humble at Thoughtworks had this to say recently about continuous delivery.
"Amazon is on record as making changes to production every 11.6 seconds on average in May of 2011. Facebook releases to production twice a day. Many Google services see releases multiple times a week...."
That is a fast, often automated innovation process.
A parallel development is a switch to downstream revenues. Plenty of big companies have done it. Microsoft switched Office to office 365 and Autodesk switched from sales to subscriptions. The problem arises when there is a hardware component. Suddenly a company has to make a decision whether or not to take a hit on hardware margins in order to garner a downstream community of users. Xiaomi does it in smartphones. Apple does it and maintains the margin. But you can see the dilemma – if someone already dominates market share you have to give the product away and rely on your ability to innovate post-sale. It's a mighty big shift.
Integration of innovation and strategy
That brings me to point three. Innovation and strategy are rarely integrated. The tech titans do it naturally. Their business environment is all about innovation. But many companies still sit in the old world where execution and innovation are thought of as separate activities. The continuous delivery movement should disabuse every CEO of this. Innovation and strategy are integral or should be. Without that integration, you are already disrupted.
So what does all this mean? I think it means we need to change the language of disruption and the dilemmas of innovation. Right now your disruptors are coming at you from every angle – new tech, new materials, ecosystems, software enablement, social media, and so on. We have to think of innovators' dilemmas, new ones, and pressing ones too. Building out a new strategy takes at least five years. Will you be innovating every two minutes in that timeframe?
Related posts...