The landscape for innovation management tools, methodologies, and programs has changed considerably over the past ten years. It's changed quite a bit over just the past two years! There are some consistencies, both in terms of problems and solutions.
Innovation Capability
Having worked with a wide range of companies and industries, I have seen several elements of innovation which remain consistent. That is, if you want to get good results, you need to be clear about what you're doing, and how you're doing it. Transparency is important, as is the ability to document what you've done and help the future of the program build on the lessons learned. The ever-elusive success metrics and demonstration of ROI (which are separate topics on their own) are critical to the longevity of a program, yet the answers are usually somewhat vague. This is assuming you have a formal program at all. I would say the majority of organizations I've worked with have an 'innovation program' that is staffed by very smart people, very capable people, all of whom have a 'real-full-time-job'. Innovation is just a partial time commit for them, the available resources are low, and the expectations are high.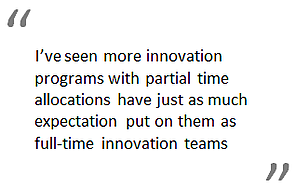 If you want to have innovation as an operationalized business discipline, then is it really a good idea to only have people focus on it some of the time?
Being experienced in sales and sales management, if you were to only assign people to sell on a partial time commit (which many would argue is what sales people do anyway ;)) would you expect a lot from that person or team? You could adjust their quota to make the expectation more reasonable – that is a sales person who does nothing but sell should have a higher quota than a sales person who only sells at 15% of their time-commitment to the organization. But I've seen more innovation programs with partial time allocations have just as much expectation put on them as full-time innovation teams.
The Chicken or the Egg
Is resource allocation for innovation programs based on the results the program gets while barely supported with partial time commits and minimal budget? If the innovation manager is able to produce great results, does that mean more people, more money, more time? What came first, the chicken or the egg?
I wish the answers for increasing innovation resources were all met with a resounding 'yes'. But they aren't, not usually anyway.
Maximize your Probability for Success
There are many things you can do to maximize your probability for success. The word 'probability' makes it sound like winning a lottery – and for some truly radical, game-changing innovations, maybe that's an appropriate word. In addition to the 'lucky-accidents' many great innovations come from trial and error, learning from successes as well as failures. If you have enough time, then maybe that is the path you're following. But most people do not have enough time. Innovation is only a partial time-commit as it is, and they are under a lot of pressure to produce results and figure out how to show progress when the results are not so clear. Can you claim your innovations have made a huge impact if you're NPD time-cycles are 3 years and you're only 6 months into the program? There are ways to do this, but I find more often than not, people struggle with this.
Is innovation a numbers game? If comparing this to sales, or any kind of process where a funnel is the best analogy, maybe so. Sales people don't close every single deal they touch, not every project is a success, and not every project is completed. Sales people that work hard, follow a consistent process, have good sales skills, they will usually close more deals than those that do not. Usually.
How can you increase the probability for success in your innovation program? Here are a few ideas:
Sign up for innovation best practices training

Many organizations offer such things now, whether it's your innovation management software vendor, a consultancy, online innovation resources or business schools. The programs exist and they are growing and evolving quickly.

Figure out how to report short term wins and ROI

Top line or bottom line? Some other 'softer' metric like employee engagement perhaps? Whatever is most important to the success of the innovation team – on what you are being measured, work on being able to present that to management in a way that shows the effectiveness of the innovation activities across the group or enterprise. These metrics will vary considerably as even the fiercest of competitors will often have innovation teams working on completely different areas of the business – even within industries where there are no real 'standard' metrics.

Listen and Learn

There are considerable quantities of resources available online and in print now. This was not the case ten years ago when a lot of people were first figuring this out. There are a lot of webinars, many innovation management software vendors hold user groups where like-minded individuals share experiences in their journeys. Get plugged into a learning community to help circumvent the learning curve.
Be Aggressive
If you're running an innovation program, get aggressive with your approach. Don't rely on quarterly challenges, always-on suggestion boxes, or big annual idea jams. Just like sales, if you put all your eggs in one basket, one thing is for sure, you're going to have a lot of broken eggs. Run a bunch of different initiatives. Running only some online asynchronous ideation challenges and/or some in-person meetings or brainstorms isn't enough – do a lot of them. Just be careful not to pollute the communication channels with noise, otherwise your innovation program is going to face just as many challenges as selective in-frequent engagements.
While the problems are somewhat common, there are definitely solutions to help you get past them. Here we present a few suggestions to help overcome some of these obstacles. There are many people tasked with similar objectives, and under similar constraints. The key is knowing your context, your corporate culture (as no consultant will know it better than you), and incorporating these ideas into your own process, your own way. Good luck!