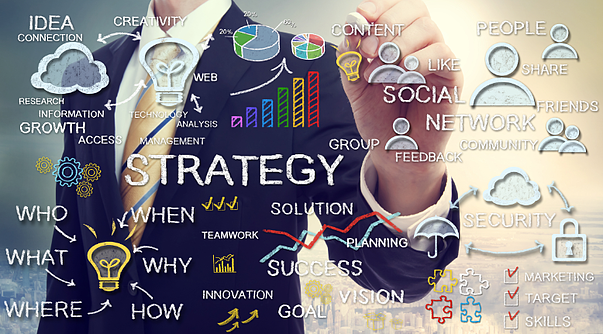 The number of external pressures on organizations continues to increase. Fast moving new markets, a wider range of competitors, differences in local legislation,…the list goes on.
A study on 'Innovation and Growth' by PWC in 2014 indicated that the top 20% of [corporate] innovators grew 50% faster than the average global company over the last 3 years. Innovation is crucial to support growth.
The same study indicated that 43% of business leaders see innovation as a 'competitive necessity. In 5 years' time, this increases to 51%'. For many, innovation is also crucial to survival.
The increasing complexity of trading internationally makes it very difficult to pick a path and stick to it, an enterprise that's able to adapt quickly is more likely to take advantage as changes occur.
Strategic Shifts
We've already seen a number of markets consider how they may implement significant strategic shifts.
Can heavy manufacturing continue to compete with emerging markets where labor is cheaper?

Can the paper industry adapt to a world that continues to use less of its product?

How can financial institutions adapt to micro-lenders and new currencies such as bitcoin?

How can conventional media adapt as online consumption increases?
Companies in these industries are having to adapt, in some cases it's a commercial necessity.
Within all of these industries and beyond, innovation is becoming the answer of choice to help support a strategic shift. But what's involved in practical terms in moving towards a more agile, more adaptive organization? How is innovation changing to support this need?
The following are a series of major steps we at HYPE Innovation are witnessing emerge across all sectors and geographies:
Key Performance Indicators

– develop an understanding of what today's innovation funnel looks like, consider what to measure and where you need to head.
Establishing a new culture

– we'd all like a more innovative, open and collaborative culture, but how do we get there? A focus on the key behaviors we need to see is a great start. Then we need to give employees a channel to embed that change over time.
Common systems

– a move away from separate systems for innovation as they remove the opportunities for cross fertilization and good governance over the current portfolio.
Collective insight

– in some circumstances, collective opinion of many will offer better indications of what should be done, developed or changed in order to grow.
Deliberate diversity of opinion

– harnessing the range of different expertise and ideas helps develop better differentiated products and services
Open Innovation scaled up

– we're familiar with the phrase 'not all the worlds experts in the field work for us', but what's next? Corporations are carefully increasing the amount of innovation activities outside of the organizational boundaries.
Establishing a new way of working

– we can no longer depend on the close network. When tough challenges emerge, we'll need a wider set of experiences and insights to adapt. We'll have to move faster but at a higher level of quality.
Most organization consider themselves somewhere on the journey towards these changes. It's likely that journey will not end as new and unforeseen market changes continue to occur. Perhaps that's the point, there will always be change, the question is – can you adapt fast enough to survive and grow?
A new baseline for innovation
As organizations push forward and prepare themselves to be more adaptive let's consider what a position of relative comfort may look like as we mature towards those lofty goals.
We'll have a better idea of what we know and what we don't know – we'll know whether to exploit what we have internally and when going outside is a necessity.
Closer linkage between the strategic direction of the company and the innovation work that we do. Married to a desire for a more balanced portfolio of choices, we'll need to ensure that a significant part of that portfolio will help take us where we want to go.
It'll be easier to see where to put our investment and innovation energy – a more holistic view of what's happening today, ensures we can make better decisions later.
Embedded behaviors, across different cultures

that foster belief in our innovation processes, ensuring there's comfort in sharing ideas, insights and experience. A greater desire and acceptance that part of an employee's role is to help those outside of the P&L within which they work.
Constructive conflict

of opinion and ideas as we bring together those with vastly different opinions and knowledge.
All innovation work will be supported or derived by our external eco-system. A framework of legal models will emerge to support a wider variety of collaborations at speed.
A portfolio of choices

. More ideas and more innovation brings more choices and more activities that will 'sit on a shelf' until the time is right.
Improved decision making

. With a greater diversity of what to do and how to do it, we'll need to get far better at making decisions, this aspect in itself will require an adaptive approach.
Summary
For innovators, these changes will be crucial in ensuring we can support the strategic shifts that will come, and then come again. Unless we pursue this set of outcomes as a base-line for our companies, the likelihood of more painful choices increases as our competitors' progress and unexpected changes continue to occur.