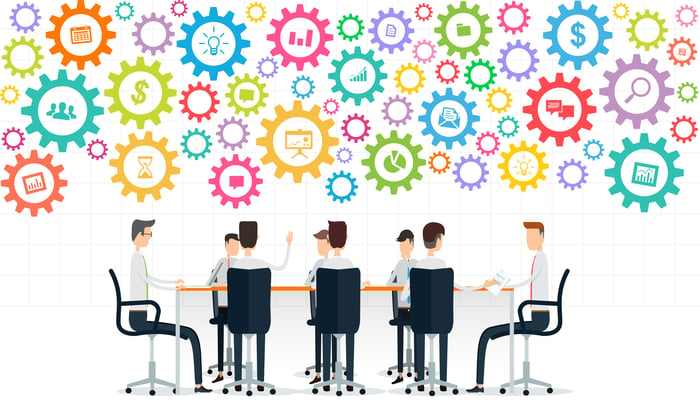 How much focus should innovation efforts and capabilities have in the boardroom? I have been thinking about this after two recent interactions. First, I stumbled over this short intro in a press-release.
"Three quarters (74%) of employees say their company does not have a strategy, process, and tools in place to encourage the sharing of ideas. As a result, one third of suggestions which could improve business ROI never even make it to the boardroom."
This is taken from the "EveryDay Innovation Report". It has some good insights, although it is also full of the innovation buzz words and recommendations that in recent months I have begun to advocate to move away from.
In the context of innovation and boardrooms, I think it is important that we separate the idea discussions and even the how-to-innovate-better elements from the strategic opportunities and challenges. The former are not for board members, but for the executive team and their chosen innovation leaders. Of course, it becomes an issue for the board if a company cannot stay competitive because of a lack of innovation capabilities, but then the board should reconsider their choice for the CEO position.
Next, I had a good talk with Deloitte Denmark that pointed me to their recent report on Radical Innovation and Growth – Global Board Survey 2016. This is a very interesting report and I will comment in more detail on this in a later post.
The point I would like to make here is how they state that disruption is a major headache among board members. I do not believe that disruption is the same as innovation as it has a much higher strategic impact – both for opportunities and challenges. Thus, it makes sense for board members to focus on this and when they have to do this, they also need to get a better understanding of innovation management today. The latter is lacking today, which then allows me to circle back to my starting question of this post.
Yes, the boardroom should have a strong focus on innovation efforts and capabilities, but they should not get caught up too much in the talk about innovation and innovation culture.

Why not?

They need to focus on the basics of the business and help make sure the company does four things very well. The company must listen, adapt, experiment, and execute better than their competitors. You do not have to "innovate" better than your competitors because in too many cases, you do not even know what innovation stands for. Their efforts are better spent when addressing the opportunities and challenges in the market. Especially, when they are as disruptive and radical as today.
You can read more about my perspectives on why we should talk less about innovation and "just" execute in these posts:
On May 12th, I will elaborate on my views in my rather provocative and radical webinar "Stop Talking About Innovation!" which is arranged by HYPE Innovation.