How can an event be inclusive and exclusive at the same time? By appealing to a variety of professionals who work in a very narrow niche, of course. For example, to the professionals heading (and sometimes herding) innovation management efforts in their organizations.
As a first-time attendee neatly remarked: "The Bonn Forum is nothing short of a #LoneWolves assembly." At its ninth year, the Forum has a reputation for attracting a unique crowd of doers, rescuers (if the program is failing), educators (to their peers and superiors), corporate myth busters, silo breakers, (idea) pipeline fillers, and collaborative arrangement creators in the innovation community.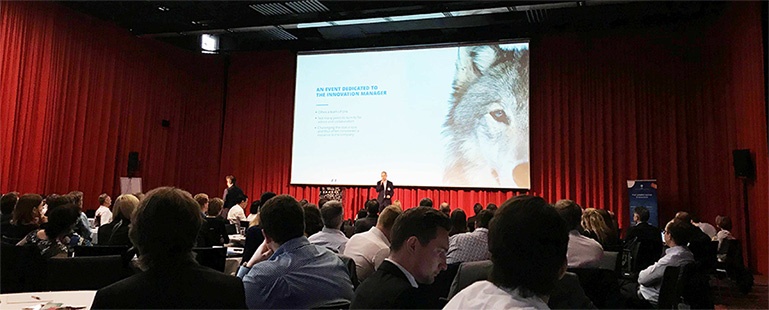 Which topics dominated this year's open innovation family reunion in Bonn you ask? I detail my Top 3 topics below…
Why inherited complexity is good for you
When life gives you lemons – i.e., complexity – becoming an expert juicer is the only way to go. But don't take my word for it. Stan Heuvink, HERE Technology's Director of Innovation Enablement, (and, arguably, idea juicer-in-chief) proved this point well.
You see, the cycles of transformation from a mapping technology company to a service-oriented, platform company had left HERE with plenty of inherited complexity. To then manage this complexity, the company tapped into its unused potential for creativity and adaptation. More specifically, it used a combination of structures (IT infrastructure) and communication strategies to create a common identity; one that bridged geographies, job descriptions, and idea management approaches.
The result of this coordinated effort was significant. In the past, innovation was a fragmented, unaligned, and sub-optimally governed affair. Today, innovation efforts at HERE are increasingly unified, streamlined, and carefully coordinated through the Innovation Enablement Office (IEO).

Moreover, the IEO's HERE nXt platform holds an impressive 80 percent engagement rate with "mixology classes" (researching innovation frameworks) proving their worth. Forecasts have been optimistic too. According to recent statistics, the streamlined innovation management process at HERE is expected to bring impressive financial gains over the next period. The benefits are numerous as improved decision cycle, reduced task overlap, and less prominent silos are all side effects of adding predictability to innovation.
In the coming months, HERE will launch its first campaign with a trusted partner. Yes, another complex task – and Stan is enthusiastic about the prospects. I don't know about you, but I cannot wait to hear all about it in June, at the regional innovation managers forum in Eindhoven.
Targeted actions, innovation theater, and other means to find relief
The tension between those coordinating innovation and idea generation at the top and those enabling change at the fringes is probably the most widely recognized issue in every organization. As Lydia Schneider, Innovation Manager at GEA Group, mentioned during her presentation, the challenges are roughly the same, irrespective of industry. What differs, however, is the scale and the urgency of these challenges.
Because coordinating innovation efforts across an organization is like creating a movement, innovation managers should keep a few key actions in mind, including:
1. Managing expectations (for example, clarifying the topics of the idea campaigns as to create inclusiveness and avoid confusion)

2. Allowing all employees irrespective of background and expertise level to contribute

3. Encouraging local initiatives on a constant basis, especially in large organizations whose operations are often dispersed

4. Reinforcing the vision (at GEA Group, the organization believes in sourcing and reflecting customer needs as a basis for ideation and eventually innovation)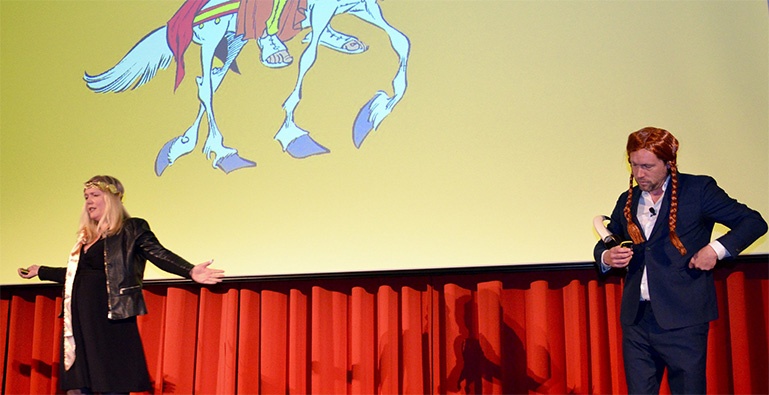 Another approach to making open innovation initiatives accessible to (and understandable for) everyone is, not surprisingly, role-play. That's right. Theater. But not the innovation theater (sometimes known as "Silicon Valley pilgrimage") we all hate. Instead, it's the kind of theater that employees can use to understand each other's viewpoints and concerns.
Limpid's Jaspar Roos and Sonja Schasfoort certainly know a lot about the latter. At the Bonn Forum, they used candid role-play to face the audience with some hard facts about common innovation practice. Case in point: the tension between the innovators (the "free spirits") and the Board.
While the confrontation between innovation promoters and innovation skeptics can be problematic, it's the first step in developing a common language and understanding. Whether it's theater, role-play, the thinking hats approach or just a moderated discussion, continuous, honest dialogue can create a space where we exchange ideas more directly and less judgmentally. If practiced regularly (with or without the Asterix/Caesar costumes), the exercise can help alleviate tensions, release bottlenecks, and even contribute to better strategy.
Keeping it real… and connected
When presenting (open) innovation programs, there is a tendency to focus only on the positive. And for good reason. Successful outcomes, ambitious visions, happy customers – internal and external to the organization – can all help raise enthusiasm, not to mention the bar. The problem, however, is that this view is not only skewed, but it's also dangerous. The path to success – especially with open innovation – is seldom a straight line. In fact, open innovation efforts often involve continuous renewal, loosening and tightening partner networks, expanding and contracting projects, and even merging and splitting structures.
For the reasons mentioned above, Liberty Global Innovation Program Manager Sarah Kelly's keynote about keeping (the) Spark! alive at Liberty Global was refreshing. Instead of painting an oversimplified and optimistic picture, Sarah shared the hard truth as she discussed the ups and downs of relaunching a signature open innovation program.
So how does one regroup in times of crisis – where crisis involves dismantled teams, innovative divisions sold off, and numbers working against you? The answer is not straight-forward, but it involves getting the right support, demonstrating resilience, and engaging in continuous experimentation. It also involves transforming open innovation from a product (an end in itself) to a service (a means to an end) and improving connectedness across the organization and its stakeholders. For example, by using HYPE's Connect and Learn platform, which allows companies to share information about their programs, submit ideas to the C-Level radar, and get handy reading material for their practice.
But keeping it "real" is not only about spirit/attitude, of course. Keeping it real is also about metrics used to demonstrate ROI on open innovation (the subject of another talk). As Andreas Schindler, Director Blockchain Strategy & Architecture at Merck, pointed out in his presentation on hackathons, the number of ideas in the pipeline is not a granted indicator of success. One key success factor is to define upfront very clearly what you are looking for.
With the high specificity of challenges given to participants (e.g., students) in events like hackathons, everybody is focused on the path of creative thinking. In this case, implementation statistics give a realistic picture of how the business is harnessing the power of partners and open innovation. For example, a clear indication of the success of such events can be seen in the number of challenges being followed up on (an impressive 40 percent). It can also be seen in the increased visibility, reputation, and amount of young talent hired – and, eventually, in the number of new business solutions created.
To sum up, getting the "pulse" of the vibrant and growing innovation management community in Bonn was, yet again, a great experience. From the back of the Kameha Universal Conference Room, this community is – literally – dancing to the beat of the same drum. Let's call this drum "best open innovation practice."