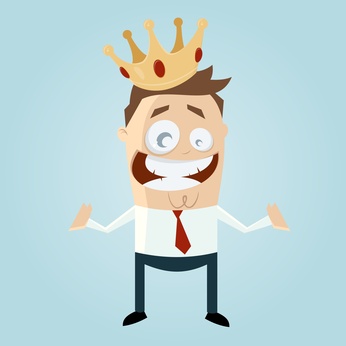 Recently I spoke at the Front-end of Innovation Conference in Boston about the role of Innovation Advocates. Specifically, how they can help extend the reach of innovation professionals within complex organizations. The subject was overwhelmingly well received by the audience, mostly made up of corporate innovators. It felt like we'd hit a nerve here - perhaps more sensitive than first appreciated.
I've witnessed the careers of many corporate innovators at close hand over the years. It's exciting to see innovation professionals make a difference, be noticed as agents of positive change by their employers and promoted to more significant roles, with greater influence and budgets. However, this journey represents only the most fortunate, those with good levels of initial backing working for organizations that are prepared to take some level of measured risk, and accept bumps in the road.
For many innovation professionals, their experience is different. The overwhelming tone of our discussions is one of frustration, often from one or many of the following challenges:
Lack of clarity on their role and expectations

due to low levels of understanding at senior levels of what innovation should and could mean for their enterprise – are they being set-up to fail?

Lack of budget and resources

to meet the challenges necessary for the company. They understand the targets but can't see a way they can be met without greater levels of support – are they wasting their time?

Lack of reach within the organization.

They're a 'lone-wolf' or small team, expected to transform levels of innovation across a complex, and often multi-national organization – can they really influence things?

Incorrect positioning within the company.

They simply can't get the parts of the company to change what's required due to the seniority of their position and level of support from higher up. What's the point of doing this job from here?

Lack of investment in the new

as the company holds on to the old far too tightly. This is often based on the incorrect assumption that not changing carries less risk. How can we innovate without accepting some level of risk?
I think one of the reasons the advocate approach resonates so closely with corporate innovators, is that it gives them a way to spread their influence and enthusiasm for innovation deep into the company without having to find more resources or spend more money. It's certainly not the complete answer, the issues stated are real and will require addressing before significant progress is made. However, perhaps the advocate program is a way of taking a manageable next step.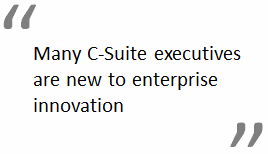 It's understandable that companies struggle to define clear roles for their innovators. Many C-Suite executives are new to enterprise innovation. Some companies are new to developing entirely new products or business models, having only ever grown through mergers and acquisitions. For these companies, as less mature innovators, putting significant investment into innovation and hoping it works is uncommon.
The 'less risky' approach is taken, create a small team, or hire a 'lone-wolf' and ask them to transform our business.
Yet what's the answer? What else can corporate innovators with these challenges do to help within less than ideal circumstances?
Below are a few tips I've picked up along the way that help corporate innovators struggling to gain traction:
Calculate your company's growth gap

, work out how big a task you face. Use this number to help justify investment, seniority and resources.

Start tactical and show some quick wins.

The quickest way to gain support is to show a financial benefit and use it to demonstrate your approach. Consider innovating the parts of the business that can move faster such as a process or the way you work with suppliers.

Stretch the organization

with more adventurous innovation activities as the company gets used to your approach and tools. However, don't be dismayed if the company moves slowly, many will take time before they join in and work with you. Remember that as an innovator, you're ahead of the game – all of the time.

Don't be tied to a definition of innovation that focuses on product or service alone.

The reason we innovate is to deliver value to the business, a wide range of improvements we can influence offer this. Consider applying your innovation knowledge and tools to best practices, risks and efficiency as-well as products and services. You'll bring more people into the conversation, deliver business value across the company and open up the options for cross fertilization of expertise later.

Build your innovation community.

There will be some that love what you're doing, want to get involved, turn up to every brainstorming session or online idea campaign. Harness their enthusiasm, build that community of innovation advocates, train them and support them to spread the word. This is the only way to reach deeply into the organization without

further

significant investment.

Adapt as things change.

Watch which groups get involved and who takes a back seat. See which cultures and communities embrace your approach, consider how you may adapt your techniques to bring in others. If in doubt, make innovation local and practical, find out the pain points of target groups and see how innovation can help them.
As innovators, we never have the complete environment we may wish for. It's hard to blame those around us when innovation is so new to many. What we can do is influence, show progress and gain support as we go along. Using techniques like 'Innovation Advocacy', even the smallest innovation team can reach deep into complex organizations.
See the slides from Colin's presentation at FEI Boston: