Let me summarize where we are today in Design Thinking. Design Thinking has raised a lot of expectations as well as its fair share of controversy. Why are organizations so caught up by DT? Often it became the promise of having creative ways to solve solutions and work in harmony with all the rational thinking that dominates much of business thinking today. DT sounded so appealing, it quickly became "oh, we need some of that."
So, the marketing of Design Thinking kicks in, looking to capitalize and add momentum. DT got heavily promoted. It quickly became sold as a process, just like Six Sigma, it became limited by those jumping on the latest concept not being true design thinkers, apart from attending a short course or two. Then this new process became a little uncomfortable living alongside more established rational ones, it was difficult to integrate. So as this 'new kid on the block' struggled, questions were raised on how does it compliment and add to all the efficiency and effectiveness that is expected around an organization's dominating mindset? Most people lost the plot that Design Thinking was different. It was so different, it was human-centered.
It was soon realized that the extra "fuzziness" can sit uncomfortably in highly organized and rational structures. Design Thinking was looking for those "leaps of faith" and lots of 'being creative', seeing failure and diversity was actually something akin to being hard to accept and conflicting in 'being judged'. Fun and engaging perhaps but it needed to be separated and contained.
Organizations have a growing recognition that there is no "plug and play" system for Design Thinking
When you are asked to be flexible, agile, willing to experiment and often fail, sometimes publicly, this can take you into some very uncomfortable territory. You might like the idea, but will the boss? When you do not have a clear definition of Design Thinking, of where and how it can actually fit, it continuously suffers from a lack of clear assignment and makes it feel a little bit of an odd-ball. You can be left wondering who executes this and how it might be applied and implemented at scale. Yet it feels useful and needs to be more embraced for its creative value. So, the short answer to this is: give everyone a short exposure and let everyone embrace Design Thinking as the creative avenue for all to explore. It suddenly gets broken down, so it can be repeatable, a step-by-step process. Then easily enough, we all become design thinkers... or do we?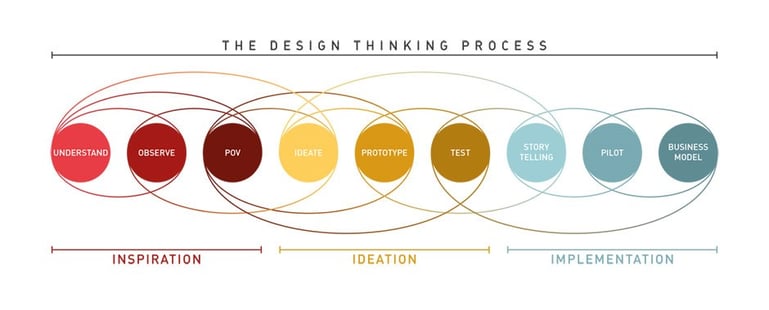 Image: https://www.interaction-design.org/literature/article/design-thinking-a-quick-overview
Organizations suddenly turned Design Thinking into a linear, often gated, by-the-book methodology and suddenly it is not true Design Thinking anymore, it becomes just another too linear, too slow and not as bright way to be creative. But hey, we are design thinkers, that's not bad, is it? The dominating thinking about 'process' starts to screw up the 'freedom' within true Design Thinking. It quickly became boiled down to aiding and supporting the incremental innovation. It losses its real powerful edge of harnessing creativity to solve problems in highly imaginative and insightful ways, it becomes just the encouragement to help thinking along. Design Thinking is always expected to produce large incremental innovations, but that is not the case, sometimes on the edge, in small projects, at once incremental can arise, if you tackle it differently and let it work happily at the periphery of the organization. Leaders start to ask questions about all this Design Thinking 'hype' and begin demanding far more from a Design Thinking process to tackle their complex problems. Then it is suddenly "Huston, we have a problem."