An essential part of a modern innovation platform - and hence the difference to a mere idea drop box - is the possibility for the community to collaborate in order to discover ideas with great potential, pinpoint weaknesses of some ideas and develop good ones further. The main feature to support this is the discussion functionality which allows every user to leave comments on an idea which are visible to others.
Good comments add pieces of information to the idea which are helpful in the review and concepting phase. But what are actually "good", useful comments, that we'd like to get?
Useful comments
Details: information that supplement the idea or fill in some missing pieces.
Remarks: that the idea does not meet the campaign question criteria at a certain point, or that a competitor is already working on a similar solution.
Different perspectives: a sales colleague raising specific customer needs. Or procurement bringing in insights from suppliers.
Links: to other ideas or existing solutions from inside or outside the company. But also links to people with expertise that should get involved in the discussion.
Weaknesses & Risks: Indicating remaining issues, things that won't work as suggested or need more elaboration.
Questions: asking for the above mentioned things in order to get discussions started.
What are less useful comments?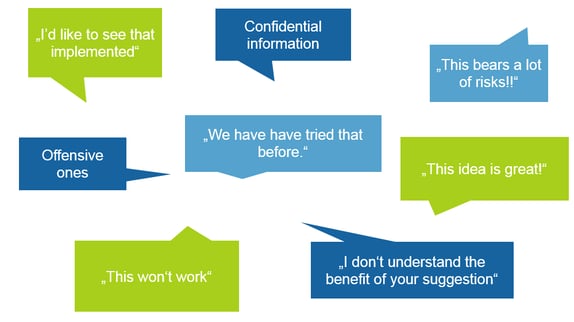 Comments like "This idea is great!" or "I'd like to see that implemented" are nice to have as they give kudos to the idea contributor. However, there is not much value in these and - if we get many of these – they clutter the discussion thread.
Rather negative comments like "This won't work", "We have tried that before" or "Your Idea bears a lot of risk" are of course also not the most desirable ones. Same goes for even more offensive ones. Or if someone is sharing – maybe by mistake – information which is not yet meant to be disclosed to the wider audience.
Rather have no comments than useless ones?
So would you rather do without these less helpul comments? Some thoughts on that:
As known from everyday life - bad - or less-constructive feedback - is typically better than no feedback at all. Some of those comments that are by themselves less helpful - such as "This won't work" or the like – actually give you the opportunity to engage the commenter into a discussion by asking WHY it won't work or what the origin of his skepticism is.
Having a simple voting functionality helps already to prevent some of those less-helpful comments, because the users can express their feeling about an idea through their vote. Some of you that use regularly public forums on the internet may have seen that in the last few year in many forums a "Thank you" button was introduced. Reason for that is quite simple – people can express their gratitude through that – WITHOUT cluttering the thread with hundreds of "Thank you"-comments……So this works quite similar on idea platforms with a vote-button.
Although a high number of comments doesn't say anything whether the idea is good and the comments are helpful – it DOES indicate that an idea raises a lot of attention and is therefore worth looking at. Often, ideas of a more disruptive nature are prone to result in controversial discussions.
What is the value of discussions around ideas?
More mature ideas
Depending on the breadth of the invited audience, you may have people looking with very different eyes on an idea, for example, because:
… they are the creative type of peerson that tends to think more out of the box, leaving feasibility, strategic fit etc. aside for now.
…they are in a different functional role than the idea contributor and therefore have a different perspective.
…they have the right distance to a challenge that is needed especially for more radical ideas.
…they have some expertise and insights from previous jobs or out of their personal interests.
A good variety of commenters with different opinions, perspectives and insights increases the chance for lively discussion which help an idea to mature.
Faster processing
Because ideas that have been seen and discussed by different people are typically more mature than others, they can also be processed faster.
In order to make a decision on whether to follow up on an idea or reject it, certain information is necessary. The richer the information, the better the decision may be. They help us to identify issues early, risks or fatal flaws which – if detected late in the implementation process – could cost a lot to eliminate or even lead to a project stop. At the same time, hidden expertise around an idea's topic, customer insights or previous approaches of the same kind are often very valuable during the implementation process, where otherwise those would have to be gathered first.
What does a good discussion look like?
Among the active members of an innovation community we can typically find four distinctive personality types which can be identified by their contribution behavior. In order to drive valuable discussions, we must ensure that all types are considered in communication and moderation activities. Hutch Carpenter and Mark Turrell wrote about those in detail if you are interested. Here is a brief summary of the four types:

Creative types have a strong interest in investigating new possibilities. They get excited about new technologies or business model innovations and come up with new ideas all the time for how to apply that to their own organization. However, they often have a limited appetite for the details and don't want to get stuck on one single idea.


It often feels unpleasant to have the Inquisitive type as they diminish initial enthusiasm. They take a close look at ideas, question things and identify weaknesses and risks. Therefore, they are really important to have. Their questioning makes it clear what's needed to advance an idea or, alternatively, they identify fatal flaws that make everyone realize the idea isn't feasible.
The Helper adds the missing pieces that move an idea forward. They add missing expertise, help overcome remaining challenges, make connections between ideas, people or other resources that might be helpful.

The Doer type is a more practical oriented person that rather looks at ideas that have already gone through an iterative series of improvements. They would formulate the essentials for how to make the idea become reality, identify the gaps and see which existing resources and technologies could be utilized.
A value-adding discussion around an idea could look as follows, involving all four personality types at different stages: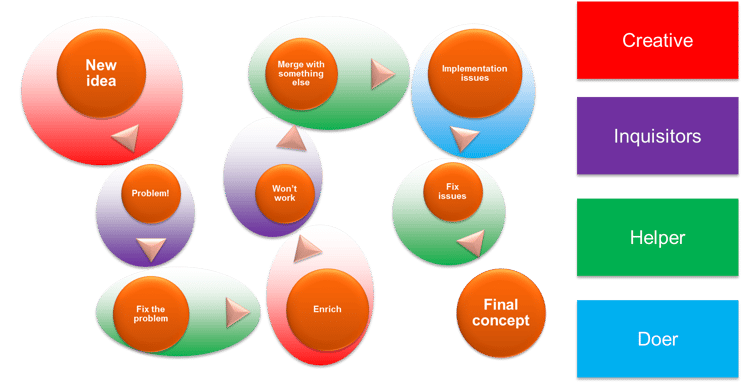 What triggers can you pull to drive valuable discussions?
Trigger #1: Communications
Use all ways of communication with the audience to underline that you are not only looking for participants to submit new ideas, but – equally important – also want them to look at others' ideas and contribute their insights and views on these via commenting.
If you are running campaigns, e.g., this should be written explicitly in the campaign question. Just because there is this commenting feature, doesn't mean that people will also use it effectively. So make it clear!
This should also be stressed in the invitation to the platform or campaign. Those without an idea may not even enter the idea platform if they think it's just an idea drop box. Communicating that commenting is also desired will promote participation of our non-creative contributor types – the ones that rather add value through their comments instead of having their own ideas.
If you feel that you get many ideas – maybe even a lot of them being duplicates – it is even more important to adjust your communication tactics to stress, e.g., in campaign reminder emails, that you would like to see people also collaborate around existing ideas.
So consider using all channels that you use to share information with the audience to bring that message across, including also things like webinars, posters, articles or town hall meetings.
Trigger #2: Seed comments
If you are running time-restricted idea campaigns, we advise not to launch new campaigns to the wider audience without having any content in there. If you do so, a typical human phenomenon would set in, that you may have seen at a party: nobody wants be the first one on the dance floor. People feel unpleasant if they are the only ones dancing, while everybody is just watching. And you don't know if others follow at all. Therefore, every campaign should be pre-seeded with some first ideas by handpicked people from the audience. But this also goes for comments and votes. People will adopt these behaviors much more quickly if they see that others have also done that before.
Furthermore – humans normally prefer to get examples in order to understand what you are really talking about. Therefore, add some comments to your seed-ideas, create a little discussion around it and people will understand that this is a desired behavior.
Trigger #3: Active moderation
An important part of starting and steering a discussion is active moderation. Moderators should help the idea submitter to improve their idea, e.g. by pointing out missing pieces such as an important requirement which was not covered or areas where the idea needs more elaboration. Moderators should also lead by example and show the behaviors that we also want to see from other participants, e.g. to make connections to other ideas or to people with expertise on the subject matter. Also, they might want to refer to similar, previous attempts inside or outside the organization.
It is important to clarify responsibilities for moderation. Often, this is done by the innovation management team themselves. Depending on your traffic, you might however need more support and nominate others to take over that role.
More mature innovation programs often also maintain an innovation advocate community. Innovation advocates typically are the key supporters of an innovation program that act as your eyes and ears on the ground and which encourage peers from the bottom to participate. So, consider to recruit moderators from your innovation advocate community.
Time plays an important role in order to get discussions started. If someone has to wait for a week to get a response to their question or feedback to their idea, chances are small that we will get a lively discussion started around that. Also, if participants that log on don't see recent activities on the platform, they don't see the need to come back that often – as there doesn't seem to happen much on the platform that they might miss.
Therefore, moderators should log on at least once a day to engage in discussions around ideas, or initiate new ones. If you are running very short campaigns that only last for a couple days – often called Idea Jams - you would of course need a higher frequency in moderation and also a larger group of moderators. One of our clients, Volvo Trucks, uses that Jam-approach and in a recent 3-day Jam with 2100 users created over 600 ideas with more than 3000 comments. To boost the discussions, they had a team of 49 moderators which were spread across the globe. A ratio of 1:5 – meaning getting an average 5 comments per idea is a really good number, which certainly wouldn't have been reached without the involvement of moderators.
Trigger #4: Involve sponsors and reviewers
If you are using a campaign-based approach in the idea creation process, you should have a sponsor that owns the need where the campaign focuses on. Although, due to their position in top or middle management, they are often hard to get, try to convince the sponsor to visit his campaign a few times throughout its runtime. This would lead to a growing belief in the process – the audience realizes that the sponsor is not just putting his name and photo in front of the campaign, but really dedicated to the challenge. This typically boosts participation.
Another party that you might want to engage in discussions are the selected jury members or evaluators, respectively. Since they are the ones that need to look at the ideas and judge them at some point, it is recommended that they ask their questions or make their remarks while the idea is still being worked on by the community. You should therefore brief them before hand and consider to book some reminders for this in their diaries.
Trigger #5: Rewards & Recognition

Recognition is in the long run one of the most effective motivators – not only in collaborative innovation programs. Recognizing the people that submitted a great idea which got implemented, but leaving out others that made substantial contributions through comments, works however in the opposite direction: it demotivates the ones left out and harms your culture of collaboration.
As mentioned before, there are different types of contributors. Some people might be big supporters of your program and participate regularly - however - mainly through their valuable comments to others' ideas. So if we don't ever recognize those people's efforts, we will lose them over time.
Therefore, when you are regularly recognizing ideas and idea submitters, remember to do the same for lively discussions, good comments and active commenters. This goes of course also for any other forms of rewards, whatever those may be, for example, many of our clients reward idea submitters by letting them choose to take part in the concepting or implementation phase of their idea. If some substantial value was added to the idea by commenters, consider to pull in the commenters as well!
Watch the webinar on triggering valuable discussions in collaborative innovation