In the past two months, we have seen a significant increase in awareness of the business challenges associated with responding to COVID-19, aka coronavirus, effectively. Governments, companies, and institutions are all wrestling to find an appropriate way to respond, balancing how to keep people safe, how to keep businesses open, and how to deal with an unprecedented set of health, social, and employee challenges.
Flattening the curve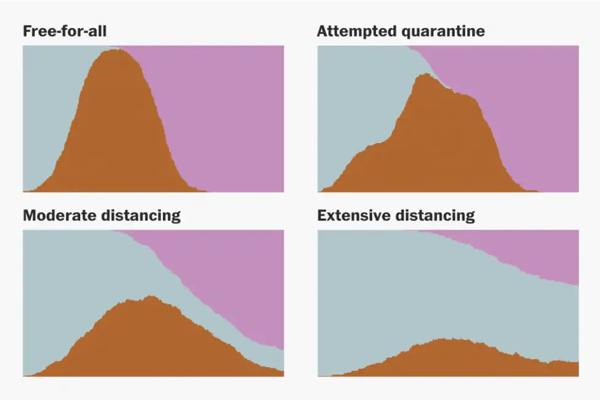 via Washington Post
As governments worldwide seek to manage the impact on health care systems and "flatten the curve," several things are now clear:
Many of us will work remotely, perhaps for months.
Complex organizations will need to learn how to operate effectively with a workforce that's far more distributed than ever before.
Day-to-day communication may take longer as we rely on remote working principles and online support.
Employees will have new daily concerns, especially on how to juggle those closest to them. They could be supporting 'at-risk' groups, such as the elderly while educating children at home due to school closures, not to mention getting their day job done – all without their normal social support group of friends and colleagues.
It's expected that we get used to collaborating remotely and/or adapting to unusual working patterns for the foreseeable future.
Using collective intelligence to refocus your innovation program
At HYPE, we recently had several organizations with established collective intelligence programs ask us how they could refocus their programs to support employees in a very different way. Processes and software currently used to support innovation and efficiency needs are being repurposed to support the response to the global pandemic.
We first witnessed online idea challenges for emergency planning as a response to Hurricane Katrina. For some time, companies have been using this same technique to super change established approaches to change management. More recently, organizations have applied these same processes to social and environmental issues such as droughts, sustainability, homelessness, inclusion, and diversity.
Our greatest asset is the intellect, know-how, and inventiveness of our people – our employees, suppliers, and even customers. Tapping into their knowledge can help provide insight and solve different challenges at this time of need. As an innovation manager, you are already experienced in collaborating with various stakeholders; you have a unique set of skills to support your organization, management, and, first and foremost, your colleagues.
Online challenges, sometimes referred to as idea campaigns, are software-enabled processes to help diverse or large groups of people collaborate with action in mind. Challenges are often used to generate and collect ideas across an organization, regardless of department, location, or role.
Challenges allow you to request idea submissions that address a question or business challenge, then quickly implement selected ideas.
To learn more about how these approaches work, please see the "10 Rules of Running a Successful Innovation Program" e-book to read about some best practices.
3 common themes for campaign topics
If you're thinking about refocusing your program, here are some common themes for online challenges that you might want to consider:
1) How can we react appropriately to COVID-19?
What are the urgent measures we need to take?
Measures are focused on the short-term and may need to be implemented immediately. Focus on your employees' health and safety, then operational concerns to help them continue to operate. Run a challenge with your top management, team leads, and middle management to understand what should happen next.
How can we operate within this new paradigm?
The current crisis is expected to last an indeterminate amount of time. Most organizations want to avoid layoffs as you don't want to lose critical know-how. Cost-savings and process optimization challenges are a constructive way to find alternative methods of savings and making money. Again, run challenges with your top management, team leads, middle management.
How can we best support our customers, given the changing circumstances?
Consider how your organization can provide relief to your customers' challenges. You could run an online challenge with your customers to better understand what they're facing. Communicating effectively with customers during a time of crisis is also an important topic to address. Run a challenge with your communication specialists, frontline workers, and salesforce.
What issues do employees anticipate that we haven't addressed?
With new information every hour, decisions may need to be made quickly, and that means swiftly engaging the right people at the right time. Outdated processes or lack of proper infrastructure might be brought to light. Ensure that everyone has a voice and can speak about their fears and concerns.
2) How can we support employees who can't work remotely?
It might not be possible for all employees to stay at home. Consider the following campaign questions:
How can we protect emergency responders?
How can we support our frontline workers and keep them healthy?
This might include your employees working in production, laboratories, grocery stores, retail, construction, healthcare, and many more. Make sure to include your frontline workers in the conversation. It is crucial to get their opinions and understand their fears. Consider using the mobile app to connect with them wherever their work takes them.
3) How can we best support remote working?
You may need to make changes to enable more employees to work from home. Consider the following campaign questions:
How can we still collaborate effectively without being together in person?
What lessons do home workers have for those that are new to working from home?
How can we continue to solve problems, create new things, and validate our assumptions when our employees are working less predictable hours?
How can we deal with a fast-moving situation where unforeseen issues and needs can emerge at a moment's notice?
Learning from crisis
There are many activities required to minimize the negative impact on the vulnerable and the well-being of your employees, and to ensure organizations can operate effectively. At HYPE, we're engaging our customers and employees to help respond in the best way possible during this challenging time, sharing best practices and looking for issues we hadn't thought of before.
There's a lot that can be learned during this time of crisis. These changed behaviors will not only be useful for your immediate response but will also make your organization more resilient in the future.
And let's not forget that sometimes our best ideas can happen when we step outside of our normal routine. Take Sir Isaac Newton, for example, who came up with the theory of gravity and the beginnings of calculus while working from home in 1665 when the University of Cambridge temporarily closed due to the bubonic plague.
We are all together in this time of crisis, and the team at HYPE is here to support our clients as well as any other innovation managers working to respond during this unprecedented global health crisis. Please feel free to comment and share any questions you might have or ways you're approaching the situation.
Editor's Note: Many thanks to Sandra Fernholz, Head of Social Impact and Sustainability at HYPE, who also contributed to this blog post.