To survive in highly competitive and changing markets, it's essential for businesses to come up with meaningful, successful innovations that will disrupt their business and deliver sustainable growth for their company.
The blue ocean strategy is all about challenging the industry focus. It's a market strategy, with a whole new thinking that will attract a new group of customers that were traditionally non-customers.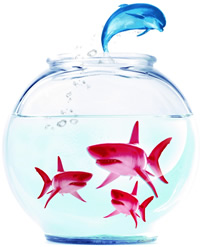 When companies are willing to challenge the functional emotional orientation of their industry, they often find new market space. Two common patterns were found when observing different industries and companies.
Emotionally oriented industries offer many extras that add price without enhancing functionality. Stripping away those extras may create a fundamentally simpler, lower-priced, lower-cost business model that customers would welcome. For example, RyanAir - a low-cost airline company - made it possible for people who in the past could not afford to fly to use air transport. What makes a low-cost carrier airline different from traditional airlines, is primarily a low-cost operating model and a low level of services that are included in the ticket price.
Conversely, functionally oriented industries can often infuse commodity products with new life by adding a dose of emotion and, in doing so, can stimulate new demand. For example, with its wildly successful Viagra, Pfizer created a blue ocean by shifting the focus of the pharmaceutical industry's largely functional orientation — medical treatment — to lifestyle enhancement, an emotional orientation. What Big Pharma companies often miss with disruptive innovation is the possibility of reaching a much larger number of customers. The margins may be smaller, but the market is much larger. Instead of trying to invent a high-value drug that meets the needs of a small number of patients with a particular disease, you reach for huge numbers of people with a true value proposition, slimmer margin of a low-cost solution.
CitizenM, a Five Star Hotel chain recently created a new and disruptive concept following the Blue Ocean Strategy, a case study that I will share with you bringing you new food for thought on your innovation strategy and management.
Case study CitizenM
CitizenM, a five star hotel, went through a difficult time. Customers experienced a treatment that was not Five Star worthy and CitizenM received a lot of bad reviews because of that.
It was time to change and CitizenM decided to have a serious look at their Customers Insight: they explored the customer segment "business travelers" and looked into their current needs and demands unlocking "hidden" needs such as "fast check-in" and "less space, more luxury" that brought new insights and were translated into new products and services. Another challenge was to bring costs down and reduce FTE's in order to create "luxury for a reasonable price – a Five Star experience under 90 euro's a night" – a clear blue ocean.
They applied a "customer centric" and "open" innovation approach with ideas and co-creation involving customers, other sources and companies next to their own internal people. In small teams they looked into all ideas and elaborated them into their new strategy.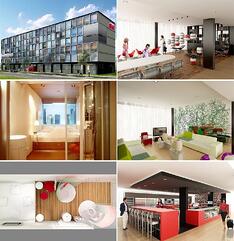 CitizenM Today is a very successful hotel chain that brought a disruptive "blue ocean" concept to the market. In one hand they created true value for their customers by offering a Five star hotel with products and services business travelers are really are looking delivering comfort with online check-in, a great rain-shower after a hard day of work, a luxurious room with a great bed and free movie channels … and all of that for a reasonable price, under 90 euro's per night. In the other hand they decreased building and maintenance cost as the Five Star Hotel has many small but luxurious and comfortable rooms built in a very fast and cost efficient way with building blocks. Next to that they used a great amount of new technology to decrease FTE per customer (instead of 0,5 in the past to 0,2 at CitizenM).
Successful innovation- it's not that easy. 75% of closed innovation fails and numbers indicate that 75% of "open and customer centric" innovations are success stories… Companies that do implement innovation management and open up, improve their success rate on innovation, use their time to market more efficiently, get more insight and grip on their innovation, creating sustainable growth for their business.