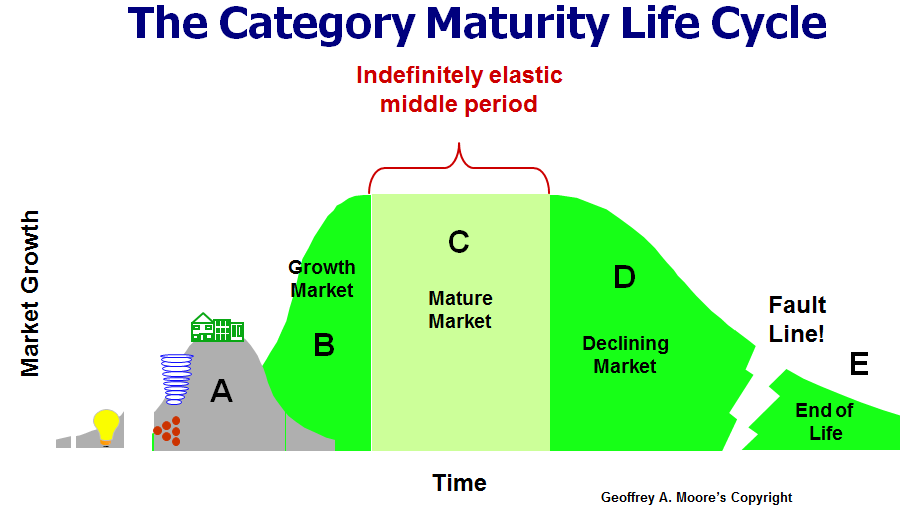 We all operate in very different market conditions, yet how often do we make the fatal mistake of applying a 'broad brush' approach to our innovation activities?
Also we try to simplify our innovation into a few types, be those disruptive, incremental or radical. But in reality we are making this classic mistake of not appreciating the complexities within the innovation options we can pursue. We often refine our thinking far too early.
I'm a fan of Geoffrey Moore, of "Crossing the chasm" fame or his "Inside the tornado" thinking, both excellent books to read. Some argue his thinking needs updating, and he is attempting that in a recent extensive revision to crossing the chasm. My favourite book from him is "Dealing with Darwin" where he extends his thinking by suggesting a framework which "properly characterize the innovation options" we can have.
Mapping out the Broad Universe of Innovation Types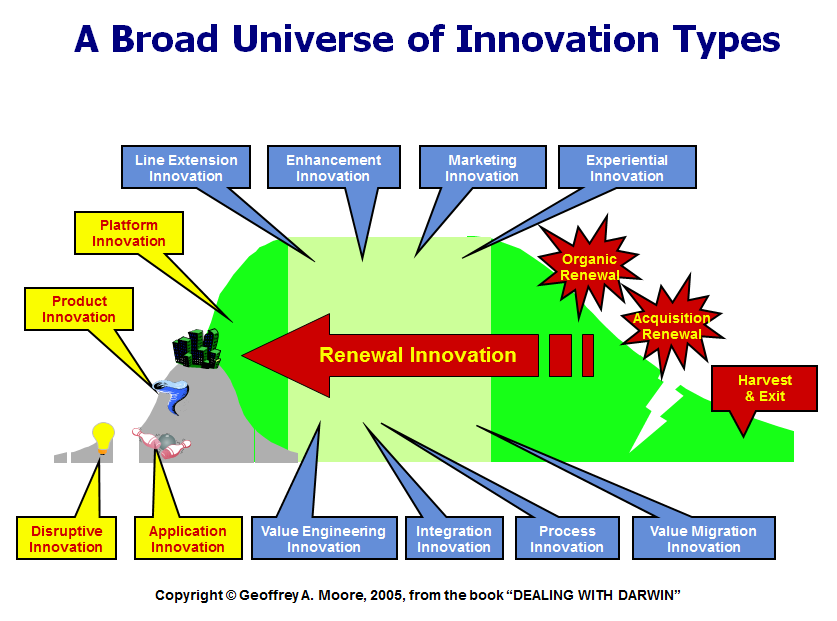 He argues everything has a beginning, a middle and end. The economic dynamics within these phases are very different and influence your approach to any innovation strategy. He works through his category-maturity lifecycle that includes early life, growth markets, mature ones and declining, then with a final end of life phase. He argues we should step back, fully understand and locate where you are within this lifecycle model and begin to see a wide variety of market dynamics unfolding over the course of this evaluation to dramatically allow for different innovation thinking.
The Four Zones
The approach taken breaks down the different types into clusters, the four innovation zones of product leadership, customer intimacy, operational excellence and finally the category renewal zone. The first three zones are named for the value discipline you want to pursue. The final zone of category renewal is for categories that have lost the ability to sustain future value creation.
The Clustering of Innovation Types
When you cluster and dissect you begin to see an awful lot of ideas that can potentially be vying for a limited amount of mental space and finite resources, to chase after innovation solutions to fill these zones of opportunity. You can be put off or you can take the other view, the realization of encouraging more innovation that fits. Equally you can begin to perhaps achieve some 'breakaway differentiation' in the market place due to this approach.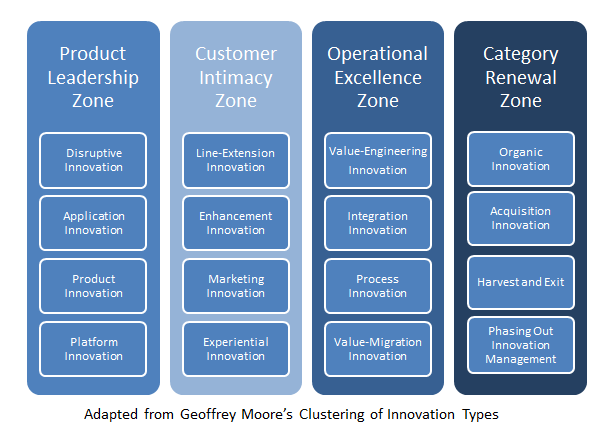 Innovation types suggested by Geoffrey Moore - a summary of the leverage points
Type of innovation

Essence of the innovation type

Product leadership zone

Disruptive Innovation

Creating new market categories based on a discontinuous technology change or a disruptive business model.

Application Innovation

Developing new markets for existing products by finding unexploited uses for them, often by combining them in novel ways.

Product Innovation

Focuses on existing markets for existing products, differentiating through features and functions that current offers do not have.

Platform Innovation

Interposes a simplifying layer to mask an underlying legacy of complexity and complication, thereby freeing a next generation of offers to focus on new value propositions.

Customer intimacy zone

Line-Extension Innovation

Structural modifications to an established offer to create a distinctive subcategory.

Enhancement Innovation

Continuation of trajectory begun by line extensions, driving innovation into finer and finer elements of detail, getting closer and closer to the surface of the offer with less and less impact on the underlying infrastructure.

Marketing Innovation

Differentiating the interaction with a prospective customer during the purchase process.

Experiential Innovation

Value here is based not on differentiating the functionality but rather the experience of the offering.

Operational excellence zone

Value-Engineering Innovation

Extracting cost from the materials and manufacturing of an established offer without changing its external properties.

Integration Innovation

Reducing the customer's cost of maintaining a complex operation by integrating its many disparate elements into a single centrally managed system.

Process Innovation

Focusing on improving profit margins by extracting waste not from the offer itself but from the enabling processes that produce it.

Category renewal zone

Value-Migration Innovation

Redirecting the business model away from a commoditizing element in the market's value chain toward one richer in margins.

Organic Innovation

On this path the company uses its internal resources to reposition itself into a growth category.

Acquisition Innovation

Solves the problem of category renewal externally through merger and acquisition.

End Of Life Management for Phasing Out

What can be managed for recycling that reinforces the cradle to grave brand value
(Adapted for brief explanations of these types)
Redefining our innovation groupings can offer significant value
The category life-cycle model provides a framework for analysing the market forces that can affect your competitive strategy. The innovation-types allows you to target a specific phasing that can prompt a clear differentiation to gain a more distinctive separation from your competitors.
Putting these two frameworks to use does allow you to 'map the landscape' far more specifically. It is by appreciating that there are significant types of innovation and knowing where they offer a greater innovating potential when you take a more market focused and life cycle approach to your thinking.
Of course it can seem initially more complex but it does have the greater potential of opening up your thinking to different types of innovation to manage within your portfolio of turning ideas into products that match where your maturity lies across different markets.
It can give fertile ground for discussions and developing lifecycle steps to allow different markets to progress along their own specific market curve.
Related posts...