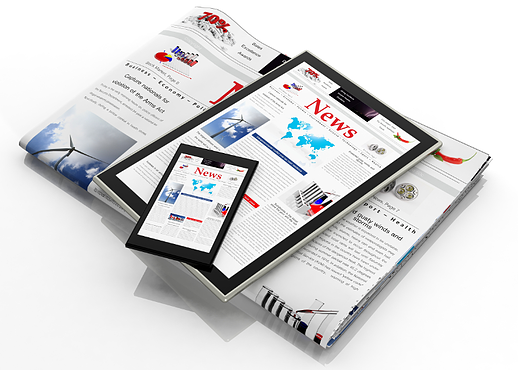 "From the Desk of Robert (Bob) Mankoff" is one newsletter that I have never contemplated unsubscribing from. Unlike other attempts to keep followers devoted & amused, this digital update, meticulously pieced together by The New Yorker's cartoon editor and now featuring a "Cartoon Lounge" too, often (if not always) addresses topics with a characteristic twist. On October 18th, things seemed to get more pragmatic as Mr. Mankoff selected a well-known idiom - "like seeing a sausage getting made" - as his theme. Don't laugh. It's serious business! Witnessing the work-in-progress can make the end result much less appealing. Needless to add, meat by-products are not the only sufferers here.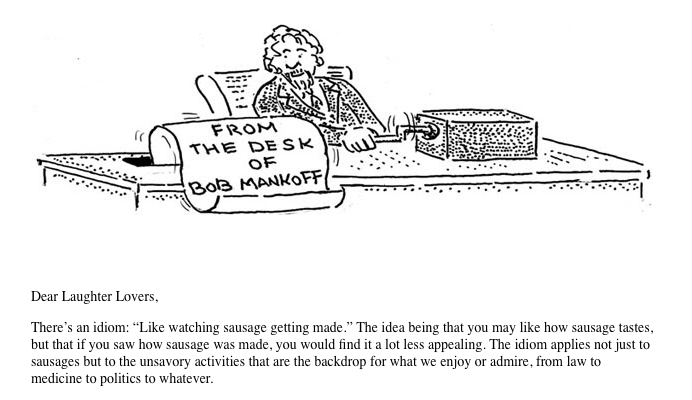 (source: The New Yorker)
By analogy, seeing how innovation is done can prompt similar reactions. Brainstorm with managers about possible risks, iterations, wasted resources and mind-set changes involved beforehand, and do not be surprised when they stop before they begin. This fact-of-corporate-life makes accounts from "survivors" (i.e. those that jumped through the hoops of innovation transformation and lived to tell the tale) extremely precious as they generally incentivize the next bold move.
In as follows, I would like to walk you thorough one such account, namely: The New York Times' Innovation Report. The 97-page honest investigation, whose opening lines read: The New York Times is winning at journalism. (…) At the same time, we are falling behind in a second critical area: the art and science of getting our journalism to readers candidly describes the bumpy transition from print to digital of one of the world's leading newsrooms. Though not intended for the wider audience, its release (well, leak!) had a significant impact on how both the newspaper and media industries viewed and addressed (disruptive) innovation strategy. Happy learning and I hope The Times' experience will help will draw many useful parallels to your own work.
The Context
As Seth Fiegerman at Mashable cleverly put it, "The Times is not-a changin' fast enough". If fact, at the onset of the Innovation Report, the authors confess, on behalf of their colleagues and leaders, to feeling overwhelmed by the plethora of digital media companies currently on the market, their better funding, innovativeness and aggressive pursuit of followers and traffic. For example, competitors like Washington Post and The Wall Street Journal, push ahead and announce digital transformation in order to meet the modern needs of the consumer, leaving those pursuing quality journalism (and that goal only) staring at the sun. Given the new rules of the game, The Times aspired to play aggressive catch up by challenging its preconceptions and rethinking the way forward. Consequently guiding material like the Innovation Report - a collection of actualities, discussions and recommendations in the light of the print vs digital crisis - was born.
Introduction
Based on hundreds of interviews with employees, strategic advisors, competitors and more, The New York Times' Innovation Report begins with a close-up at the company's operations and battle with disruption and disruptors. Here, notions like the hallmarks of disruptive innovators (drawn from Prof. Clayton Christensen's pioneering work) are carefully weaved into the text and illustrated with simple, beautiful graphics.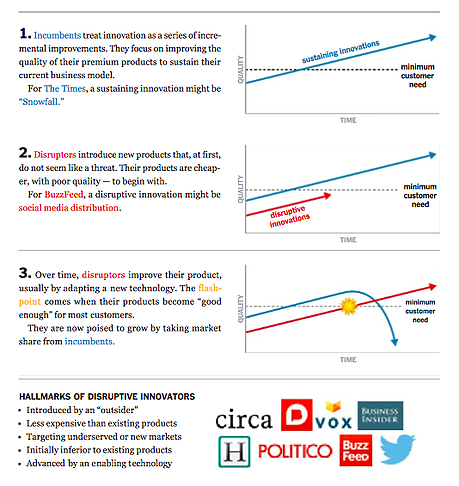 (source: The New York Times Innovation report. March 24, 2014)
Next, the readers are served with a valuable scrutiny of The Times' competitive landscape (see the "Cheat Sheet" on page 18), and informed about both opportunities and internal roadblocks to be addressed. Here the text unfolds into a delightful analysis of the general profiles and core competencies of players like Vox Media (e.g. live blogging, highly engaged community), Yahoo News (e.g. high profile journalism hires), BuzzFeed (e.g. experimental story forms), LinkedIn (e.g. "influencer" publishing platform), Huffington Post (e.g. open commenting platform, aggressive SEO), The Guardian, FlipBoard (e.g. beautiful user interface), Circa (e.g. bullet point stories and allowing users to follow stories) and more. (See page 21 for full overview)
Following the introduction, the Report is divided into two chapters: Growing Our Audience and Strengthening Our Newsroom. Let's take a closer look at each.
From Chapter 1: "Growing our audience"
Remarking that The Times was once the successful orchestrator of one of the most sophisticated consumer-outreach operations in history, but that transition to web was met with a much more passive approach, Chapter 1 begins by enlisting the modern challenges of growing an audience: readers find and engage with journalism in dramatically different ways, there is evidence of high demand for social media presence, and new marketing and communications channels are on the rise (e.g. email and phones).
Juggling with future-thinking scenarios (here is one of my older posts on the topic) like: Imagine coming back from an unplugged vacation and having the best pieces you missed waiting for you or Strolling through Rome and having an article on the best museums pop up on your phone, the chapter then takes a deep-dive into the reasons as to why a head of Audience Development – working in the newsroom and collaborating with a counterpart on the business side – is a much needed role for future success (i.e. audience growth). To this point, the proposed solution bears three pillars: Discovery - Promotion – Connection.
Under Discovery (starts on page 27), the Report urges for a more audience-centric approach by employing the right technological solutions for content extraction – e.g. leveraging NYT's alert system more - a system that happens to reach twice as many readers as the print edition or using the 14,723,933+ article library dating back to 1851 to produce special issues or collections (not mentioned in the chapter: Time magazine is already doing this with "rare" photo streams on social media; similarly, The New Yorker unlocked its archive library before erecting a new paywall).
Additionally, "discovery" alludes to opportunities like: portioned, personalized content, planning for "version 2.0" and beyond, and making it easier to launch a (technological) experiment than to block one, or structuring and indexing data as to avoid the substantial costs of waiting. Finally, the section recommends fighting the tendency to invest heavily into stand-alone projects and their specific fixes, overlooking the less exciting labour of creating tools, templates and permanent fixes that cumulatively can have a bigger impact. (Oh, we've heard about this one before)
Under Promotion (starts on page 43), the authors stress the importance of employees being better advocates for their work. With social media transforming newsrooms into trading floors, specialists monitoring the traffic and click-rates in real time need solid strategies to work with, not just impeccable content to bet on. One key challenge mentioned at this stage is working in silos – for example, The Times' Twitter account is run by the newsroom, while the Facebook updates are prepared by the business side; the division produces nothing but conflict and confusion, making an integrated promotion strategy an absolute must. In addition to more (effective and explicit) integration, creating promotion squads that work with a strategy both before and after a story is published is also put forward, though previous experiments in this respect had failed.
Finally, journalists are encouraged to become their own agents by using influencer maps to understand digital promotion, and by adapting, where appropriate, external strategies to their own needs. (e.g. best practice from book-promotion efforts transferred to cover story promotion).
Last but not least, under Connection (starts on Page 49) the focus falls on deepening the relationship with users and potentially leveraging user generated content and events for audience growth. Unlike the Discovery and Promotion tasks, though, this specific exercise poses the most challenges: Of all the tasks we discuss in this report, the challenge of connecting with and engaging readers — which extends from online comments to conferences — has been the most difficult. Despite the hurdles, several measures to encourage idea exchanges are already in place. For example, sustaining The Times' celebrated forum of opinion articles (op-eds) and using so-called co-created content in publishing as well as rethinking events along the lines of what TED and the NY Times are using.
From "Chapter 2: Strengthening our newsroom"
As an organization that used to house its print and digital operations separately, The New York Times had fallen significantly behind on understanding the potential of new (digital distribution) technology and trends. More worryingly, competitors as silent and stealthy as the phone camera creators once were, took the lead and gathered more traction by pushing less sophisticated news and updates but faster and more conveniently. To win this battle, the newsroom (and company as a whole) would need to think more in terms of news product versions and less in Pulitzer-prize winning content.
The proposed solution is once again three-fold and includes: better reader experience, creating a newsroom strategy team and becoming a digital-first organization.
Consequently, the first proposed step for the almighty newsroom is to collaborate with business-side units focused on reader experience (starts on page 60). In other words, arrange for better, faster, stronger inter-departmental collaboration with Consumer Insights Group, Design, Technology, R&D and Product, overcoming the once understandable divide; the newsroom, focusing exclusively on readers, and business side, focusing exclusively on advertisers were initially separated to alleviate the former from unnecessary financial pressures; as subscriptions became more popular, the focus gradually shifted towards readers and their perception of the news-provision service.
By collaborating, another (and a very different) type of expenditure is avoided: the hidden costs of reluctance to work together. According to the Report, allowing employees to roam freely between sides (i.e. news and business) can improve co-working, clarify which user experience functions should be interacting with the newsroom and help communicate the general message for collaboration broadly (remember how Liberty Global places its New Ventures/ innovation unit in the heart of "communications"? They were onto something.)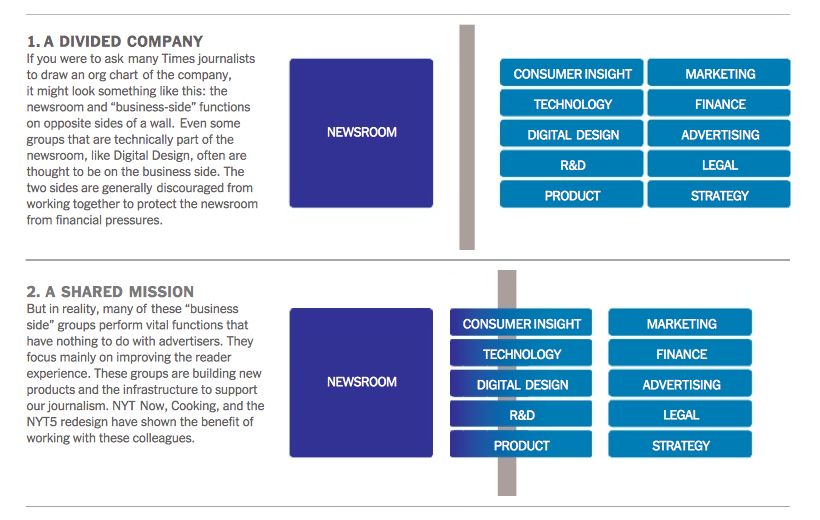 (source: The New York Times Innovation report. March 24, 2014)
In their own words, the authors are not advocating a huge new bureaucracy, disruptive reorganization, or a newsroom takeover of these departments. (They) simply recommend a policy shift that explicitly declares that Reader Experience roles should be treated as an extension of our digital newsroom. Quite diplomatic, don't you agree?
Strengthening the newsroom also requires the creation of a newsroom strategy team (starts on page 71). In The Times' vision, the small group would be in charge of keeping newsroom leaders apprised of competitors' strategies, changing technology and shifting reader behaviour. To meet this demand, the ideal profiles would include people with strong backgrounds in journalism, technology, user experience, product and analytics. Furthermore, the team would serve as a catalyst for launching innovative experiments and be charged with communicating the outcomes to the newsroom. All in all, the strategy team would not serve an operational role, but a neutral, adviser role, improving everyone's game, while in terms of philosophy (and this takes us back to the culture aspect) the new group would address not only daily issues but also the bigger questions: What shall we become? How must we change?
Admitting to failure not being something they are comfortable with, the authors finally stress the learning aspect. When projects are shut down, for example, debriefing should occur more frequently in the newsroom. Similarly, ghost operations that take up time, energy and resources that could be better invested elsewhere should be stopped.
(Check out the "he says, she says" column on page 79 – or the tension between the newsroom's long-term and the business' short term view)
The final recommendation is mapping a strategy to make the newsroom a truly digital-first organization (starts on page 81), where digital first is understood as publishing articles first on the web and then in print. In other words, reassessing everything (i.e. staffing and processes) in the light of new demands and accelerating its transition from a newspaper that also produces a rich and impressive digital report to a digital publication that also produces a rich and impressive newspaper.
As emphasized earlier on, the most pressing challenge for The Times is the slow reaction to change while investors around the world pledge parts of their fortunes to creating digital newsrooms and start-ups, backed by venture capital, are redefining digital media. Part of the rescue strategy is therefore efficient retaining and use of existing talent as well as going to great lengths to understand departures. For example, the Report asked former experts to explain why they left digital jobs at The Times and collected upsetting answers: 20 months to build a project, innovation being felt less, bureaucracy felt more, digital assignments given to people with less experience, feeling stifled by the hierarchy etc. Other measures to become digital-first include assembling a task-force to understand what it takes to undergo the transformation or working with digital fellowship programs to attract qualified help (a thought similar to what the gaming and special effects industries are effectively doing: offering online courses taught in the spirit on what a company like Sony Pictures Imageworks needs, and hiring those that graduate with flying colors).
Summing up
The New York Times Innovation Report is both a beautiful thought experiment and careful scrutiny of the bumpy transition to digital of one of the biggest, most respected newsrooms in the world. It covers innovation experiments, scenarios, biases, competitor stats, collaboration issues, culture, opportunities and most importantly, self-irony. The thoroughness of the research is impressive and the recommendations realizable allowing a nuanced discussion about what the next steps should be in NYT's transition (not transformation. They don't like the word).
So if your innovation trajectory, much like The Times', is worthy of being featured on Discovery Channel's Dirty Jobs series, stay calm and innovate on. It is never as bad as it looks. Read the Report, or similar accounts, and think about how some of those scenarios apply to you. The context might not be exact but you have a chance to learn from one of the deepest introspections of one of the world's leading newsrooms.
Related posts...