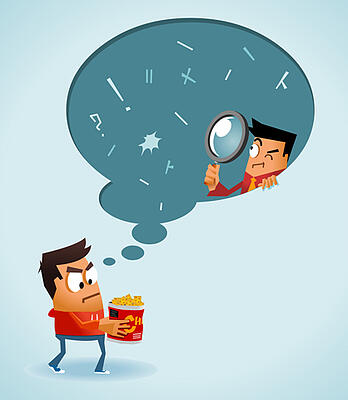 Forrester says "we live a world that is data rich but insight poor". Many companies say they are Customer Centric and have Customer Insight but in fact they have a lot data, some knowledge, hardly any great insights and therefore hardly and good customer instinct.
When people ask me what is a Customer Insight in simple and plain words, I tell them it's actually "the hidden obvious", it's something that you didn't realize at first but when it's in front of you it makes a lot of sense and you get an "AHA" moment. If you have good Customer Insights inside your company and they are spread in the right way you develop a good Customer Insight feeling that will help you develop more valuable innovations.
Back in the days when I was working for Unilever's detergent category/Persil we discovered by observing mothers with their children that "dirt in the context of children" was seen as something very positive - mothers where proud of their kids coming home dirty after playing outside. It was an eye opener that disrupted the "boring" detergent market with a new branding strategy called "Dirt is Good" for Persil, which has been delivering the category double digit growth for years.
Research shows us that unfortunately only 5% of today's companies have developed a good sense of customer instinct and those that have - such as IBM and Procter & Gamble - are very successful in their innovations and customer experience.
An interesting example on developing disruptive innovation through Customer Instinct comes from Carlsberg, a Danish brewing company, a major brewer in the UK and top 5 brewer globally:
As part of its overall customer centric strategy, Carlsberg went a big step further and developed a wide-ranging advice portal for its on-trade (B-to-B) customers through its 'We deliver more' website.
The site adds value through offering customers a number of services (like training and planning tools) you might not immediately link with a drinks brand, and crucially, it also delivers revenue. Carlsberg customer marketing director explains, "To do this successfully, a brand has got to have the insight, a real hunger to learn and understand what's going on in its customer's business, and the will and intent to do something about it."
So why will Customer Instinct help you innovate more successfully? Let's go back to Henry Ford who said "if I would ask people what they want, they would come back to me with a better horse." The horse is their reference point which makes the answer very logical.
Does that mean you cannot get good insights by talking to customers? Well, it means you cannot just ask customers directly what they want as most people don't know what they want until you show it to them. So stop doing traditional market research for trying to find out your customers hidden needs and try things differently!
How to do things differently?
1. Start from your customers' "jobs to be done", not your product or service
Clayton Christensen says very elegantly "start by looking at your customers' jobs to be done" as nobody wants a drilling machine, they want a hole in the wall or one "ladder" down, they want to cherish family moments. Start defining your customer's "jobs to be done" based on key insights and from there start looking at which innovations can make sense.
2.See, Feel, Think, Do
Put simply, "See, Feel, Think, Do" is the idea that by watching the way real people act in their daily life, in real time, and in real situations, we can develop ideas that solve their true needs.

Therefore observing is better than asking and ethnography as a market research methodology is becoming more popular, also in a B-to-B environment.
An inspiring read is the book of Shaun Smith and Andy Millgan with the same title on the Power of Instinct in Business.
3.Make customers your friends
Gaining insights through ad-hoc research as focus groups and surveys are in the past; developing an ongoing dialogue with your customer is the new way forward.
Make customers your friends, let them co-create with you and join your innovation platform.
Do business with them with the heart (instead of the mind) and do as much as you can together with them.
An inspiring talk on how customers can become friends of companies is from Steven van Belleghem at TedXEde, you can find his talk on youtube.
Market research online communities (MROCs) are gaining popularity as a way to do research and make friends with customers. Put simply, it's a private customer community where observations and conversations take place. They deliver better, faster and cheaper insights to drive ideation and innovation, and develop a better relationship with your customer. MROCs even have a stronger impact in a B-to-B environment where personal contact and relationships are key.
4. Approach the right customer in the right stage at the right time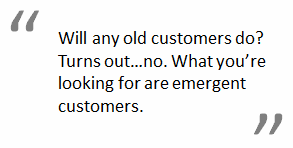 Say you had a product concept, and you wanted to get a read on its applicability to people's jobs-to-be-done. More broadly, you'd love to know what works, what doesn't and what else is needed to make a splash in the market. Will any old customers do? Turns out…no. What you're looking for are emergent customers.
Research shows they are much better at identifying and improving concepts that are more attractive to the market. Emergent customers possess "the unique capability to imagine or envision how concepts might be further developed so that they will be successful in the mainstream marketplace."
Sounds pretty valuable, no? What are these traits that define a customer's emergent nature?
Openness to new experiences and ideas
Reflective nature
Experiental and rational processing style
Abillity to process information both verbally and visually
High level of creativity
Optimism
Say you want to get customers involved in your innovation platform. Then it's Lead users you need to track down, as they are the customers who use products under far more demanding conditions than the majority. For example, to understand how better hygiene-related products could be developed for the operating room, 3M studied the requirements of field hospitals in combat zones. In demanding situations users often have to modify products to work around their limitations.
In one example cited by Eric von Hippel, lead user surgeons were identified. These surgeons had modified equipment and materials to suit the needs they had, when the standard products sold wouldn't suffice. Nearly half of these innovations were eventually marketed by the big manufacturing firms. In another example, 3M ran a test of concepts developed by its lead users vs. ideas derived from "general" customers. Their lead users' ideas were "significantly more novel than those generated by non-lead users. They were also found to address more original or newer customer needs, to have significantly higher market share, to have greater potential to develop into an entire product line, and to be more strategically important."
Find these users, make them your friends in MROCs and learn where your market is going!