Innovating During a Pandemic: How 4 Organizations are Thriving
Since the start of the Covid-19 pandemic, and, largely without realizing, I've embraced an additional role outside my usual designing, accelerating, and running open innovation programs. In fact, we all have taken on a new role.
Despite the obstacles, 2020 has been an excellent – and much needed – year for reflection. Large or small, public or private, delivering essential products/services or otherwise, companies everywhere were forced to take a good hard look at what they do, what they believe in, and how they will move forward (and upward!) given the new circumstances. Essentially, organizations have had to define, assess, and manage their success. It might seem strange, but we've all taken a crash course in customer success management.
So, how do you manage your success, and that of others, in uncertain times? How do you keep an innovation program healthy, employees energized, and the pipeline filled with opportunities – even the unusual kind? After all, "you cannot walk straight when the road is bent," as the traditional Roma saying goes.
To answer these questions, I engaged in a wealth of conversations around innovating during Covid-19. I sat down (virtually) with Infineum, Linklaters, Saint-Gobain, and the University of California at San Diego for four candid, immersive, and enlightening discussions, which you can watch below.
The result is a series of mini-interviews in which we explore:
The new goals or shifts to existing goals that the Covid-19 pandemic has brought to innovation programs
The results of idea campaigns/channels during Covid-19
Key lessons learned that will still be relevant when the crisis is over
Notable reactions from those leading/supporting innovation programs
Join me in celebrating organizations that have become empowered, not overpowered, because of Covid-19. Organizations that have found opportunity in uncertainly. Organizations that have learned to simultaneously cooperate and compete (see ReImagining Fundraising, a global open innovation campaign hosted by UNICEF and many other NGOs).
When crisis kicks us unceremoniously out of the box (as our friend Prof. John Bessant likes to say), it's time to draw on the experience of others and even on that of our past selves – e.g., by considering projects that haven't materialized.
An interview with Infineum
Infineum is one of the world's leading formulators, manufacturers, and marketers of fuel and lubricant additives. The company is leading the way with innovative additive solutions for fuels and lubricants. In the below interview, I speak with Caroline McGee, Technology Innovation Manager, David Coultas, Innovation Team Leader, and Thomas Robinson, Senior Chemist, about how Covid-19 has impacted iHub (Infineum's innovation program) and employees overall.
Despite legitimate fears, the pandemic has not stifled internal collaboration at Infineum. On the contrary. With most of the workforce operating from home, innovation flourished, and engagement rose higher and became more prolonged than ever before. For example, a third of the company participated in online collaboration without additional communication efforts, and, generally, there was a 4x in activity overall – e.g., much higher demand for campaigns.
While the innovation program might "look" different in a reduced operational mode and in an entirely virtual setting, its effectiveness is clearly unchanged, if not greater.
Three additional lessons learned from this conversation include:
An innovation platform is an excellent means to reach colleagues globally and can also act as an "influencing tool." For example, a work practice that is endorsed by the community might be fast-tracked to implementation.
Innovation conversations often shift during a pandemic – i.e., they move away from deep technical problems and begin to include well-being tips, working from home best practice, and can even result in "shed envy." 😊
A pandemic can fast-track the setting up of an external ecosystem – i.e., running an open innovation program with academic partners. If not for the pandemic, this opportunity might have taken longer to develop.
An interview with Linklaters
Linklaters, a leading global law firm that combines legal expertise with a collaborative and innovative approach to helping its clients, used its internal ideation portal, Ideas Pathway, to help its employee base collaborate during the initial lock-down. In the interview below, Grant Beecham, Senior Innovation Manager, and I explore how the pandemic influenced (better) service delivery to the law firm's customers.
One of the main goals of Linklaters' innovation program had always been culture change. That is, embedding innovation as a mindset into the firm. Interestingly, the pandemic accelerated this shift, and today, innovation feels even more established than ever before.
Employees became more motivated to use the portal and found new applications for it. For example, the Global Capital Markets practice now uses its own channel for specific conversations and opportunities. While activities such as reimagining client documents and processes continue, conversations around homeschooling have also found a home.
Three additional lessons learned from this conversation include:
To engage a global community of lawyers, focus on best practice sharing – i.e., ask contributors to contribute ideas that have already been delivered in the last 6-12 months and support other teams in picking them up on their own geographies.
Strong leadership support is highly motivating – especially during uncertain times; the pandemic has brought the human side out at all levels of the organization.
In addition to thinking about how to serve clients, it's also critical to think about servicing one's own people; in particular, it's important to consider how to motivate teams in a crisis and to make sure that cross-pollination occurs effectively.
Extra credit:

Check out the on-demand webinar recording to learn how Linklaters and Mattel are responding to the Covid-19 crisis. [Watch now]
An interview with Saint-Gobain
Saint-Gobain designs, manufactures, and distributes materials and solutions that help create great living places and improve daily life. Mark Famy, Innovation Development Lead, and I found ourselves speaking about leadership and its importance in helping an organization adjust to changing circumstances. "Servant leadership," a philosophy in which the leader's main goal is to serve, was one theme we dwelled on. We also discussed tools and techniques that are useful in uncertain times.
At Saint-Gobain, the pandemic has shown that jumping to new solutions/conclusions is not always lucrative. In Mark's opinion, exploring the problem space (with the right creativity tools) is a better first step. Another important tactic is to show vulnerability as a leader and de-emphasize predictions (right now, it is difficult and even dangerous to predict the future). Instead, it is wiser to work collaboratively and to shift from medium to long-term views – in this way, a business can closely adapt to the needs of society.
Three additional lessons learned from this conversation include:
Even in companies where in-person innovation workshops are the norm, social distancing can lead to positive changes – i.e., webinars can help create some serendipity and engagement.
In a crisis, companies might find "going back to basics" a useful tactic; for example, when looking at customer needs, it might emerge that innovation is not necessary. Instead, it is more impactful to help customers react to the emergency and/or (re)frame the problem.
Innovation does not come naturally to everyone; in uncertain times, give people extra support and make sure that they understand the principles of collaboration; a more engaged workforce will emerge as a result.
An interview with UCSD
Melani Roberson, Senior Strategy and Innovation Analyst at the University of California San Diego, shared how a well-established innovation platform can become an essential support structure in times of need. To read more about riding the IdeaWave during Covid-19, consider this piece by Melani herself.
This year's program theme for UCSD's collective intelligence portal, IdeaWave, is "Communicating Impact" – a highly appropriate topic given the critical importance of telling the right stories and learning from challenges across the campus. All in all, the pandemic has generated an impressive sense of community at UCSD. It has even helped groups that are harder to engage (students) find a safe virtual place to have meaningful conversations.
While the pandemic has generated a lot of unease, it has also highlighted peoples' willingness to share help and allocate resources where they are most needed. All in all, the portal served as a positive outlet for students, staff, and academia alike.
Three additional lessons learned from this conversation include:
A well-designed collaboration tool can make many more voices heard. For universities, a platform like IdeaWave can help ethnic groups discuss their needs and accommodate topics such as "how should we react to the Black Lives Matter movement?"
A portal can find a variety of uses during a pandemic; for example, groups in the health system can use it purely as a communication tool.
Online conversations during a pandemic will become broader and often deeper; from help with policies and processes affected by the transition – e.g., travel cards and trading in receipts – to ideas on creating a sense of belonging, it is important to moderate them carefully.
Extra credit: Download the in-depth case study to learn how UCSD is advancing strategic priorities through crowdsourcing. [Download now]
Infographic & survey results
To complement the interviews, my colleagues and I surveyed our customer base over the summer, the results of which are compiled in this infographic. I invite you to explore it to learn about:
Organizational issues and internal trends impacting innovation programs
Emerging priorities within our community of innovation managers and
Important struggles at this time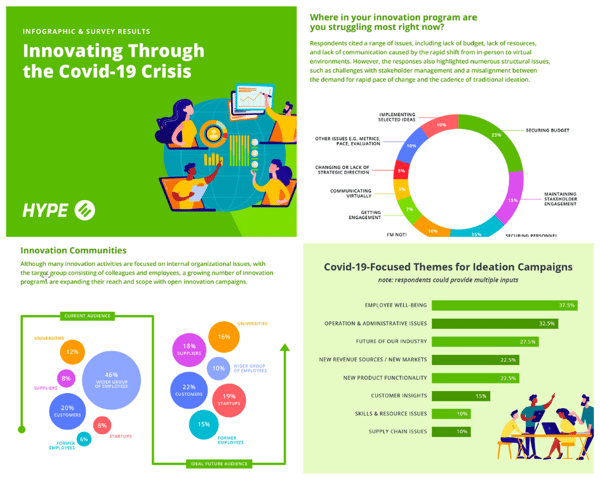 Download the full infographic here.
I hope you draw as much inspiration from the interviews as I have. I welcome your comments, questions, or suggestions at oana-maria.pop@hypeinnovation.com. We will continue to aggregate best practices well into the new year. In effect, "it's not over yet."