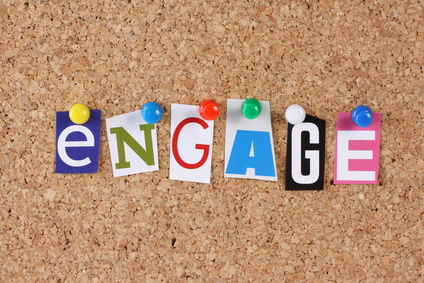 There is a famous story - albeit perhaps an urban legend - about the development of a space pen back in the 1960's. The United States reportedly spent vast sums of money to develop and test an advanced pen which would write in zero-gravity and withstand the demands of being used in space missions. With a ballpoint made from tungsten carbide, thixotropic ink in a hermetically sealed and pressurized canister, operating at temperatures of -30 to 250 F, and a shelf life of 100 years, the result was pretty innovative. The Russians, working on the same problem, settled on the use of a $1 pencil.
The story highlights a fundamental importance for the need to define the problem statement with as much clarity as possible. If you ask for a space pen, you'll get a space pen - if you ask for something to write with in zero-gravity, you might get an obvious yet excellent solution. The most important step in your campaign preparation therefore, is to define the problem statement in the most concise and clear way possible.
Start with a need
Does your campaign sponsor really have a need for ideas? Sometimes what a sponsor really needs is not ideas, but insights. This is a valid use for a campaign, but be conscious of clearly asking the audience for insights. If you are collecting insights, you won't be able to review them and push them through a pipeline like you can with ideas. A method we have seen at some organizations is to run a two-step approach: first you run a short campaign to collect insights, customer feedback, or problem statements around a particular innovation theme; then you refine the aspects which you think are most salient and launch a campaign to ideate around them.
One client of ours ran an ambitious campaign looking for ideas to a scenario that was 5-10 years out from now - this was an unusually broad scope for an all-company campaign. The reaction to the campaign was positive, people liked the challenge and felt it was relevant to the business. However, contributions were low, and engagement between contributors even lower. They found that the bar for submission was higher for a broad campaign - than in a more narrow-focused campaign. Discussing the topic around the watercooler is one thing, but writing up a formal suggestion is another. In another campaign where, in contrast, the sponsor had an immediate need to fix a known problem, the volume of submissions were good, and several excellent ideas were taken forward. The barrier to participation can be lower when the scope is more narrowly defined.
A campaign question is similar in nature to a company vision. It benefits from being something people can quickly identify with, and grasp the notion of. The vision needs to be backed up with a mission - a longer statement, but still concise and only a few paragraphs at most. This description should challenge the reader to think about the problem in new ways, provide wide ranging input, and crucially spend time developing others' ideas. Contributing to campaigns is typically a voluntary act and not part of the day job, so it is unlikely that the participant will give you more than a few moments to consider your problem statement. If you have additional things to say, consider wrapping them up in downloadable content such as a PDF or presentation, or providing a video with a deeper exploration of the topic. One innovation manager remarked that, "no matter how much time you're spending on defining your problem - double it".
"Getting executive sponsors on board is the single biggest thing to making it successful. Specifically, get people who have been in the organization for a while, and have some stock for getting things done."
- Mike Hatrick, Innovation Manager at Swisslog
You are now a marketer
The job of a campaign administrator is multidisciplinary, but the most crucial part is the communications. Without effective marketing and copywriting for the campaign, it will struggle to take off. Ensuring that your campaign emails come from a real person and not the system is one simple tip we hear frequently from clients. Participants are far more likely to act when somebody they know is asking. Setting a shorter timeframe for the campaign allows you to stir up some energy early on, and if the participation is going well you can opt to extend the end date and send out a reminder email. This tactic is often used, and usually results in a spike of traffic.
When a program is new you need to put more upfront effort into branding the initiative and explaining the vision. At BP, the Castrol Motor Oil Division started off by tying custom designed balloons to the desks of the first 100 idea submitters, along with a small gift card. This quickly created a word-of-mouth curiosity about the balloons and where they came from, "It worked so well because we had open plan offices, so everybody could see the balloons." commented Dan Kaus, Brand Manager, "the team at BP really put the effort into making the initiative start well. Because participation is voluntary for employees, it needs to be fun and interesting."
AkzoNobel, a Dutch specialty chemicals company, began their program by selecting 500 lead users across the company, and mailed them an introduction parcel along with their system invite. Inside the package contained a box with a two page sheet introducing the concept explaining how they can participate, and a model figure of Albert Einstein to put on their desk (see Figure.1). Albert was the mascot for the program, and was used across other branding to reinforce the notion of innovating.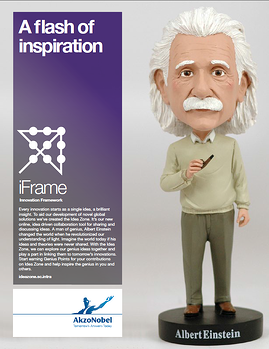 Figure 1.
BST, a South American financial services organization, also developed a mascot for their initiative (see Figure 2), and created a real-life version to generate some fun around the first campaign (see Figure 3). BST achieved an impressive 90% participation rate in its first campaign, and concluded it with several ideas which had a dramatic efficiency boost on internal processes.
The Witt Group, a European textile company, also benefitted from a highly successful marketing campaign to promote their program. "Witti" was created as the mascot (see Figure 4), and his identity cropped up everywhere, from the company intranet, to posters around the office, to the employee magazine. Witti awards are given out to winning ideators and for implemented ideas at award ceremonies. The use of strong branding, including a fun mascot, is a frequent occurrence in successful innovation programs.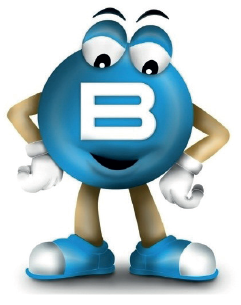 Figure 2.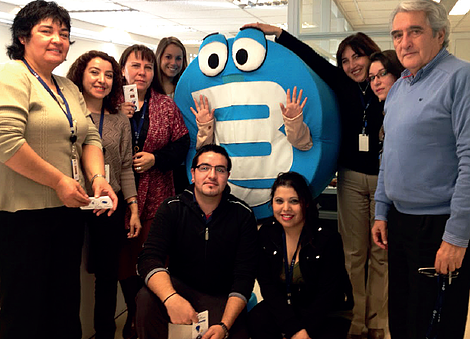 Figure 3.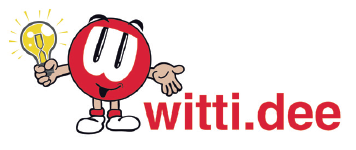 Figure 4.
Many clients have reported the use of posters and flyers to be effective in stimulating interest. Although posting a blog on the company intranet was useful, it did not have the same impact as a set of posters in the office canteen. The canteen is presumably an apt place for a new initiative to be advertised, allowing employees to discuss it away from their desks and in cross-team groups. Several companies installed TV screens in the coffee break areas, on which the latest ideas in campaigns were shown, as well as general statistics about participation.
But stick to your cultural norms
A German engineering company used many posters and flyers to kick-start their initiative, but the feedback was negative, believing it to be too much and too playful. Although this felt like a setback, it was useful feedback, and they adjusted the message accordingly. Finding the right tone for your organization is an important step in the process, which is not always possible to get right first time. Adjusting your communications quickly as you learn what resonates is recommended.
The common consensus among the interviewees was that the final communication to participants after a campaign is finished, is the most impactful. If you do not follow-up effectively you risk creating cynicism and negativity about the approach. It's important to say thank you for every idea, not just the good ones. Dallas Hetherington from AkzoNobel, for example, uses his innovation platform to send a follow-up email to every idea submitter after his campaigns have finished, and recommends this to other campaign sponsors, "it's a lot of work, yes, but it's important to acknowledge the contributions personally".
Key Points
Does your sponsor really need ideas - or would insights be better?

Use a two step approach to identify the problem, then ideate

Narrow topics are easier for people to engage with

Create a sense of fun and excitement about the program, mascots help

The final campaign feedback loop is the most crucial